The Hotel Giraffe is a hidden jewel on the east side of Manhattan at 26th and Park, once considered a neighborhood off the beaten track and now a gentrified area of shops and cafes, which if you know NYC is a neighborhood of beautiful architecture but had been mostly corporate interests, until the last several years where it has now blossomed into 'No-Mad" or North of Madison Square Park. The neighborhood includes restaurants like Upland, Eataly and the Ace Hotel as well as Gansevoort Park all within walking district. Built in 1999 from the ground up and across from the landmark Metropolitan Life building, the 12 story, 72 room brick and glass hotel is architecturally inspired by the Art Modern period from the 1920s and 1930s reflecting the neighborhood it inhabits, and houses surprisingly delightful interiors, feels luxurious and elegant, with a roof top garden and a first floor which is most entirely a lounge for guests. The lounge feels surprisingly open and accessible as the front desk is modest and tucked away, and a very nice surprise is the 24 hour complimentary coffee and light food counter, a great convenience for the many travelers (like me) who move through hotels at odd hours as we schedule daily activities or evening events and find that they don't always line up with the limited hours hotels may provide for their specials.
The hotel's complimentary wine and cheese tasting, however, in the lounge from 5-8, worked perfectly for me, as I could take advantage of it before heading off to Broadway, and I found it helpful again arriving back at the hotel after 11PM and getting a complimentary latte, which I enjoyed as I'm a night owl and like to work late on articles like this one. There is also a complimentary continental breakfast in the lounge each morning as well.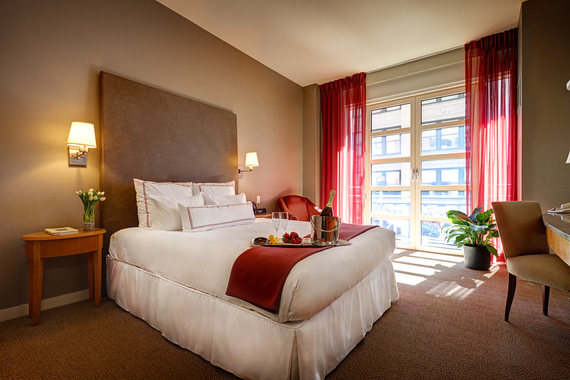 The guest rooms are spacious, most notably designed with high ceilings which lend an almost European air, and are evocative of the pre-war architecture in New York City with its comfort, detailing and vertical interiors part of their refined charm. The bed was plush and firm with a thick comforter that made for an excellent finishing touch.
I was in the Balcony King Suite, which is a one bedroom suite, though it should be noted the bedroom size was standard. Each room was well appointed, with a TV in both rooms, and a desk in the bedroom. The large bathroom is a delight (and standard to each room as well) and so is the free hotel wi-fi. Keep track of these free amenities, (24 hour coffee/snacks, daily continental breakfast, daily wine & cheese, free wi-fi), as in a lesser hotel these add up and you realize you've easily tacked on another $50 or more to the clever room price you think you've found. The hotel won a Travelers' Choice award in 2016 as one of best hotels of New York and one can see why. It should be noted that the Hotel Giraffe is in a collection of hotels called the Library Hotel Collection, and all four hotels in the collection have been continuously ranked by TripAdvisor as top ten hotels in New York City, (this out of 440 listed hotel properties) which is quite an achievement.
Though the normal check in at 3PM was expected, their normal check out of 1PM was another nice surprise if you have the luxury to delay your departure and get another half day.
The Hotel Giraffe feels very close to mid-town, as Broadway Avenue is only two avenues over from Park Avenue at this location, and cuts across to the west side through the heart of the city and the theater district, and is the road to take to get back to your hotel in its quiet, and newly chic environs. I chose to walk to my Broadway show on my visit as one of my pleasures is walking in NYC, as I'm now an ex-New Yorker living in LA where a walk from the front door to the car is considered quite enough for the day. The location of the hotel also makes Greenwich Village and lower Manhattan (which I love to visit) very accessible.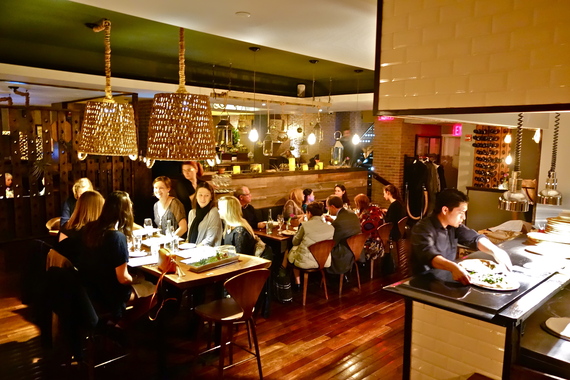 Bread & Tulips restaurant at the Hotel Giraffe
The Bread & Tulips, the restaurant associated with the hotel and connected through the lobby is one flight under the city streets in a brick and wood setting that is sophisticated, comfortable, and evocative of a less urban experience, almost feeling like an elegant lodge in Aspen.
Though a stand alone enterprise, the Bread & Tulips provides room service to the Hotel Giraffe for 20% off it's menu fees, and one can dine in the restaurant and charge meals to the room as well.
I was visiting during restaurant week, convenient for me, as the city selects the 200 or so top restaurants in town and asks them to provide specials during those times, a nice nod to the establishment. I was most pleased to see a $25/pre fix for lunch, making a meal for a family reasonable and complete, including dessert. But there were also choices for the 'foodist', from grilled octopus, to strip steak, to grilled salmon, as well as salads and pastas. I chose the special minestrone, delicate and flavorful, the arugula salad with Gorgonzola, orange slices and pistachios and the fettuccine Bolognese, with veal and grana padano, which I was told was a house favorite, and unexpectedly light but rich in flavor. All the food was fresh and expertly prepared. The service was excellent as well.
The Hotel Giraffe has a staying, that they like to turn visitors into regulars, and I am glad to say that's exactly what's happened, as I look forward to planning a return visit.
Like the work? Click subscribe below! And follow me on Twitter!