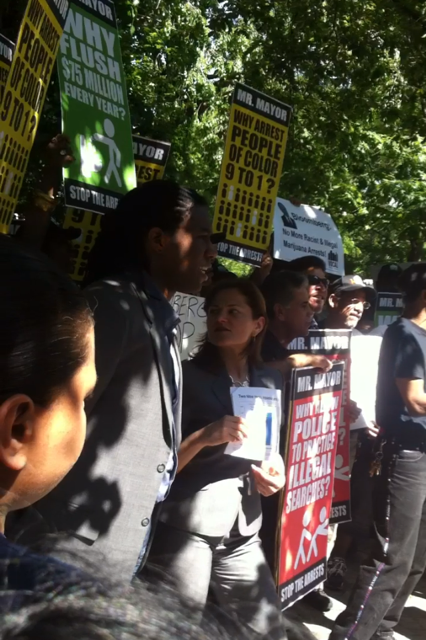 Community leaders, drug policy reform advocates and two members of the City Council gave a satirical award to Mayor Michael Bloomberg on Wednesday for making New York City the "Marijuana Arrest Capitol Of The World."
The Drug Policy Alliance distributed data showing that in 2010 the police made only 34 of the city's 50,000 pot possession arrests in the white, wealthy neighborhood of the Upper East Side of Manhattan. But in the overwhelmingly black, Latino and low-income neighborhood of East New York in Brooklyn, the NYPD made 3,309 of these arrests -- 97 times more than in Bloomberg's neighborhood.
Councilwoman Melissa Mark-Viverito, who spoke at the rally, said these arrests criminalize and stigmatize young people in the East Harlem neighborhoods she represents. WNYC and other investigators have found that the marijuana arrests are often the result of the NYPD's unlawful stop-frisk practices which target young people of color and their neighborhoods.
In discussing the marijuana arrests, Robin Steinberg, executive director of the Bronx Defenders, has reported that in these black and Latino neighborhoods police wait for kids to come out of school and search them. "Those same police forces," says Steinberg, "are not being deployed on the Upper East Side of Manhattan to stay in front of privileged overwhelmingly white private schools."
The protestors chanted, "No More Mass Incarceration" echoing a speech given by Michelle Alexander, a law professor, and author of the book, The New Jim Crow: Mass Incarceration in the Age of Colorblindness. Alexander's speech, delivered last Saturday at the city's historic Riverside Church, was attended by over 1000 people and called for a large scale human rights movement to end the racially biased "war on drugs" - and for that movement to start "right here in New York City."

Calling all HuffPost superfans!
Sign up for membership to become a founding member and help shape HuffPost's next chapter