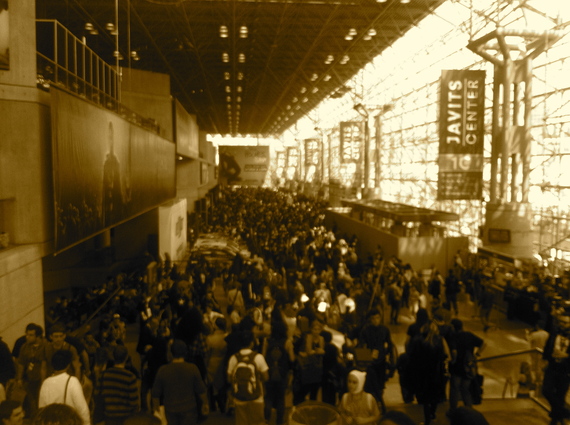 Yesterday was supposed be a day filled with glorious purpose, when all geeks and nerds who hail from the New York City area come together like Voltron to buy the coveted NY Comic Con (NYCC) passes. What actually happened is a tale of frustration and anger.
Tickets were set to go on sale at noon on May 13th. Those of us who are into this sort of thing marked our calendars months ago awaiting this momentous occasion. Last year was truly phenomenal with the exception of the ticket buying experience that left many fans with a bad taste in our mouths. However different year, different experience, right? There were bound to be some lessons learned. After all, the great people of the New York Comic Con care about their paying customers. Sure prices go up every year but this is the biggest Comic Con on the East Coast--we all have to go!
The clock struck noon and the link went live. We're introduced to the new "Virtual Queue," where you never have to refresh because of the "many, many servers" preventing the site from crashing. This site insisted that even if you see the dreaded "404" error message, forcing you to refresh the page, your virtual place in line would not be lost.
So, it was fun for like the first 10 minutes. Then, Twitter started buzzing about the dreaded 404 message and how the site was crashing at least four to six times before purchase. Some people, like myself, even got as far as the ticket selection screen before the site completely crashed and burned like the Enterprise D into Veridian III. Now, according to what we already know, as long as we stayed on that page and refreshed once or twice, we would not lose our place. Alas, 54 minutes later, the great people at the NYC Comic Con tweeted to fans to no longer use their website and provided an alternative link for all the lemmings to follow.
For those not following, this effectively means you have now lost your virtual place in line. Ultron has taken your place.
Insanity ensues, the Chitauri come through a hole in space and there is no Iron Man to save us from another 2 hours of lost places and sold out passes. People like me had to settle for a simple one day pass while staring at the screen wondering if this was all truly worth it.
There was a time when anyone could simply go to a comic book convention in a church's basement or a school's gymnasium, just for the love of comic books. That was in a world where geeks were made fun of because we spent hours debating who shot first or if Batman could really beat Superman.
While huge spectacles like NYCC achieve a level of buzz that resonates all the way to Hollywood, there is something to be said about the little things lost in a convention being sold out in 4 hours while the resale of those same passes nearly triples on Stub Hub and Ebay. Comic Book conventions are a place where artists, writers, creators and fans can meet in one place to connect and generate buzz. What gets lost is the accessibility, which is now only reserved for those who can not only afford it but also survive the infinity gauntlet of network errors.
Now, NYCC is all glitz, glamor, and cosplay and in the end, all we really wanted was the NY Comic Con to be as big as the San Diego one. So congrats NYCC you made it! You are just as big and impossible to get into as your brethren.
Popular in the Community