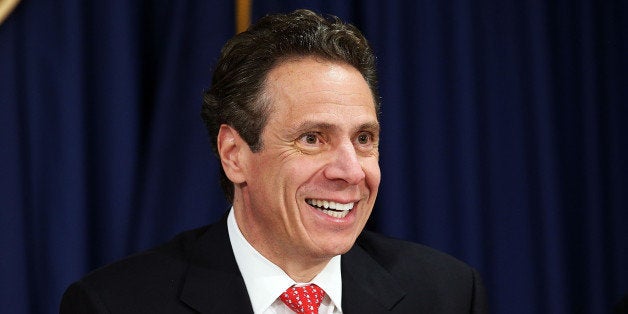 NEW YORK -- New York Gov. Andrew Cuomo (D) has agreed to a multimillion-dollar settlement that will bolster the state's public legal counsel for the poor.
The settlement lays out a seven-year plan to overhaul the broken public defense systems in five New York counties in an effort to ensure that poor defendants will have a lawyer at their first court appearance and that public defenders aren't overwhelmed by ballooning caseloads.
In a statement on Tuesday, Cuomo said that the agreement was a "positive step" in addressing '"longstanding inequities" in the state's courts.
"This was a problem that our administration inherited from years past, and I am proud that we have been able to reach a resolution that results in a fairer, more humane justice system," he said.
During that time, they can lose their homes, their jobs and, in some cases, are behind bars when family members die.
Tuesday's settlement ensures that public defenders and their clients are in more regular communication both inside and outside the court. It also promotes the use of expert witnesses and investigators by public defenders.
In addition, the settlement increases the eligibility for public defense. Previously, some counties set minimum-income thresholds that were so drastically low that even a single mother in Washington County earning just over $10,000 a year, for example, was denied public legal counsel.
Although the settlement only calls for reform in five New York counties -- Ontario, Onondaga, Schuyler, Suffolk and Washington -- NYCLU Executive Director Donna Lieberman told reporters Tuesday during a conference call that it's her hope that the settlement "lays the foundation for statewide reform."
New York is one of the few states in the country that delegates public defense responsibilities to counties.
Lieberman said Tuesday's settlement is an enormous step toward ensuring the poor's Sixth Amendment rights. Although the right to legal representation is guaranteed by that amendment, it wasn't until a landmark 1963 Supreme Court ruling in Gideon v. Wainwright that states were required to provide legal counsel to those who couldn't afford it.
"For the first time, New York State is acknowledging its constitutional responsibility to provide lawyers to poor defendants who have been forced to navigate the criminal justice system undefended and alone," Lieberman said in a statement.
"With New York's public defense system in the national spotlight, the state has entered this agreement and shown it will no longer stand by while innocent people lose their families, homes and jobs because they're too poor to hire private lawyers," she said. "More than 50 years after the Supreme Court called the right to public defense an 'obvious truth,' today our state begins making it an 'actual truth.'"
U.S. Attorney General Eric Holder filed a statement in support of the lawsuit last month, one of his last big moves before announcing his resignation. According to the NYCLU, it was the first time the Department of Justice supported a state court proceeding related to public defense.
See the full settlement below:
Calling all HuffPost superfans!
Sign up for membership to become a founding member and help shape HuffPost's next chapter
BEFORE YOU GO
PHOTO GALLERY
United States Governors