There were tears from the cast during the curtain calls after Saturday, September 28th, New York City Opera presentation of Anna Nicole. Not only because it was the final performance of the run, but mostly because this co-presentation with Brooklyn Academy is the final production that New York City Opera, a 70 year old institution, will ever present. The company announced this week that their campaign to raise $7 million by the end of September fell completely flat and that it would be closing its doors after filing for bankruptcy earlier this week. While a lot of people predicted the fall of New York City Opera after they left Lincoln Center and raided the endowment in 2008, it's a real shame to see the company close. A timeline of NYCO's money woes can be found here.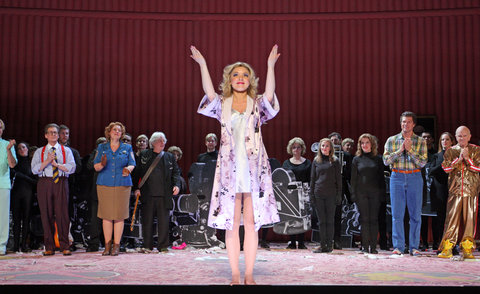 While I've only known the post-2009 NYCO (A homeless, money-hemorrhaging shell of the company it used to be.), they've given me innumerable opportunities to grow as a critic and as a writer. The people at New York City Opera were the first people to take me seriously when they offered me an email interview with Melody Moore. Since then, they've let me review their Prima Donna and La Perichole and I really enjoyed both. Their consistent generosity was so appreciated by me, so it's a significant loss for me, and the New York cultural scene.
I was able to be a part of history by being in the audience at BAM for the closing night of Anna Nicole. It was a bittersweet moment that, unfortunately, passed without much ceremony. There was no announcement from general manager, George Steel at the end. There was only an insert in the playbills advocating for donations. When they announced their fantastic-looking season in March, there was no sign of the financial struggle they would endure six months later. Anna Nicole had been subsidized to the end of the run and the rest of the season was cancelled.
Mark-Anthony Turnage's opera about the fallen reality starlet premiered to great buzz and mostly positive reviews at the Royal Opera House in 2011. The opera opened at BAM on September 17th for its second presentation since the London premiere. (The opera was performed at the Oper Dortmund in Germany earlier this year.) You can read more about Anna Nicole and its significance as an opera in an article that I wrote here, that my friend Isabela published on her fantastic blog.
I should probably start out this review with saying that I really like Anna Nicole as an opera. I've watched the DVD countless times (Saturday was the first time I had seen it live) and I've thoroughly enjoyed it every time. Turnage's music is a fantastic and original blend of musical styles that propel the drama and indicate the setting with ease. Richard Thomas' libretto is clever, but it's laden with every "four letter word" you could call to mind. Sometimes, it feels like it relies on superfluous use of profanity, which feels like missed opportunities for more thoughtful dialogue. Also, it carries a mild "Look! Opera has swear words! Come and hear curse words in opera, youths!" connotation, which is not the way opera should be motivating new audiences. Overall, though, it's a funny text set to fascinating music. Below is a clip from the ROH DVD:
The opera received a very warm reception at BAM on Saturday. While it may have had success in London, it goes without saying that an opera about Americans has a special resonance with American audiences, especially the people who remember hearing about Anna Nicole. (I was in third grade when she died, and I remember everyone being fascinated by the coverage. However, appropriately so, nobody told me who she was or what she did. The day after she died, only nine kids came to class because there had been a stomach bug circulating. While working on some projects in class, I brought up that she had died, still having no idea who she was, and my teacher told me to "Stop talking,".) Whether it was genuine or out of awkward tension, Thomas' witty libretto garnered laughs throughout the entire evening.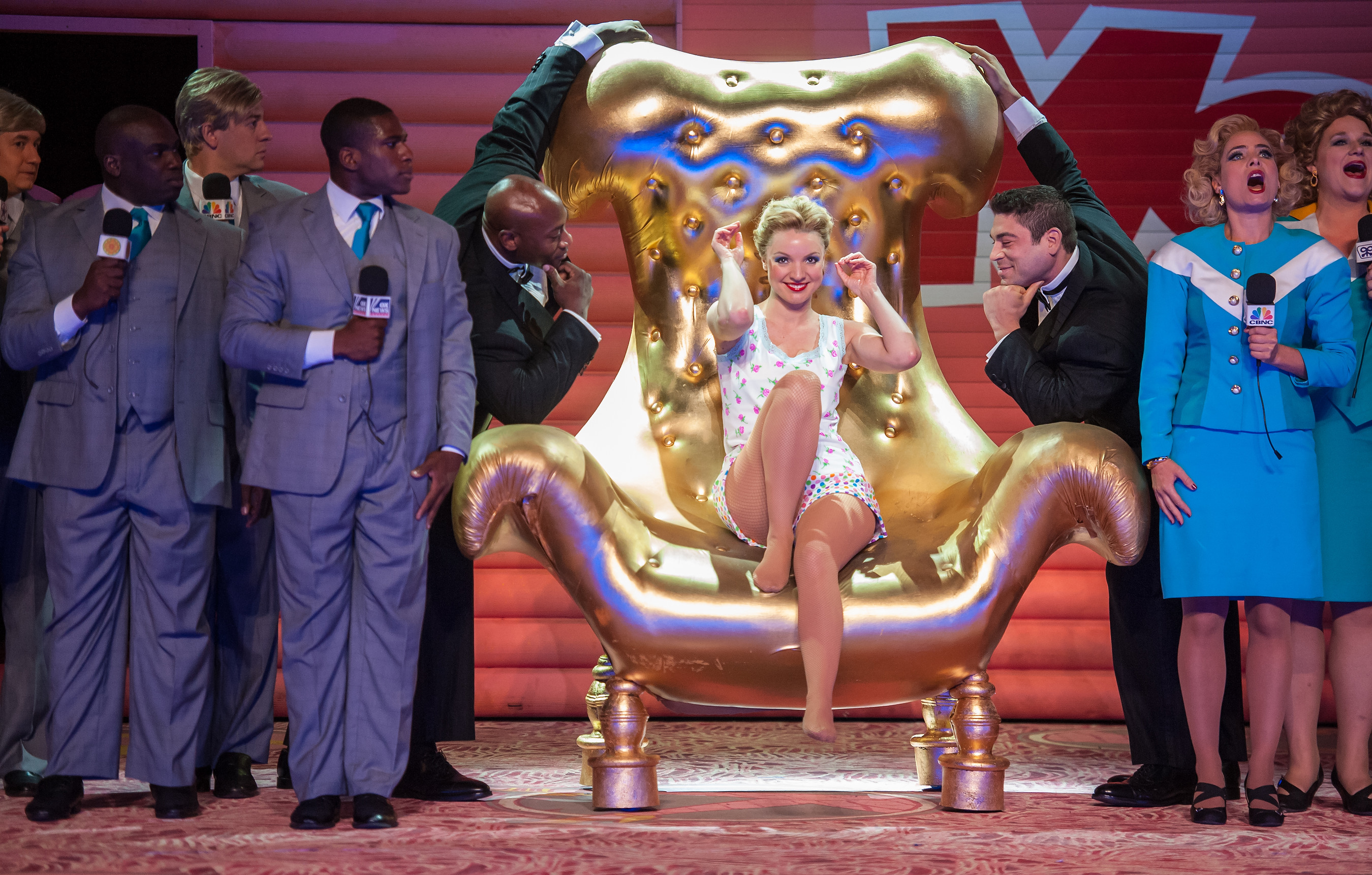 The production is the same one that opened in London (The Dortmund presentation didn't use the same production.) and was directed by Richard Jones. I really enjoyed it. It emphasized on the gaudy and frivolous aspects of Anna Nicole's life, yet it was never mocking of her. Certain nuances, like having dancers dressed as cameras slowly appear and multiply throughout the opera, was a thought provoking and clever touch. The brightly colored sets were designed by Miriam Beuther and the adequately gaudy costumes were by Nicky Gillibrand. Aletta Jackson's highly inspired choreography was fascinating.
Leading the cast as Anna was the young, American soprano, Sarah Joy Miller. It's not easy to fach Anna Nicole (Don't even say anything.). The role remains mainly in the middle of the voice but has lower notes and exposed high notes sprinkled throughout. It's probably a dramatic soprano role, if anything. The role suited Eva-Maria Westbroek so well at the ROH. For Joy-Miller, the role didn't seem to fit quite as nicely, but she still pulled it off well, especially the parts set higher in her voice. The entire cast sported a fantastic Texan accent (Better than the ones at the ROH.) and diction was crystal clear throughout. Joy-Miller was a very likable and pert Anna Nicole. It's hard to speak to the audibility of the singers, as they were all mic'ed. In the opera, Anna Nicole is on stage almost the entire show, so it suffices to say that it's a demanding role. Having had a show the day before, Joy-Miller gets brownie points for putting on a great performance on Saturday. She was very moving in the final aria of the piece and an affecting actress who conveyed the huge gamut of emotions that run throughout the opera. The best moments were the moments of full-throated, passionate singing that came at times like the party scene and the scene preceding her Larry King interview. That said, the moments of more quite, pensive singing also stood out.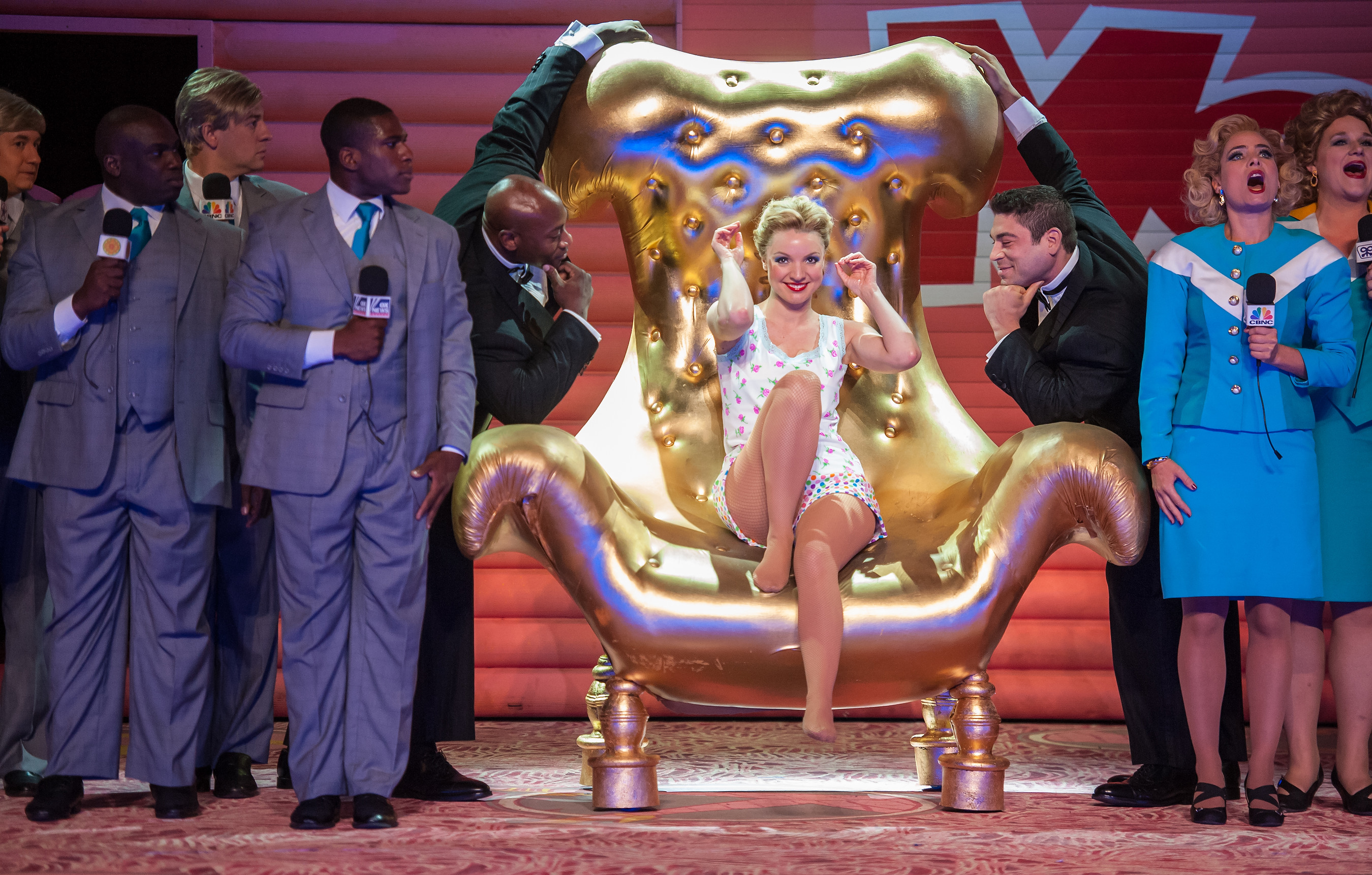 The soprano definitely takes center stage in this opera, as she should. However, the other dominating character is definitely the lawyer, Howard Stern. In this production, NYCO veteran Rod Gilfry (Who sang in an episode about opera for the children's TV show, Arthur.) sang the part of the manipulative "friend". His voice was deep, authoritative, and technically sound as he negotiated some of the more obscure vocal demands of the role (Like trilling. Why should Howard Stern trill, you ask? I don't know.)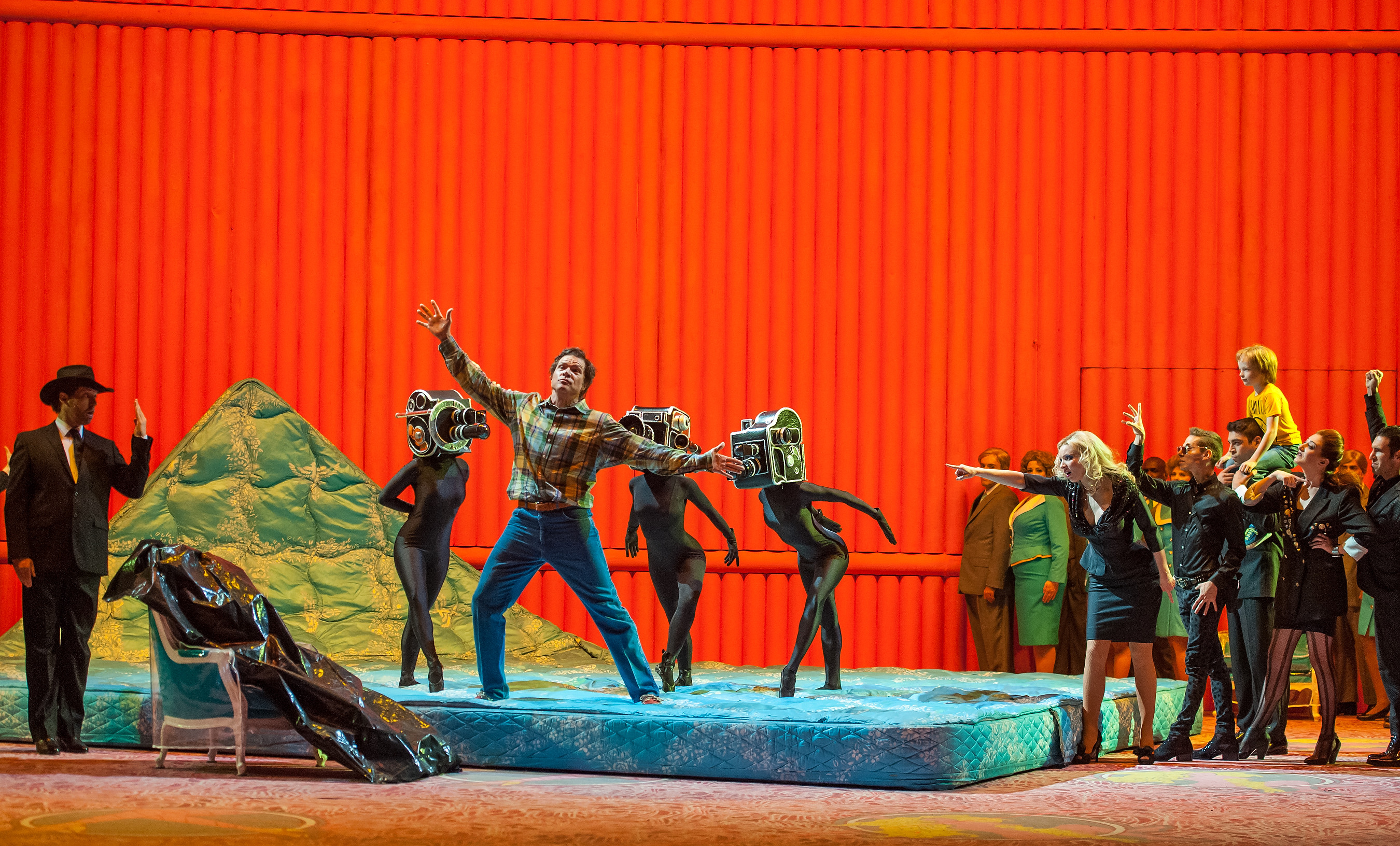 However, the vocal star of the night was definitely Susan Bickley, the only original member of the London cast. In the part of Virgie, Anna Nicole's mother and the voice of reason, her clear-cut, piercing voice was thrilling and she had a compelling stage presence to boot. She's a singer who's had great success in England, but never found that type of success in the Unites States, which is a huge shame. Her performance was even more nuanced than her ROH portrayal (I've surmised from the DVD.).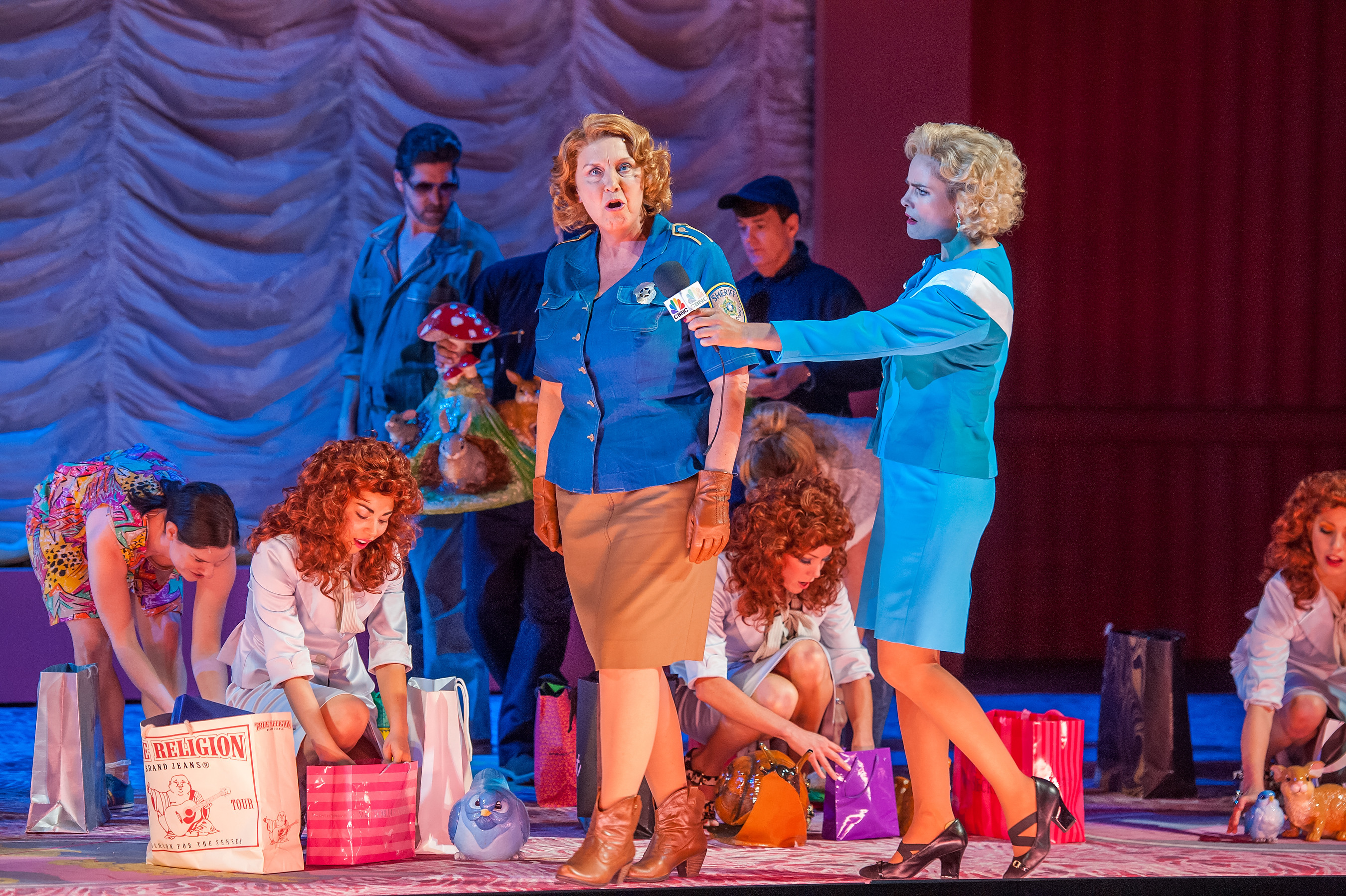 Another standout was Robert Brubaker as Anna Nicole's second husband, oil tycoon, J. Howard Marshall II. The role is full of high notes and he pulled them off with aplomb. Also, he gets double respect for singing in a variety of positions. His voice is high set, but interestingly enough, it isn't nasal at all, which provides a real depth of vocal color that is perfectly suited to an eighty year old man.
As Dr. Yes, the doctor who gives Anna Nicole her breast implants, Richard Troxell seemed miscast. Having heard him in Perichole, you can hear that his voice lies lower than where the part was written. It's more of a character tenor part, and that is not so much Troxell's gig, I've noticed. He struggled with the high notes, causing him to create some unflattering phrasings of his lines.
In the smaller roles, the standout was definitely Christina Sajous, a singer taken from Broadway, as the lap dancer that teaches Anna Nicole the tricks of the trade. Her sassy, vibrato-less voice was perfectly suited to the role. Also strong were John Easterlin as Larry King and Nicholas Barasch as Daniel, Anna Nicole's teenage son. Below is another clip of the ROH production:
Stephen Sloane led 59 members of the New York City Opera Orchestra with great skill. Given the consistent changes in style and mood in the score, the orchestra moved on agilely, if not maybe just a little too loud for the Howard Gilman Opera House.
The New York City Opera Chorus was in very good form and highly convincing as a brigade of sleazy newscasters.
One of the staging differences from the ROH presentation was that instead of going to black after Anna Nicole's final line at the end of the opera, the cameras stayed onstage and picked through the tipped over bins of garbage that littered the stage in silence for about a minute before blacking out. Digging through garbage as something dies in the middle of it all. An ending for Anna Nicole not unlike the ending for New York City Opera.
Photos credit of Hiroyuki Ito for The New York Times and Stephanie Berger
REAL LIFE. REAL NEWS. REAL VOICES.
Help us tell more of the stories that matter from voices that too often remain unheard.