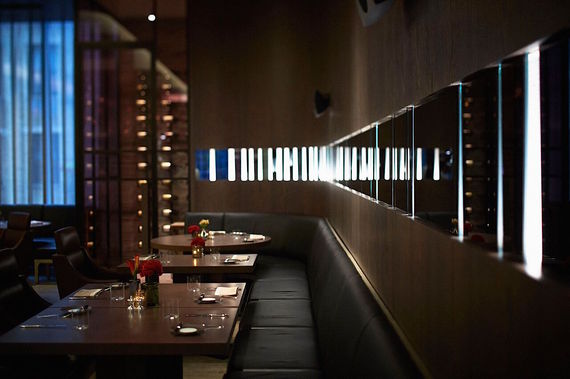 Hotel dining rooms are not an easy sell in NYC, despite some illustrious examples like Jean-Georges and NoMad. Generally speaking, the food media rarely cover them and, when they do, it is with a shrug or to accuse a celebrity chef of merely lending his name, not his presence, to a space that must serve breakfast, lunch and dinner.
A hotel restaurant has, therefore, to be very special to get notice and respect, so giving a dining room a drab name like The Back Room in the Park Hyatt is hardly an enticement. And, contrary to the kind of thought, design, and money the Park Hyatt brand has put into its elegantly appointed restaurants in cities like Paris, Milan, Vienna, and Chicago, the NYC developer originally decided The Back Room would be the most expensive steakhouse in America within the shell of a gloomy dining room done in various shades of dark brown, tabletops included, and cold lighting that seems oddly fluorescent.
So, while the developers sold $100 million condos upstairs, no one wanted to eat downstairs, and the few notices the restaurant received were dire. When I dined there early on I thought the beef was of very high quality but not much else about the restaurant was, so I was more than puzzled as to why the owners seemed to have no interest in putting in a first-rate restaurant to bolster the Park Hyatt brand.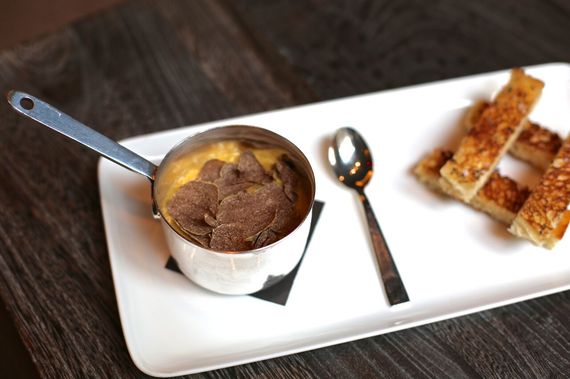 Now, after a year of chef changes and strategies, thanks to Executive Chef Sebastien Archambault and Chef de Cuisine Chad Brauze, the menu has become focused and the food excellent. Steaks, much reduced in price, are still on the menu but there's so much more to like. Brauze has worked at Restaurant Daniel and Per Se in NYC, Lédoyen, George V, and Pierre Gagnaire in Paris, and, most recently, in NYC at Rôtisserie Georgette.
The room still looks like a V.I.P. lounge at a sports stadium. But I found the entire staff, led by general manger Arleene Oconitrillo, formerly of Picholine, Per Se and Eleven Madison Park, professional, more than amiable and well informed. Wine Director Tristan Prat-Vincent, formerly at Véritas and Betony, has also managed to compile a wine list that can rank with the most impressive in NYC.
We dined in the middle of a special promotion (which will last until December 4) featuring several dishes with white truffles. So one of our first courses was a simple luxury of softly scrambled eggs (above) with toasted brioche and shaved white truffles ($55), each ingredient a perfect complement to the rest. Similarly, a main course of housemade fettuccine mixed with rich Toma Celena cheese and shaved white truffles ($55) needed nothing more to be magnificent.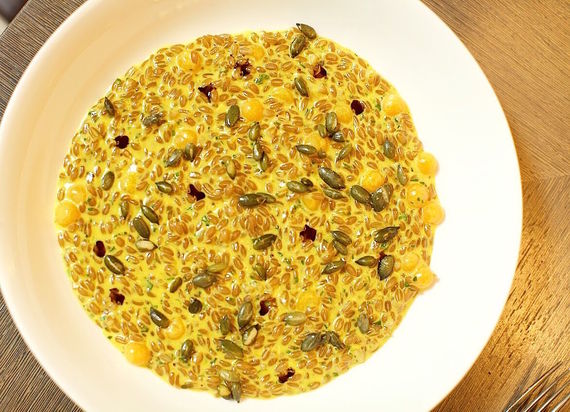 Seared Hudson Valley foie gras ($24) had the sweet flavors of autumn to buoy it--plum chutney and apple, with duck jus and brioche--while farro (above) was ennobled with pumpkin, green apple, pumpkin seeds and a vin jaune ($16). Grilled octopus (slightly fishy that evening) was imaginatively combined with a garlic coulis, bean ragôut and shallot-mustard vinaigrette ($18).
So rarely does turbot travel well to American kitchens, but Brauze finds a way to give this silly fish its due, gracing it with more white truffles. The first venison I've had this season was served with tangy Port-braised cabbage, with quince and huckleberry jus ($38), and the newest ingredient popping up around the city, Mangalitsa pork collar, the fattiest part of an Austrian pig, came with baby turnips, radish and a mustard seed jus ($38). A generous, very juicy, well-marbled ribeye cap ($56) took well to chanterelle mushrooms and a well-reduced red wine jus. Of the side dishes, cheddar and potato croquettes ($14) should be considered as an extra indulgence by every table.
I can't find anything to criticize among Scott Cioe's autumn desserts ($12) like brown butter panna cotta with pumpkin semi-freddo, burnt milk coulis, sage and molasses ice cream or cocoa toffee pudding with brûléed bananas, salted cocoa nibs and malted milk ice cream, except it would be nice to serve some with more texture than so many soft, creamy, mushy ones on the current menu. But you won't go away disappointed with them either.
Brauze most certainly has the talent to get The Back Room noticed, and the once out-of-whack prices have come down considerably, especially for food of this high quality. Now, if the owners would only consider lightening up and making more colorful what now has the gloom of "hotel dining room" on it, Brauze and his team may get the credit they now richly deserve.

Open daily for breakfast, lunch and dinner.
The Back Room
Park Hyatt Hotel
153 West 57th Street (near Seventh Avenue)
212-897-2188
www.hyatt.com/back-room