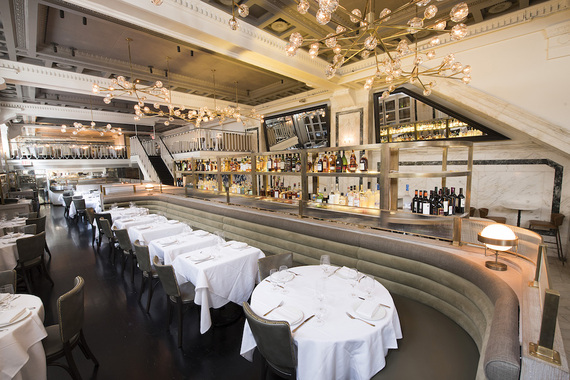 Many gastronomes, including myself, feel that the best restaurants tend to be the smallest ones, preferably run by a chef whose dedication to his kitchen and guests is all consuming, from the minute he orders his provender to the moment he turns off the lights after service.
But notice I said "tend to be," because a restaurant like the 225-seat Blue Water Grill proves that there is no impediment to excellence when a restaurant is very large--this one on three floors--and that, in fact, there can be a real benefit in having the clout of buying the best available from purveyors, who cherish the enormous sales to such operations. While there is much reverence shown to the sushi chef who serves only twenty people each night after buying only a few pounds of the first-rate product, a chef like Blue Water Grill's Chris Meenan has the commitment and the cash to buy a great deal more of what's best in the market and to prepare it with integrity. Such a large-scale operation also takes the strategic and tactical skills of a field marshal.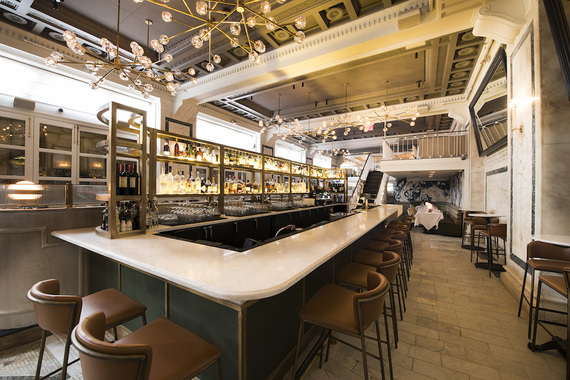 Since its recent rehab, BWG's menu is now admirably shorter, and they've added a swanky 85-seat jazz lounge and oyster bar downstairs called Metropolis (where I have not eaten). I like being on the mezzanine level, which is quieter than downstairs, where it gets loud by 7 o'clock. I also like looking out over the space of this former bank building interior, all sheathed in white marble.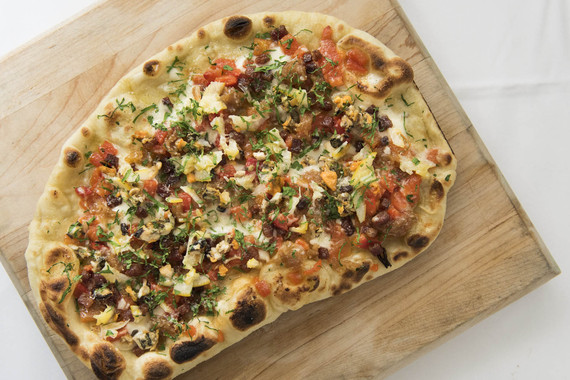 BWG has three meat and poultry items, but seafood is clearly the heart of the matter. There are some non-piscine apps you should try: The clams Casino flatbread (above) with roasted peppers, bacon and baby onions ($19) is meant to be shared, or gobbled up, and such a confection is a bright idea much more savory than those dull clam pizzas of New Haven. Also terrific is a classic leeks vinaigrette with minced preserved egg yolk and a tangy-hot mustard sauce ($13), a dish that deserves wider presence in restaurants. The lobster bisque ($12) has been on the menu for a long while for good reason: Laced with cognac cream, it has velvety richness and true depth of flavor. Not recommended, however, are the "smoked mushrooms in paper" (at a pricey $18), because what you taste is mainly smoky paper.
There are five sushi rolls here, including a somewhat large and overwrought but good Union Square roll with crab, hamachi, mango and apple ($15). The pumpkin agnolotti with crushed amaretti cookies, brown butter and sage ($18/$26) is a seasonal dish. Every bit as good, very light and fresh was farfalle with blue crab ($20/$32).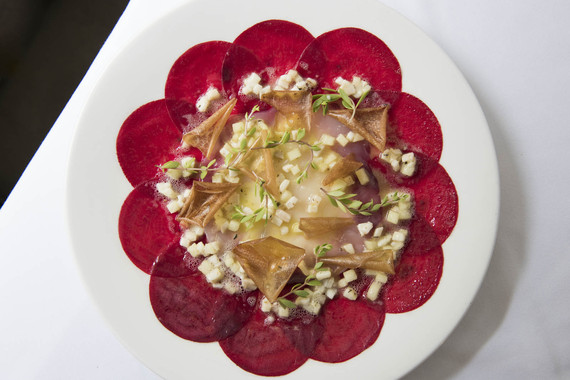 Fine scallops (above) are cooked gently and done à la grenobloise with brioche, capers, and lemon butter ($32), and I found the Alaskan black cod marvelously enhanced by a porcini mushroom crust, smoked eggplant and a truffle emulsion ($23/$35), while "lobster Milanese" ($42) was a fine idea, lightly sautéed and crisp, with succotash--a dish that should be better known after a long absence from menus--and a drawn butter vinaigrette.
Desserts are just as well thought through as the rest of the menu, especially the warm sticky toffee cake with pineapple and a maple walnut gelato ($11). Almost as delicious is the chocolate mousse with Oreo crumble ($13) and the warm apple crisp with Mexican cinema gelato ($11).
Under beverage manager Richard Breitkreutz, formerly of Eleven Madison Park and Craft, there's an ample beer list, ranging from $7 to $14, and a significant commitment to spirits and dessert liquors, including 20 Scotches and a dozen Cognacs. The wine list is extensive, with 25 half-bottles available. As mark-ups go in NYC, BWG's are not at all outrageous: A Saint-Émilion Château Faugères 2011 is listed at $100, while $40 in a wine shop, and it's good to see a fine NY State wine on the list at $48--Cabernet Franc, Paumanok Vineyards, North Fork, 2012 ($25 in a store).
BWG is a grand space, a lavish place to dine yet without pomp, and its sheer gregariousness is part of the fun dining there. But the best reason is the quality and consistency of the food, a testament to the great historic dining halls like Grand Central Terminal's Oyster Bar. Now, at 20 years of age and with a spanking new rehab, BWG is shining brighter than it ever has.
Open for lunch Mon.-Sat., for dinner nightly, for brunch Sun.
BLUE WATER GRILL
31 Union Square West (off Fifth Avenue)
212- 675-9500