The cuisine of the Levant is certainly well represented in NYC, though rarely does it receive the panting praise for those fleeting darlings that the food media is infatuated with at any given moment, which at this moment seems to be Southeast Asian and Mexican. Yet the food of the Middle East, especially Lebanon, sails on, oblivious to trends and consistent year after year.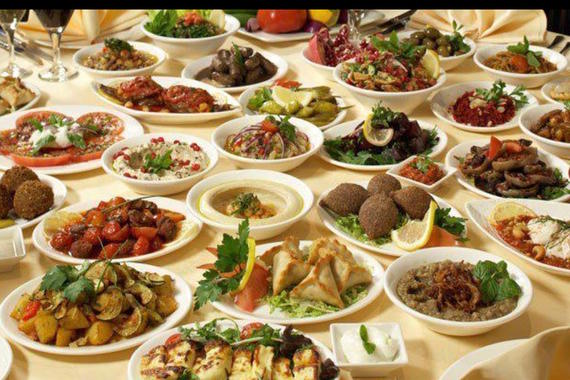 Among the most practiced of these is Byblos, whose longtime Restaurateur/Chef Sabeh Kachouh, with his charming wife Sonia, has never wavered in his dedication to providing an exceptionally wide variety of delicacies, not least a table groaning with color-bright mézès. He is an educator, intent on teaching guests just how deep and broad the cuisine of his native country really is.
The 90-seat restaurant has its own brightness, fronted by a 12-foot long L-shaped, marble and cherry wood bar, which has a very good selection of Lebanese wines (many by the glass). The restaurant is an incarnation of the original premises in Murray Hill, where Byblos (named after one of the oldest cities in the world), opened in 1990. A fire destroyed that building so the Kachouhs shifted west to the Flatiron District three years ago. The new, long, wide and airy room is done in creamy colors, rough stones walls, dark accents, and fine lighting over generous tables with white linens.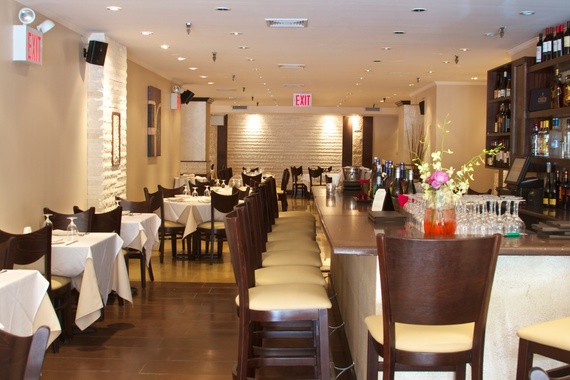 You need that generosity once the mezzes start coming out. We asked Mr. Kachouh to bring out whatever and as many dishes as he liked from a menu of fifty options, and I think we were served every one, from delectably creamy varieties of hummus to the lovely baba ghannouj of charcoal grilled eggplant, tahini, olive oil, lemon juice, and garlic. Then came labaneh, a thick cheese dressed with olive oil and dried mint, and there were the inevitable grape leaves, here stuffed with rice and chickpeas. Muhammara was a spicy red pepper dip mixed with walnuts, and balila were fat chickpeas dressed with garlic, lemon, olive oil and Lebanese seasonings. The Lebanese names for their dishes are as euphonious as they are so enticing.
We'd only just begun: Out came kibbee naye tartare mixed lightly with wheat and spices, as well as a simmered chicory called hindby. Our appetites were roaring now, delighted with the arrival of falafel fragrant with coriander served with tahini sauce, and one of Byblos' specialties--marinated, grilled quail and makanik lamb sausages. Batata harra are cubed potatoes with chopped cilantro, garlic, and pepper, while jawaneh were plump chicken wings sautéed with the same seasonings and herbs.
Somehow we were not yet on the wane, so we gobbled up arayess, a dish of toasted pita filled with minced meat, and deep-fried rikakat with halloumi cheese.
Then there is the variety of flakey zaatar pies, scented with thyme, sesame, olive oil and sumac.

Oh, and there are charcoal grilled kebabs and succulent stuffed lamb breast entrees, five seafood dishes including the fried Sultan Ibraham fish, and much more, including delicious Lebanese desserts in flakey, honey-drenched pastries.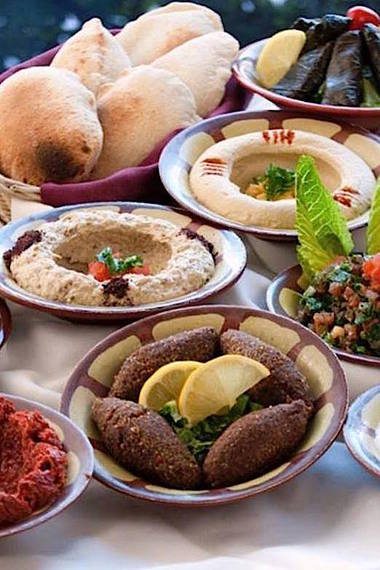 Whatever the Lebanese word for "uncle" is, we cried out that we were full, washing it all down with well-rendered Lebanese coffee.
That Byblos can turn out so many dishes--albeit with many repeated ingredients--of such obvious freshness, tenderness, juiciness, and color is testament to a decades period of perfecting everything while pleasing guests who may come for a few favorite dishes, then go on to find there are so many more at this ebullient and highly familial venture where too much seems just about right.

Byblos is open for lunch and dinner daily ; 3-Course Prix Fixe Dinner $48. Mezzes range from $6-$18, main courses $22-$32.
80 Madison Avenue (near 27th Street)
212-607-0808
byblosny.com
Related