If you look at the data, New York is - today - the center of the media universe. Headquarters for 29 of global media companies - New York is 2.4x larger than the next 'HQ' city (Paris with 12 HQ's).
NYC has the largest share of US media jobs. NY has 20.4% of magazine publisher employment, 15.4% of book publishing jobs, 11.5% of motion picture jobs, and 11.2% of advertising jobs (19.6% of ad agency employment).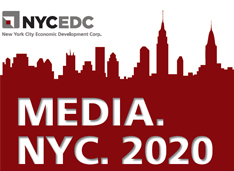 But the nature of media is changing fast, and the future of both media itself and New York's role in it was the question asked as a 2 year study and exploration was conducted.
Among the facts worth noting, NYC's startups and emerging media jobs come from companies with 100 or fewer employees; and 46% of media employees work in media companies with 500 or fewer employees.
But there are fast growing competitors in the space, as Seoul and Singapore are focusing on new media and technology; and Mexico City, Sao Paulo, and Beijing are looking to dominate the media market in their respective regions.
The panel of NYC CEO's explored NYC's future, and came up with 5 core themes:
1. Shifting Media Activities:
More consumers will both consume and create content, in an increasing mobile environment - increasing engagement and revenue growth.
2. Increase importance of Non-US Markets.
As spending power of world markets increases, new content creators will emerge to serve these markets.
3. Mass vs. Niche.
Blockbusters and narrowcast content will grow, with the mid-tail under pressure.
4. Personalize Content.
Consumers will rely more on targeted on-demand delivery.

5. Digital Distribution.
The shift from physical to digital will shift value from high-priced ownership to lower-cost 'on demand' access.
With this analysis - the panel developed three scenarios for Media Evolution: Fragmentation, New Equilibrium and Concentration. Here's how the report sees these futures -
SCENARIO: FRAGMENTATION - in this scenario, content, the backbone of NYC's media industry, declines in value. Many of NYC's large content-focused companies (including magazine, newspaper, and book publishers as well as television producers) face a more challenging environment. Advertising spend - a critical component of media that is tied strongly to content spend - declines.
SCENARIO: NEW EQUILIBRIUM - The City's media ecosystem continues to grow on current course and speed. Content, device, and connectivity players capture value and add jobs at today's rate, and ad spend remains flat. As NYC's media companies begin to build a business around digital content (e.g., magazines and newspapers) and forge new advertising models, they retain existing talent with relevant skills and continue to attract some new talent.
SCENARIO: CONCENTRATION- Content, device, and connectivity players create and capture additional value, and ad spend grows through both existing and new models. Media companies concentrate in NYC, and job growth increases across all sectors. Professional mid-tail content retools, opening the door for additional post-production activity in the city. As companies capture additional value and more fully embrace the digital world, talent flocks to NYC.
While Fragmentation would shift the role away from NYC - both New Equilibrium and Concentration seem likely to increase New York's role in the digital ecosystem.
Given the likelihood of a changing landscape, and the need to evolve the value the city provides to sustain and grow its role in the media ecosystem, the CEO's and NYCEDC came up with a core 5 point plan to focus on growth.
1. NYC MUST DEVELOP A WORLD-CLASS HUB FOR INNOVATION:
To do this Startups must have access to key resources, including funding, incubation space, support professionals, and creative talent.
2. NYC SHOULD AIM TO BE THE MOST CONNECTED CITY IN THE WORLD
This means that startups should have access to leaden companies and executives - encouraging a media ecosystem that connects ideas to resources and people. Connection means access to high-speed networks as well, and the city must focus on building worth class infrastructure including WiFi, WiMax, and Broadband access.

3. NYC SHOULD POSITION ITSELF AS MEDIA GATEWAY:
This means that companies looking to building media access to the US should see New York City as the idea base of operations, while New York should work to be our window to the wider global media world.
These are three logical, actionable, and reasonable objectives.
While many CEO's participated in the two year project - Tim Armstrong, CEO & Chairman of AOL; Jeffrey L. Bewkes, Chairman & CEO of Time Warner; Peter O. Price, President & CEO of Premiere Previews; and Sir Martin Sorrell, CEO of WPP Group formed the core group that lead the project. The management-consulting firm Oliver Wyman produced the report.
REAL LIFE. REAL NEWS. REAL VOICES.
Help us tell more of the stories that matter from voices that too often remain unheard.