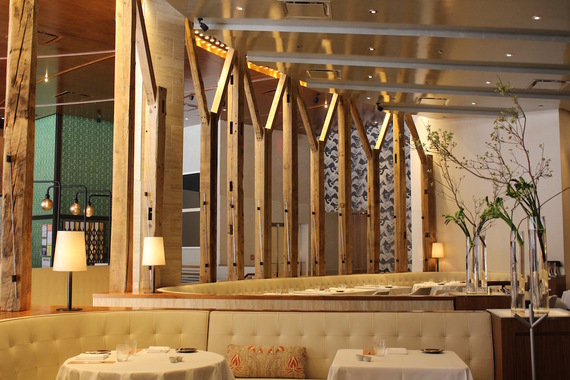 For the moment, let me say nothing at all about the food at Chef Gabriel Kreuther's namesake restaurant across from Bryant Park. Instead let me focus in on what this splendid, year-old restaurant represents in 2016.
When it opened, the food media questioned whether a restaurant of this high style and refinement would garner a clientele at a time when it was presumed people had moved away from fine dining in preference to downtown eateries with brick walls, barn wood tables, t-shirted waiters and cacophonous music. The question was hardly worth posing, for in the two years preceding the opening of Gabriel Kreuther, New York saw the debut of Nomad, Betony, Morini, and the re-configured Eleven Madison Park, all opened to great acclaim and packed houses.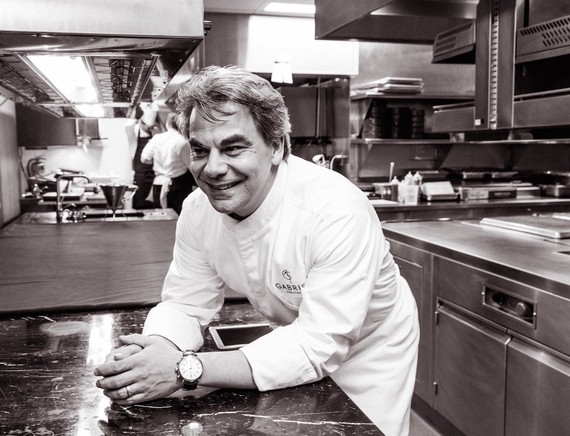 Given Kreuther's résumé and reputation at restaurants like Jean-Georges and The Modern, there seemed every reason to believe his restaurant would succeed admirably. And it has indeed. GK, as I'll call it, has become one of NYC's most respected and popular midtown restaurants--with one Michelin stars and three from the NY Times--in both its 100-seat main dining room and its amiable bar-lounge area.
Prices for the four-course prix fixe dinner have angled upward since last year, now $125, with too many supplements, but they're still below those at comparable venues like Le Bernardin's $147 (four courses), Daniel's $142 (four) and Jean-Georges' $138.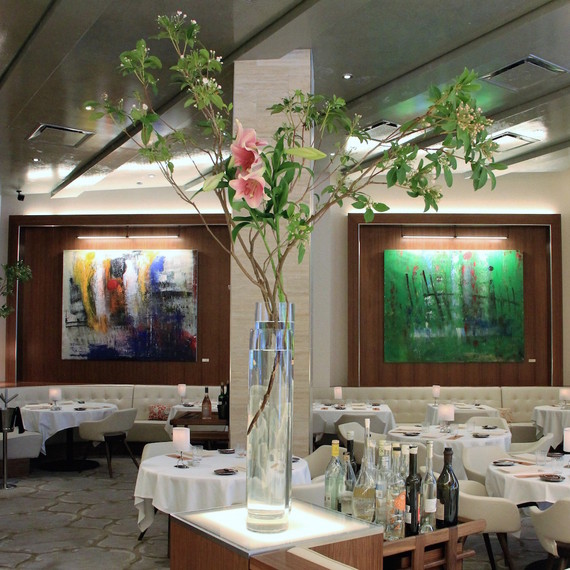 And what do you get for your money, which is about one-fifth the price of a ticket to "Hamilton"? First, a most civilized young waitstaff, not least manager Thierry Chouquet and wine director Emily Perrier, all impeccably dressed, never intrusive, always knowledgeable.

GK's flowing dining spaces, including a chef's table near the kitchen, are inspired by the town squares in Alsace, whence Kreuther hails, with street lamp light fixtures, huge wooden beams, an etched-glass wall adorned with stork imagery, and a stainless-steel bar top. The retro-style chairs are extremely comfortable, the lamp-lighted tables are set with thick white linens and napkins, so the acoustics make for very civilized conversation. (The elongated and awkward silverware still strikes me as more apt for a fondue set.) Now a year into its prime, the place looks fresher than ever.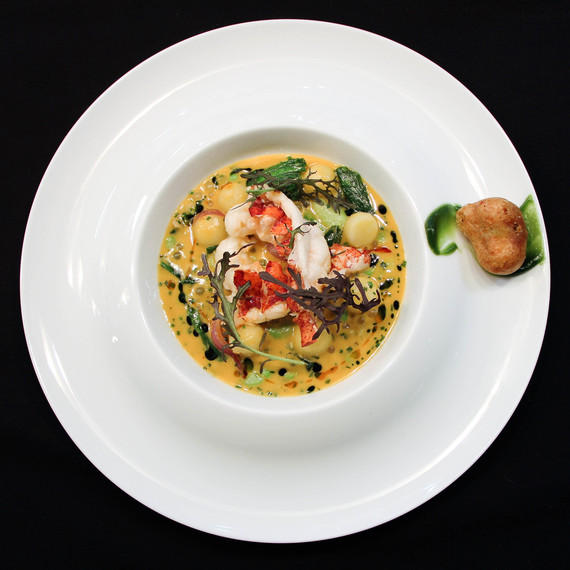 Peek into the glassed-in kitchen and you'll see a brigade all in traditional crisp white chef''s coats--no t-shirts, no sandals, no cargo shorts, no earphones channeling hip-hop. In such a place as this, pride of professionalism trumps trendiness.
Now that I have set the stage for dinner, let me say that GK's cuisine continues to impress by refinement and detail, from the very Alsatian tartes flambée served at the bar-lounge to the wispy applewood smoke in a bell jar lifted from a course of sturgeon and sauerkraut with American caviar mousseline. Kreuther has kept this and other signature dishes on the menu, including the ethereal langoustine tartare with flying fish roe, cauliflower, and a lush macadamia puree. The continuing service of various breads is also--thank heavens--maintained, for there simply are no better breads in NYC, from the herbed buckwheat House rolls to the nicely chewy baguette. Colorful amuses live up to their name.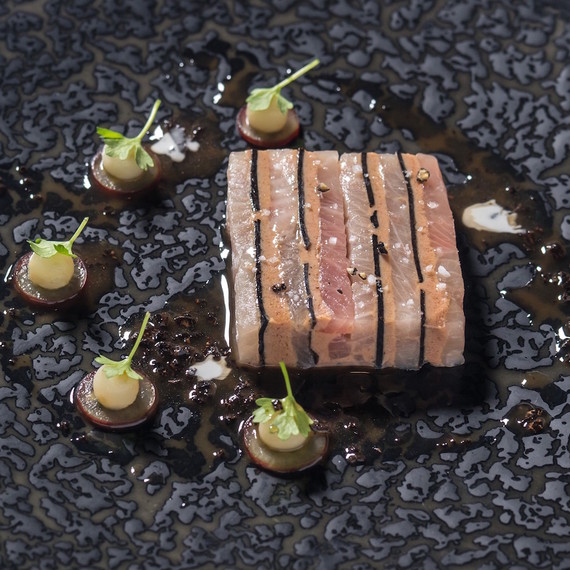 Now the crispy sweetbreads are roasted in duck fat with honshimeji mushrooms, pancetta and mildly spicy pasilla chilies. The sight of Everglades frogs' legs cooked in a Mason jar is odd, but with woodsy chanterelles, zucchini and puffed farro, the dish is a little masterpiece of taste and textures and fun to scoop out. On a summer's eve, there can be nothing better than Kreuther's chilled honeydew melon soup with husk cherries, dried tomatoes and cantaloupe, and his classic training shows impeccably in a terrine of creamy foie gras with brittle black truffled praline, Muscat jelly and seven grain toast. There is never a jarring note on any plate, no surprise for the sake of it.
Among the main courses, I love the pork tenderloin with fennel, roasted broccolini and pickled mustard seeds, while duck came with breast and confit-ed leg touched with chamomile oil in a spiced consommé--a dish as contemporary as anything in town. But in every dish, in the way it is conceived and presented--the drizzle of jus, the pour of broth, the minimal explanation by the captain--there is elegance and a dexterity that shows the depth of the entire staff. Kreuther is one of those chefs who is always in his kitchen, so he hovers over his cooks to make sure all goes well.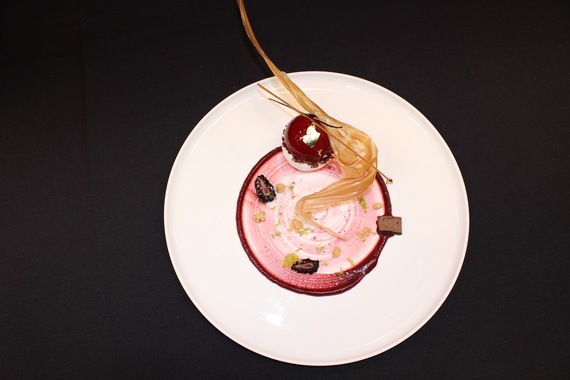 This most certainly includes the dessert kitchen under Marc Aumont (his sous-patîssiére is my daughter-in-law, so I'm well familiar with the detail work and complexity of the desserts, chocolates and petit-fours). Some sound simple, like a vanilla-coconut pannacotta with fresh pineapple and sorbet, but there are ten flavors within that sorbet. Sauté cherries come with an almond mousseline and perfect sable Bréton. And white chocolate mousse (left), which seems to have disappeared from dessert menus 20 years ago, has been marvelously restored to life with a bergamot marmalade and raspberry sorbet.
At the end of an evening at GK, you'll realize several things: First, fine dining is alive and well in NYC; second, as Marc Aumont told me, this kind of excellence is inspiring a young generation of cooks ("They are the future."); and third, you will leave the dining room not only well fed and well cared for but feeling you have had a share in something rare and special.
Open for lunch Mon.-Fri.; Dinner Mon.-Sat.

GABRIEL KREUTHER
41 W 42nd Street (near Fifth Avenue)
212-257-5826
www.gknyc.com