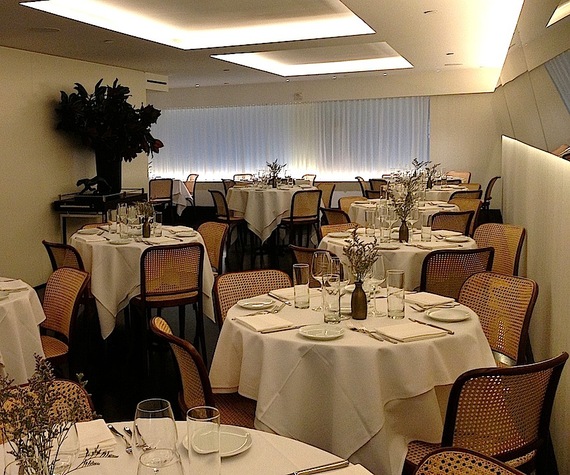 There is rarely an evening when Il Gattopardo, named after the great Giuseppe di Lampedusa's 1958 novel of Sicilian life, when owners Gianfranco and Paula Sorrentino (below with Chef Gnazzo) do not know most of their guests as long-time regulars going back fourteen years, when this refined ristorante was located a few doors away from its present location. The couple, who also own The Leopard at Café Des Artistes near Lincoln Center, have cultivated their clientele with charm, consistency and style.

The new premises, now three years old, in Nelson Rockefeller's former Beaux Arts townhouse, evoke the modernity of MOMA across the street, with strong, clean lines and subtle lighting that create expanses of soft shadow and a natural glow within its subterranean setting. Classic wicker chairs and double tablecloths maintain the elegance, along with fine stemware and china. The noise level is very good for conversation.
The bar up front has the feeling of the best in Milan, and the wine list, overseen by sommelier Alessandro Giardello, is among the best Italian in NYC, with each of 255 labels of the 5,500 bottles selected by Gianfranco himself, focusing on small Campanian producers, so that you'll find good bottles for under $40, along with a daunting number of magnums and jeroboams ideal for a celebrity party.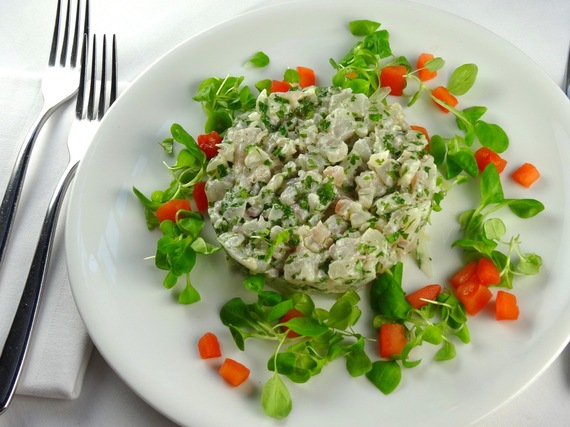 As you'd expect from its location, Il Gattopardo gets a well-heeled, well-dressed clientele, which includes the museum and gallery crowd, the fashionistas of Fifth Avenue, and musicians Paul McCartney and Rod Stewart. Key to their fidelity is knowing that the menu is a delicate balance of favorite dishes perfected over the years by Chef Vito Gnazzo and the introduction of new ones that both mirror the seasons and acknowledge changes in Italian cuisine, as in his superb crudo of branzino, marinated in lemon and olive oil (above) and formed in a pretty little cake colored with fennel, mache and nubbins of tomato ($24).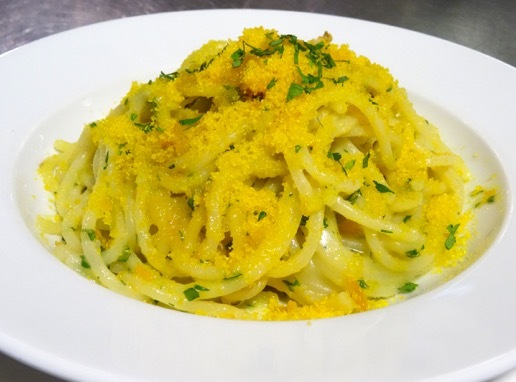 Gnazzo, from Salerno, had worked at the renowned Antica Osteria del Ponte outside Milan, then at the equally esteemed Rex in Los Angeles before becoming Executive Chef at Sette MOMA across the street, so he's very much at home on West 54th, which has become part of a nexus for alta cucina served at nearby Armani Ristorante and San Pietro. Owner Gianfranco is proudly Neapolitan, so the menu has a decided Southern slant, obvious in an earthy dish like an antipasto of a parmigiana of zucchini with smoked scamorza mozzarella, tomato and herbs ($16). Baby octopus is poached till tender in a fresh tomato, capers and red onions sauce, set over creamy polenta ($19), while small beef and veal meatballs cuddle in cabbage leaves with thyme sauce, served over mixed greens ($17). Most wonderful of the starters was a timballo of porcini mushroom and potato ($18).
Many of the dishes I had on a recent evening were fondly recalled from previous ones, but I found them all made better than ever, which shows how Gnazzo is always refining his touch in pastas like mezze maniche with spicy hot 'nduja sausage ragù and a mass of sweet onions scented with rosemary ($28 for a full portion, but half-portions are very generous). A plate of fat paccheri pasta tubes was the epitome of casalinga (home-style) cooking, lavished with a "Genovese" sauce of melted sweet onions, carrots, celery and pork ribs cooked for hours in white wine ($26). The name comes from the practice of visiting Genovese sailors in Naples who kept drinking wine while cooking their meal. Somewhat more contemporary is the spaghetti with grey mullet bottarga roe, garlic, parsley and extra virgin olive oil ($26) and the lasagna "di Carnevale" with mini meatballs, ricotta and smoked mozzarella ($25).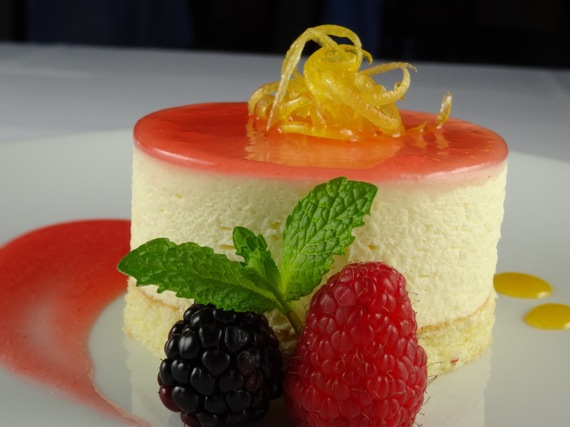 One main course that never leaves the menu is the very popular Neapolitan meatloaf ($29), suffused with flavors of long-cooked vegetables and seasonings, served with chive-dotted mashed potato and garlic-rich spinach. Rolled veal braciola has the scent of fennel pollen, a splendidly conceived dish stuffed with baby artichoke and provola cheese, served with celery root purée and sautéed spinach ($46). You won't find a better codfish dish than Gnazzo's, cooked in a casserole with Gaeta olives, capers, cherry tomatoes and organic potatoes ($39), and the nicely fatted Colorado lamb is crusted subtly with herbs, served with cheese-rich potato croquettes and sautéed spinach, garnished with spicy fruit mustard ($50).
Even at Il Gattopardo's level, Italian desserts often falter, but pastry chef Austin Torsiello makes splendid ones (all $13), including the Neapolitan cheese cake called pastiera ; cassata Sicilian style garnished with dark chocolate sauce; a nice tangy lemon and mascarpone delizia with berry sauce (above); and a deeply flavorful chestnut mousse with chestnut sauce, accompanied by a small glass of Meroi Picolit 2009.
Il Gattopardo's longevity is clearly due to the high quality and variety of its traditional and contemporary cuisine, but the restaurant -- which is now serving a few tables al fresco--has set such a tone of amiable sophistication and service, which seems effortless but which requires tremendous precision teamwork, that, after one visit, it becomes hard to resist ever after.
Open for lunch, Mon - Fri.; brunch Sat & Sun; dinner nightly
IL GATTOPARDO
13-15 West 54th Street (near Fifth Avenue)
212-246-0412
ilgattopardonyc.com
Related