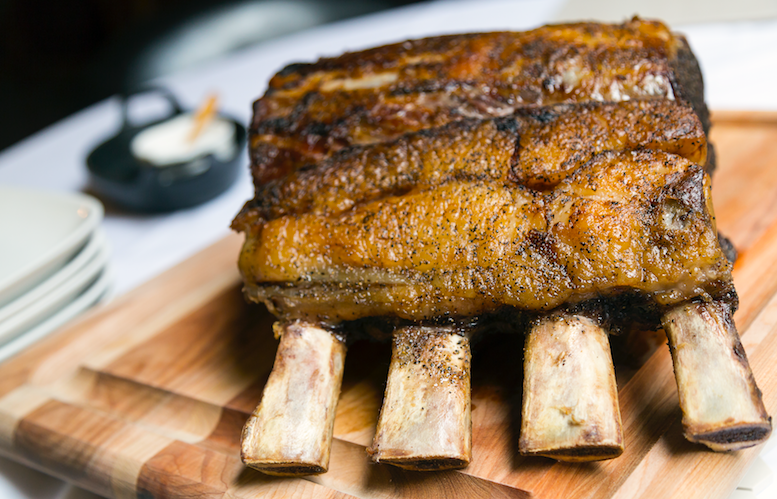 Le Marais 150 West 46th Street (Between 6th and 7th Aves.) 212-869-0900
After saying that Le Marais is a kosher steakhouse and noting that it serves no dairy products or shellfish and must close on Friday evenings and Saturdays, I have said all I need to about its differences from a non-kosher steakhouse. And that was the guiding principle when a non-Jewish Portuguese named José Meirelles took the advice of his lawyers to open a kosher steakhouse (he was already partner at the non-kosher Les Halles bistro). After first sourcing some of the finest beef available, Meirelles went out and hired an Irish-American chef named Mark Hennessey. What could go wrong?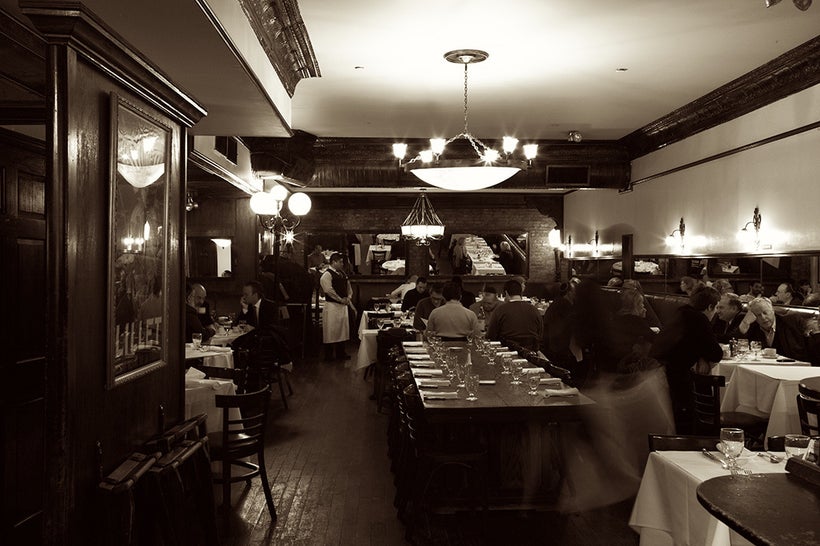 Remarkably, nothing did, and over the past two decades Le Marais, which is named after a Jewish neighborhood in Paris, has distinguished itself as among NYC's best steakhouses, if you don't mind missing shrimp cocktail and cheesecake made with cheese. Meirelles and Hennessey honed their own way of cooking their meat, both grain- and grass-fed, giving its exterior a magnificent charring while keeping the interior extremely juicy. most of all a "La Surprise" cut ($50), which begins as a massive ribeye with its cap removed, making it a kind of filet mignon; the cap is then grilled till succulent as a steak. More important, their dry-aging process gives the beef a richness of mineral flavors without a hint of sourness you get from wet aging. As Hennessey is fond of repeating, "When your mom comes in and asks if our meat is fresh, we proudly say 'no.'" The restaurant is set on two floors, past a boucherie and modest bar, both done in dark woods, fin de siècle light fixtures, banquettes and tilted mirrors, white tablecloths and an undraped communal table, and, upstairs, armchairs you will literally sink down into. The service staff is very cordial indeed and quick on their feet. You won't wait long for your food. The menu is quite a bit longer than the average steakhouse's, despite a lack of shellfish. Cured and smoked "bacon" is made from veal ($18). The creamy, delicious rillettes are made from duck and veal ($12), and the two fish offered, seemingly an afterthought, are fillet of roast salmon with ratatouille ($30) and pan-fried flounder with Israeli couscous and tomato-cucumber salsa ($29). I delighted in a large, easy-to-share frisée salad of smoked duck confit ($38), refreshingly crisp and the duck meat so tender. Rare, sesame-crusted tuna with chilled rice noodles and pickled vegetables ($18) was unexpectedly fine, ranking with versions in many Pan-Asian restaurants but with better tuna. Sweet but peppery Merguez sausages with couscous ($24) is another good starter to share. And so we come to the beef, which is outstanding across the board.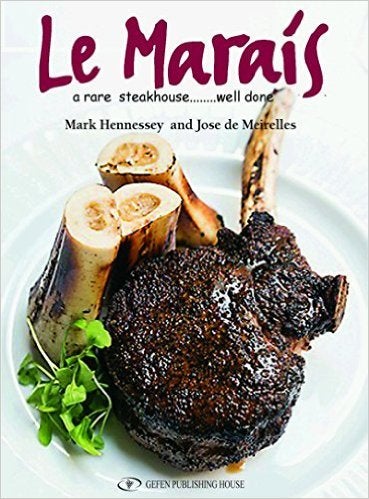 The onglet (hanger) steak ($38), which is as much a staple of bistros as steak-frites, was as good or better than any I've had in France, nicely chewy, with plenty of flinty flavor and superior fried potatoes. Hennessey also does an interesting turn on veal, as a roulade ($37), which keeps it very moist and suffused with flavor. And, despite my high esteem for the steaks at Le Marais, I have unqualified praise for a dish easy enough to do acceptably but very difficult to do really well: the steak tartare here is the best I've had in NYC, maybe ever, with perfect chopped texture and seasonings, lightly bound and served with French fries. At $26 it is an amazing bargain. Despite a lack of butter in the mashed potatoes side order ($9), they're okay, and the sautéed onions are very good ($9). Le Marais does serve dessert, and if you must, after all this rich food, have the fruit sorbets. The rest are not made with dairy. The wine list has several kosher bottlings worth trying at fair prices. Before ending my remarks, I must draw your attention to the restaurant's cookbook, Le Marais: A Rare Steakhouse...Well Done by Hennessey and Meirelles, which actually gives alternate recipes for kosher and non-kosher preparation for many dishes. It is as fine a carnivore's guide to great meat and the proper way to cook it as any out there, including a chapter on the individual cuts with churlish comments about some, such as the tournedo and pepper steak are "girly cuts" and the exclamation of "Oy gevalt!" next to the temperature "well done." You get that sense of humor throughout an evening at Le Marais. You go for great food and great fun with friends. They treat you nice. Gotta end with a joke:
Q: What did the waiter ask the group of Jewish mothers? A: "Is anything OK?"
Waiters at Le Marais are not likely to get many complaints about anything.
Open for lunch and dinner Sun.-Thurs.
REAL LIFE. REAL NEWS. REAL VOICES.
Help us tell more of the stories that matter from voices that too often remain unheard.
This post was published on the now-closed HuffPost Contributor platform. Contributors control their own work and posted freely to our site. If you need to flag this entry as abusive,
send us an email
.