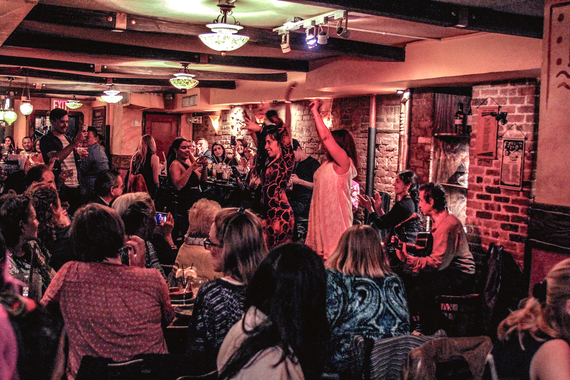 In the language of Galicia, Nai means "mother," and the owners of this six-year-old tapas restaurant in the East Village say its significance is "to continue the secrets of the most traditional cuisine ... the cozy feeling of home when you don't know where to go."
In fact, many of the recipes used at Nai Tapas Bar have been handed down from Chef Ruben Rodriguez's grandmother and mother, while he adds a great deal of his personal spin on tradition with a few modernist touches that begin with a perfect rendition of Ferran Adria's famous "liquid olive" served on a spoon.
The cozy feeling is evident when you enter the small dining area, with its rough wooden ceiling beams, brick walls, high tables and hanging lanterns. The walnut bar stretches fifteen feet along one wall. On weekends it gets seriously loud when live flamenco music is featured.
While promoted as a typical Galician tapas bar with small-portion dishes, Nai may not be what you expect of the genre--through not for lack of trying. For one thing, the customary way tapas is served in Spain is to put many different small plates on the bar, and people point to or pick them up, with the bill somehow totaled by the man behind the counter. That is not the case at Nai, because the NYC Health Department would close it down in a second for having fresh food displayed without a shield of glass.
Also, since Nai has only a beer-and-wine license, you can't enjoy Spanish brandies or Sherries or any other kind of booze, so not even the sangria contains any. There is a very decently priced wine list of mostly Spanish wines, as well as 25 beers, and specialty drinks with names like Calimocho (red wine and Coca-Cola) and Tinto de Verano (red wine with 7-Up and lemon) at just $6. So it is odd that they don't carry the quintessential tapas bar fizzy wine call txakoli, though owner and general manager David Martinez insists they will soon have a selection when the restaurant expands upstairs.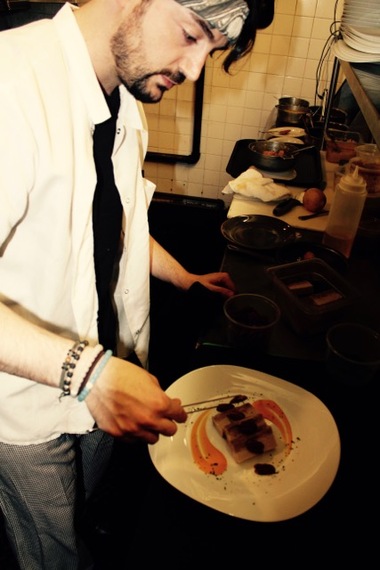 Our party left the array of dishes from the menu entirely to be chosen by Chef Rodriguez (above), a wise decision because sticking too close to the kinds of predictable items you'd find elsewhere would rob you of the pleasures of his new ideas. Case in point is his tostada de lubina, morsels of soft Chilean sea bass (which is not really a bass but a cod, unlike true lubina, which is) wrapped in toast then topped with an orange emulsion and balsamic reduction, finished off with a shake of saffron salt ($14). The very traditional dish of gambas al ajillo, fat shrimp served in a rich garlic and oil sauce ($8/14.50), followed, then aguacate relleno ($10), an avocado stuffed with crab meat and sprinkled with Serrano ham--two quite simple dishes in the tapas style.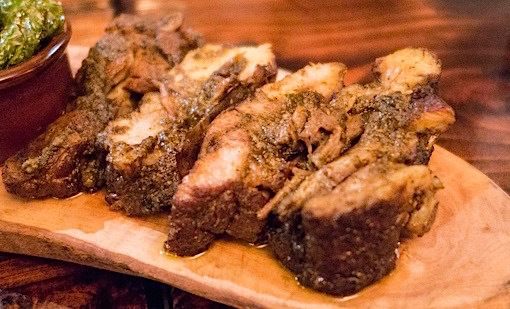 But pollo ahumado ($12) goes a bit further, glazing smoked chicken thighs cooked by Sous-vide and served on skewers. Coles de bruselas (Brussels sprouts) come spiked with a mustard aïoli ($10), while one of the most popular dishes at Nai is a small masterpiece of protein, fat, crunch and heat--barriga de cerdo, pork belly with caramelized pecans and yucca chips over sweet carrot cream ($12). Salmorejo canario ($14) are well marinated, meaty baby back ribs (above) with cabrales potatoes and slick fried peppers, gilded with manchego cheese melted over them and a quail's egg on top. Pintxo de chistorra is a Basque item made with spicy Basque chorizo over piquillo peppers on toast topped with melted manchego cheese and quail egg. It's a complicated assemblage but every element works beautifully to complement the other.
Nai carries an array of Spanish hams and cheeses too; a selection is $19.
We prepared for dessert with an icy sandia impregnada con Sangria infused with watermelon, then came a kind of pear cotton candy called caramelo de algodon and that most Spanish of all desserts, the piping hot fritters called churros, only at Nai they are filled with chocolate rather than dipped in it--a cute, tasty trick for a dinner's end.
There's nothing gimmicky about Nai's food, and Chef Rodriguez's ideas are all intended to deliver flavor not just surprise. His cuisine may be in the line of modernism Ferran Adria put in motion, but shocking his patrons is in no sense what Rodriguez wants. He wants you back, and only if you remember the pleasures of Nai's flavors and aromas would you do so.
Nai is open for lunch Sat. & Sun., for dinner nightly.
Nai Tapas Bar
174 First Avenue (at 11th Street)
212- 677-1030
naitapas.nyc