In the backbiting NYC restaurant world, I doubt there is anyone who enjoys a higher likeability rating than Georgette Farkas, who, having spent 17 years as communications director for chef-restaurateur Daniel Boulud, finally did what she had originally intended to do two decades ago -- open her own restaurant.
New York born, Ms. Farkas began cooking professionally at 16, attending École Hôtelière de Lausanne, then training at Michelin-starred restaurants like the Hôtel Richmond in Geneva, Hôtel de Crillon in Paris, Moulins de Mougins, and Louis XV in Monaco before joining the marketing side of Boulud's expanding empire. Her experience as a bartender at Blake's Hotel in London and with nightclub impresario Régine in Paris only added more European polish to her New York savvy.
And now she is off on her own, with a namesake restaurant built around a piece of twirling kitchen equipment that turns out scores of roast chickens each night, along with other meats and seafood. The long dining room, in low light, has steel girders and tall brick walls hung with antique mirrors, swag curtains and an Aubusson tapestry. Banquettes are done in chocolate brown leather; tables are bare; the noise is tolerable. The open kitchen's front is decorated with blue tiles.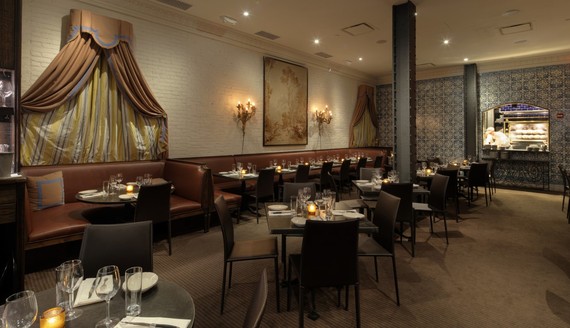 The courteously dressed East Siders took to the restaurant immediately, dining early, so that reservations are easier to come by after 8 o'clock than before.
When Rôtisserie Georgette opened this year, expectations were high, given Ms. Farkas' reputation, but the early word-of-mouth on the consistency of the food was less than exultant. In my first visit, about a month after the restaurant opened, I enjoyed myself but found some of the cooking lackluster. Even the vaunted chicken was tepid, rather than hot; nor was it the best version of the bird in a town with plenty of exemplars.
For reasons not explained, Ms. Farkas fired her first chef, bringing on Chad Brauze, formerly a sous-chef at Restaurant Daniel. Now, not only has the Amish-bred chicken improved but his additions to the menu have made Rôtisserie Georgette what it was intended to be. Indeed, despite being meat-centric, the menu will have enormous appeal to any vegetarian who has no problem with the lavish use of butter and cream.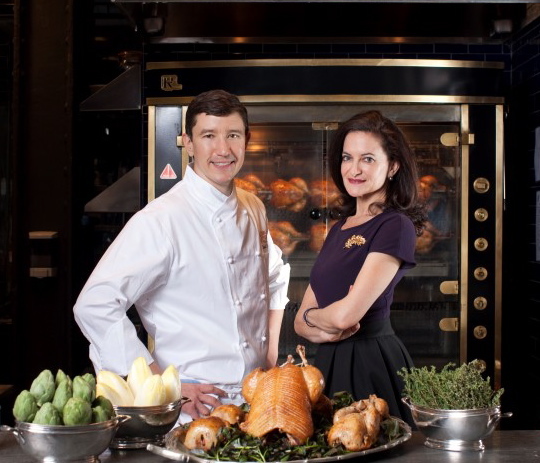 Thus, on my second visit, with Brauze aboard, I was giddy with almost every appetizer, from roasted artichokes and peppers with a lemon-garlic aïoli ($16) to roasted leeks with duck prosciutto, mâche lettuce, pignoli and grilled onion vinaigrette ($14). There were three pâtés on one plate ($21), each smoothly textured and distinctive, with fine toasted bread, and a generous portion of foie gras with a rhubarb chutney and candied pistachios ($28). Only the gnocchi à la parisienne ($18 as appetizer or $26 as a main) disappointed; on two tries it was too soft and gummy. But then, that ill-conceived dish almost always is.
Before turning to those chickens, I must comment on the side dishes of vegetables, like the whole roasted glazed carrots ($9) that you might want to pick up with your fingers if they weren't so hot; the well buttered spring peas with fresh mint ($11) that are just perfect at this time of year; crispy pencil-thin asparagus enhanced with lemon, coriander and a rich Hollandaise ($11); brown butter-enriched spinach scented with garam masala cream ($10); and wild mushroom fricassée persillade ($12).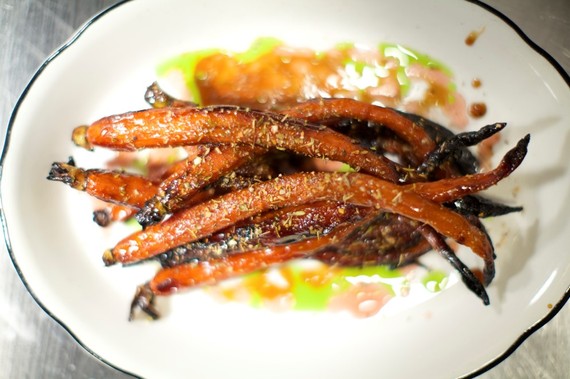 So. The chicken. It is now everything it should be, brined in advance, rotated to garner an even, crisp skin, very juicy within, and it comes with a variety of sauces -- herbes de Provence; garlic, tomato and tarragon; or Grand Mère, with red wine, mushrooms and bacon -- and at a very reasonable price of $24. There is a more flamboyant version, for two at $36 per person, called poule de Luxe, which comes as a whole chicken whose breast is stuffed with panko crumbs and wild mushrooms and topped with seared foie gras as gilding. And, believe me, two people will take plenty home; I got two lunches out of the leftovers.
Fat is neither wasted not held back at Rôisserie Georgette, and that goes for the roasted potatoes, the baked potato with Parmesan, and the butter-rich mashed potatoes. They taste fabulous.
There are several non-chicken items on the menu, but I only tried them under the former chef's tenure, so I can't really report on the two: roast quail in red wine sauce ($42) or the suckling pig ($450). Sadly, the latter is only served for 6 to 8 guests, when you can get an individual portion at other places around town. There is also harissa-amarinated loin of lamb ($32), and, again for two, côte de boeuf, whose price of $60 per person for a 20-ounce cut works out to considerably less than some other restaurants in town are charging for the same, like $145 at Minetta Tavern.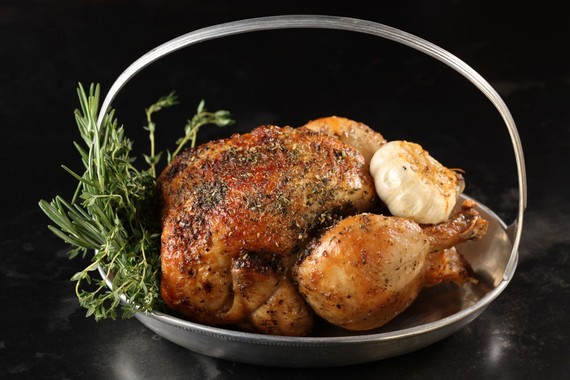 (Photo by M. Hom)
Ms. Farkas attracted patîssier Nicole Kaplan away from Eleven Madison Park, but she is toeing a more traditional French bistro line here, with excellent versions of tarte Tatin, chocolate soufflé, and pot de crème.
The wine list is just about as large as it should be for this venture, but it's top heavy in price for a rôtisserie restaurant. It might be nice even to have some good Beaujolais by the carafe, as you'd find in France.
But Georgette has been a big success, not least because people were waiting for Ms. Farkas to open just such a place as a reflection of her own ebullient, ever cordial personality. That goes a long way, and, though it is not a novel concept, I suspect we'll see similar restaurants being opened around the U.S. very soon. (Plenty of out-of-town chefs have been dining here.) But then, they won't have the sophisticated Georgette Farkas running them.
Open for lunch and dinner Mon.-Sat.
RÔTISSERIE GEORGETTE
14 East 60th Street (near Fifth Avenue)
212-390-8060 <212-390-8060> 212-390-8060>
REAL LIFE. REAL NEWS. REAL VOICES.
Help us tell more of the stories that matter from voices that too often remain unheard.