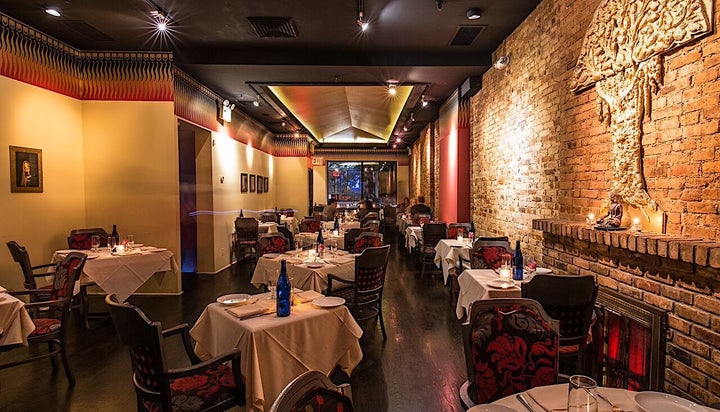 Nirvana is a handsome, two-story, skylighted, brick-walled restaurant, now ten years old, that lies just outside of what is called Manhattan's Curry Hill, the streets in the 20s that flank Lexington Avenue and are filled with Indian restaurants and food markets. Like Nirvana's location, owner Anil Amin is joining a trend to get away from the Mughal menus that once blanketed Indian restaurants from New York to London. That cuisine was rich, its sauces heavy, and the influence of the British Raj was rife in dishes like mulligatawny soup and various curries.
Downstairs at Nirvana is a sleek 14-seat bar and more intimate lounge done in vermillion colors; upstairs is the dining room, where vermilion is also accented along with well-lighted Indian artwork that includes a bas-relief bodhi tree beneath which sits a serene Buddha statuette. Tables are nicely set with double cloths. The lighting throughout is seductively soothing, and the noise level in the restaurant is quite civilized.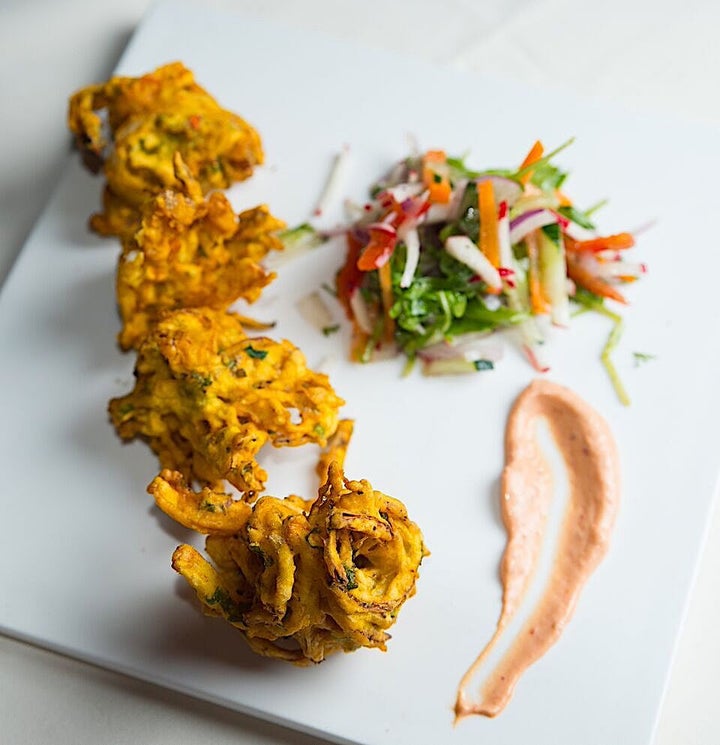 Chef Peter Beck has a high profile among NYC chefs, having won praise for his cooking at Chola and Tamarind, and at Nirvana. He is now showcasing more Southern Indian cooking and vegetable dishes.
You can still find mulligatawny and other Mughal dishes at Nirvana, but they are of less interest than the regional fare Beck serves, like a starter of brijwasi tikki ($9;) made with "hung yogurt" that concentrates its taste and texture, blended with ginger and cumin. Chicken 65 ($10) is a hotly spiced South Indian stir fry (below) , and I've never before eaten calamari bhajia (above) coated in a spiced batter, fried and served with crisp fritters ($12). Tamer by far was tawa machi, a semolina-crusted whole sea bass ($14); and achari mushrooms in pickled seasonings grilled in the tandoor ($11) made for a nice, if bland, bite at the beginning of the meal. Seared tiger shrimp tadka ($14) came to the table not entirely cooked through, so it was whisked away and made right within minutes.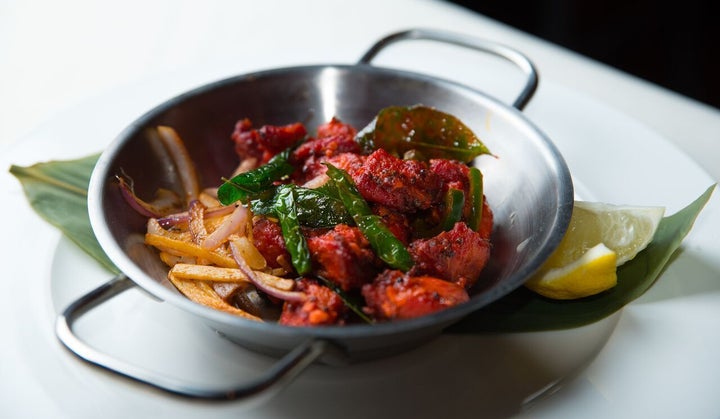 Not to be missed is patli ranee ($26), a massive spice-rubbed lamb shank braised in a masala broth that makes the meat fall from the bone; it served four of us handily. Then there was the Bengali dish dab chingri, shrimp with assertive mustard, curry spices, coconut water and milk ($24).
Beck has always featured a large number of vegetable dishes, and I recommend his aloo rabi mytter bangali suzi ($17), quite a mouthful figuratively and literally, composed of potatoes, cauliflower, peas, cumin, onion and seed spices ($17). Saag paneer is a very traditional dish of Indian cheese in garlic, ginger and herbs with spinach ($17). I only had a chance to try one bread, garlic naan ($6), which was all right, but I wish I'd had tasted a wider variety.
Desserts are no more unusual than you'd find elsewhere, but they are freshly made.
Open for lunch and dinner daily.
346 Lexington Avenue (near 40th Street)
Popular in the Community