I liked Rocco. I liked Rocco a lot.
My friends and I had what men like to call a rollicking good time, in large part due to the warm welcome from general manager Pete Pjetrovic (previously GM at Wolfgang's for ten years) and the entire staff. Our waiter could not have been more helpful, paying close attention to our specific requests, and delivering the goods at just the right pace.
This new steakhouse in the Flatiron District, which is curiously devoid of such restaurants, is the work of Rocco Trotta, co-founder and chairman of the board of The LiRo Group, a big name construction management and engineering firm. In choosing his staff, the rubric was that everyone had to have worked at a top NYC steakhouse for at least a decade, including Exec Chef Johnny Jevric and head waiter and sommelier Henry Doda, both also Wolfgang alumni.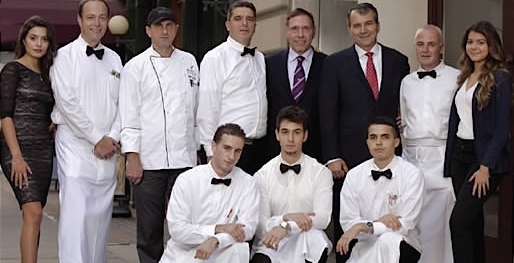 There's a comfortable U-shaped bar up front, with the requisite TV screen, and during the day light pours in through floor-to-ceiling windows, and the ceiling lighting falls from large picture frames. The evening lighting is a bit flat and there isn't much color in the main dining room, but you can readily see everyone coming and going, which adds vibrancy to the evening. Tablecloths absorb the sound, which is a bonus because the floors are wood.
Rocco's is not a trophy wine list, though there are some major bottles on it, including California cult wines like Shafer Hillside Select 2012 ($675), Screaming Eagle Second Flight 2012 ($1,495), and Harlan Estate 2011 ($1,995), with mark-ups of about 125 percent. Others, like Nickel & Nickel 2012, at $185 have a whopping mark-up, more like 400 percent.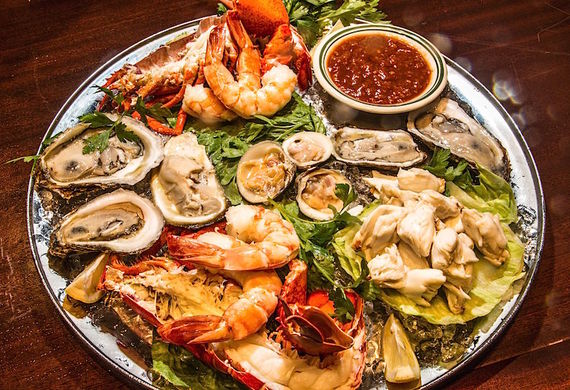 The menu doesn't stray far from the NYC steakhouse template, but in a fiercely competitive and satiated market Rocco belongs among the top ranks for the impeccable quality of ingredients and the care with which they are prepared. There is a seafood tower available at market price, while jumbo lump crabmeat cocktail ($22.95) is a very generous portion of the whitest, fattest crab lumps I've had in a while. So, too, the lobster cocktail ($21.95) and jumbo shrimp ($19.95) are of top-notch quality. The now ubiquitous Canadian bacon slab ($5.95 per slice) has a fine exterior and good, chewy interior, not too salty; one slice will serve two.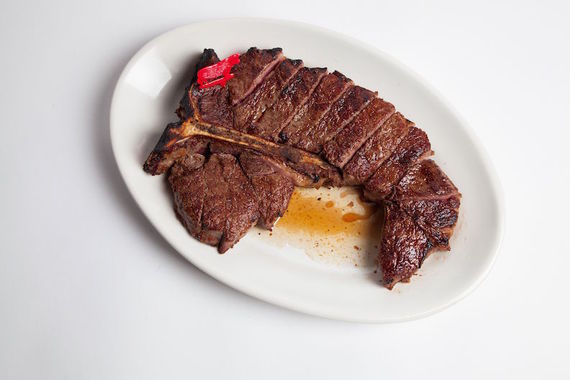 The beef here is said to be USDA Prime and dry-aged in Rocco's own aging box, so you get that ideal balance of marbling and minerality in the porterhouse for two or more ($49.95 per person); I asked for it to be cooked well charred on the outside and medium-rare within, and it came to our table perfectly rendered and still sizzling. The sirloin ($49.95) and ribeye ($52.95) were as impressive, and, in line with all the other largess here, the American lamb chops numbered a hefty six (below). The goodness is in the details here: They take your order seriously.
The usual sides were good, from mashed potatoes ($7.95) and creamed spinach ($10.95) to Rocco's Signature Fries ($8.95).
It's tough to assess dessert when you're so full, but you'll very much enjoy sharing the cheesecake, a fine crème brȗlée, or the delicious, moist carrot cake, everything lavished with a mountain of whipped cream. Ask for four forks.
If you like any of the other upscale steakhouses in NYC, you probably have your favorites and stick with them. But for the size of the crowd at Rocco when I dined there, this new kid on the block is making friends quickly and with good reason. The food is excellent and the service--not always a given in Rocco's brash competitors'--is out to win you over. Its location also makes it an easy taxi ride from Madison Square Garden, Grand Central, or Greenwich Village. No one's going to wait ten minutes for his confirmed reservation, no one's going to find a hostess, captain or waiter who is not happy to listen to you, and no one's going to leave hungry. You'll be back.
Hours of operation: Mon.‑Sat. daily for lunch and dinner. Sunday for private parties only.


ROCCO STEAKHOUSE
72 Madison Avenue (near 27th Streets), NYC; 212-696-9660 www.roccosteakhouse.com