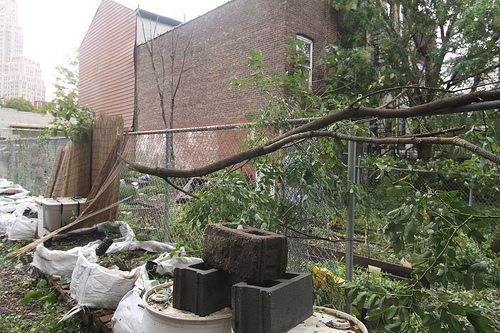 When Sandy hit BK Farmyards' youth farm site at a school in Crown Heights, Brooklyn, it was especially frustrating for the site's farmers. The foursome of young women are committed to providing fresh food alternatives in an under-resourced community, and they had already weathered what they'd thought to be their toughest obstacle: a Department of Education-mandated freeze on selling the produce they'd been growing all season long, right at the height of the harvest.
According to BK Farmyards' co-manager Bee Ayer, the sales freeze had wiped out the majority of their proceeds for the year, and might force them to cut positions. But they had worked with the Department of Education on new standards for school garden food, and managed to pickle and preserve some of the produce, hoping for a better year ahead. So when Hurricane Sandy blew over the kale and collard beds in their school garden, it was yet another strike to bear.
Not everyone might demonstrate the same courage and creativity given the circumstances. Although the harvest season had just come to a close when Sandy took its aim at New York City, many gardeners, beekeepers, and urban homesteaders suffered damages. Unforeseeable weather challenges have always been an inevitable part of the farmer's job. Add to that slim proceeds, institutional interventions, limited space, and soil quality questions, and the future of city farming may be thrown into question for some.
On Monday night, Red Hook's Added Value Farm, a longstanding community farm that provides a community-supported agriculture (CSA) box and youth workshops, was flooded by two feet of contaminated water that ruined whatever crops remained.
Manhattan's Battery Farm at Battery Park also sustained major flooding, and it is unclear at this point what long-term damages the salty seawater will cause to the soil. However, Chrissa Yee, the project manager at Riverpark Restaurant in Manhattan, noted that salt has been problematic for urban gardeners in the past when a public art project called the NYC Waterfalls sprayed salty mist too close to urban farms. Fortunately, the restaurant's extensive container farm had already shuttered down its beds for the season. "The portable concept of the farm allows us to make necessary moves quickly -- within a day if need be -- so we're always prepared in that sense," explains Yee.
Indeed, in some cases, the compact and impermanent nature of urban farms, once seen as an obstacle, was advantageous to many New York City farmers. Hobbyist backyard and fire-escape gardeners, for instance, could take their container plants inside. Ben Stein, who keeps egg-laying hens in his backyard in Boerum Hill, says that he fortified the henhouse, but "the backup plan was to bring them in the kitchen."
Larger, less mobile enterprises didn't fare as well. The Brooklyn Grange, which boasts the world's largest rooftop farm at just over one acre in Long Island City, suffered a significant loss: the destruction of its recently launched beehive project, New York's largest urban apiary in existence at the time. While the rest of the farm was largely unharmed by Sandy thanks to vigilant preparations, the loss of the hives was emotionally shattering, and financially battering. Alongside a photo of the battered and emptied beehives the group posted to its Facebook wall, its principal Chase Emmons wrote: "This is one of those times you either throw up your hands and walk away or double down. We're doubling down."
Whether for profit or pleasure, urban gardening has been on the rise in recent years, with many New Yorkers looking to turn whatever space they can carve out into an opportunity for organic edibles. But what if these kinds of extreme weather events propelled by climate change become commonplace -- like many of our leaders are warning they will? Who will want to plant crops just to see them get battered by storms and floods every year?
Stacey Murphy, founder of BK Farmyards, worries about how these drastic weather patterns might impact young people's interest in farming. "With the percentage of farmers already having dropped to below one percent of the population, we are at risk of losing crucial farming knowledge," she says. Murphy emphasized the importance of federal programs such as the Beginning Farmers and Ranchers Development Program, which has been in funding limbo since the 2008 farm bill expired last month.
On the other hand, it's also possible that the weather will shape city farming for the better. "I foresee farmers using new growing strategies in response," says Murphy.
"Changing the way we eat and grow food is not only vital to slowing the effects of climate change, but is also a key way to mitigate the risks," says Aaron Zueck, an operations manager of Butter Beans, Inc. and intern at Brooklyn Grange Bees. Most of those changes have to take place outside of cities, where the bulk of our food is grown, but urban areas are good places to experiment with things like better drainage and soil that absorbs carbon.
And it's one thing for the city that never sleeps to face the wrath of Mother Nature now and then. But imagine, Zueck points out, if something similar were to strike California's Central Valley, where most of the country's fresh produce is grown?
"We have to bring agriculture back to a human scale," he says. "It's scary, but I almost don't feel like I have a choice. We've gotta do this."
This post was originally published by Grist.
Support HuffPost
The Stakes Have Never Been Higher
Related
Popular in the Community