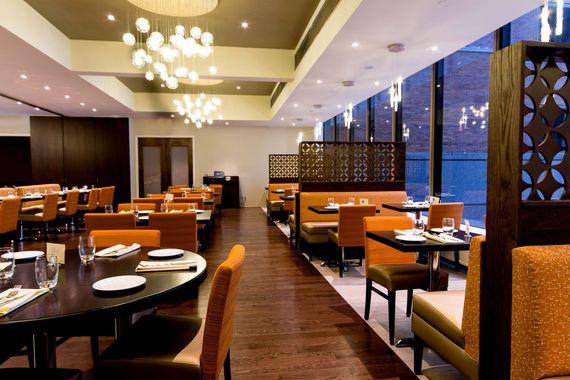 NYC's Indian restaurants are of three kinds: those that service the Indian communities, serving regional food of a vast sub-continent; those serving a Pan-Indian menu of standard curries and vandaloo dishes; and those that aim to show both the variety and the distinctiveness of modern Indian cuisine.
Utsav, from a Sanskrit word meaning "festival," is clearly in the last category, for, while you can enjoy the standard dishes you might at any number of Indian restaurants, Nandita Khanna, whose grandmother, Emiko Kothari, ran Utsav for fifteen years, has recently given it a new look and hired an exciting young chef named Hari Nayak, who has truly rejuvenated Utsav, which can easily go head to head with the well regarded upscale Indian restaurant Junoon.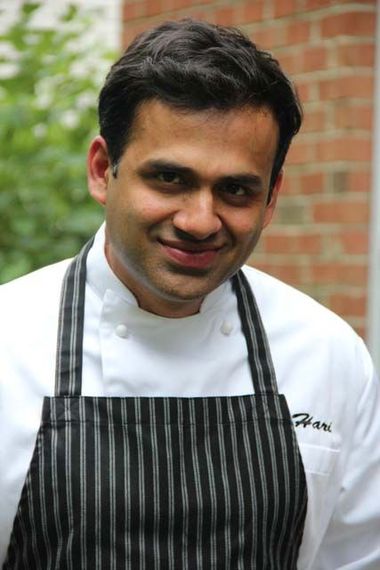 The setting, with its wall of glass, is within a bridge-like space connecting two buildings near Rockefeller Center, and the interior now has a great deal of color, crystal chandeliers, banquettes in rich gold fabrics, and carved wooden Indian screens. The dark wooden tables do nothing to brighten the room at night, however; I'd hope that Khanna would bring more color right to the tables. Downstairs is a bar-lounge with plush ottomans and couches.
Chef Nayak has done a good deal of writing about and consulting on Indian cuisine, including several award-winning books, and his expertise shows in the evening's specials, so we left ourselves in his hands to choose whatever he wished to serve our party of four.
A shooter of winter squash soup with crisp vegetable fritter started things off on a high note, followed by shakarkandi chaat, a salad of crispy sweet potatoes, raw mango and arugula dressed with kaffir lime ($8). The role of the tandoori oven was manifested right from the start with charred baby vegetables as seekh kabobs including buttery fingerling potatoes, paneer cheese and aromatic spices ($10), along with spiced minced lamb kabobs ($12).
Crab is a popular item in southern Indian cooking, and at Utsav it comes as "Bombay butter garlic crab," a sensational dish sprinkled with cracked black pepper and sided with a cumin cracker. Plump, chili-laced Cornish hen came with a crispy okra salad ($20), making evident the textural contrasts in all of Nayak's cooking. Everyone's favorite Indian dish (I suspect) is butter chicken, first seared in the tandoor oven then incorporated with a creamy tomato sauce and fenugreek ($20).
Too often in Indian cooking in America, "slow-braising" means woefully overcooked, but at Utsav the lamb shank with saffron korma sauce ($26) had true succulence without losing its meaty texture, and the "Farmers Market Korma" with almond ($17) showed the same attention to keeping the essential flavor of the vegetables.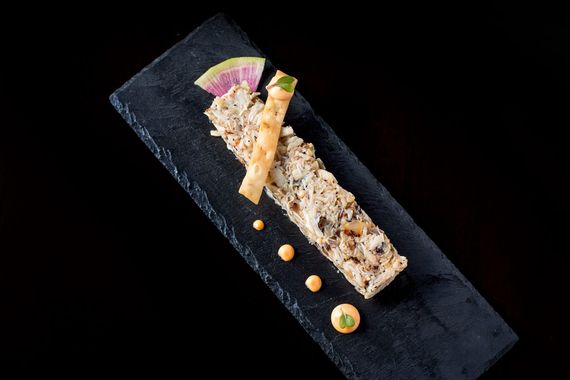 Overcooking often mars seafood in Indian kitchens, but here the sea bass rasa with Kerala coconut, herbs and kaffir lime ($28) was superbly tender and juicy. Duck Pondicherry ($26) was seared and accompanied by roasted onion, sweet orange and a spark of chili, and lamb biryani ($22) was melded with saffron-suffused basmati rice. Dal mahhni was a beautiful dish of black lentils simmered with tomatoes and aromatic spices.
One doesn't expect to find a chili relleno on an Indian menu, but it makes perfect gustatory sense: the chili pepper came to Indian via the New World, so stuffing a poblano pepper with ground meat and herbs in a tomato sauce ($18) shows how cuisines cross entire continents successfully.
There were, of course, those marvelous smoky Indian breads; a basket of three different varieties is $12.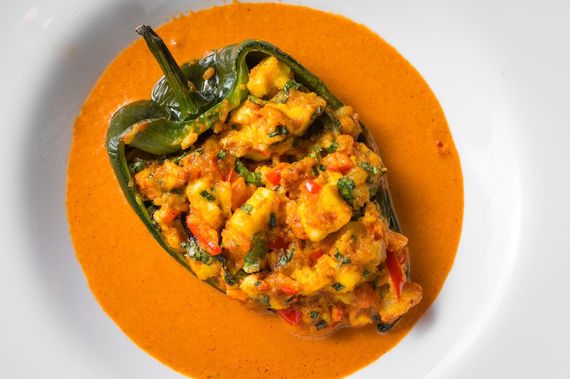 Desserts ($7) included lemon chili, red quinoa pulao, luscious Malai pista kulfi made with vermicelli, tapioca pearls and raspberry. And one of my favorite Indian sweets, rarely seen on menus now, is warm carrot pudding called gaajar halwa, subtly scented with cardamom and other spices, and at Utsav made into a sundae with vanilla ice cream. One of my guests implored Nayak for gulab jamon milk dumplings, which he happily brought with a rosewater crème brûlée.
Rajat Paar has added measurably to Utsav's wine list.
There are dishes similar to many of Utsav's at Indian restaurants around town, but Nayak gives them a modern spin, with more personal touches and a good deal more finesse, beauty of presentation, and not a little whimsy. So, go if you like the traditional and lavish lunch buffet ($21.95), but come back for dinner to be amazed.
Utsav is open daily for lunch and dinner; A la carte and a fixed-price dinner at $38.
UTSAV
113 West 46th Street (between Sixth and Seventh Avenues)
212-575-2525
http://www.utsavny.com