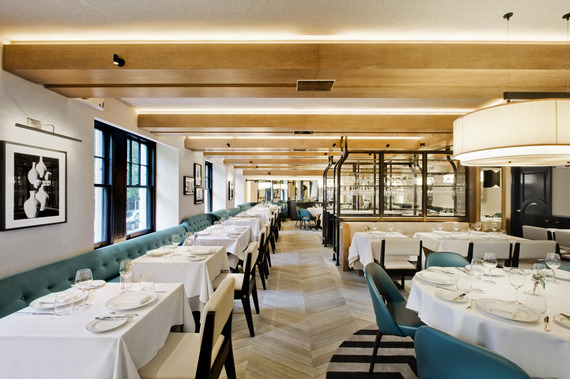 There were some raised eyebrows among the NYC food media when Michael White and his Altamarea Group opened a French restaurant named Vaucluse last summer--after launching fourteen Italian restaurants over the past few years. It is certainly a legitimate question how White can properly oversee so many ventures on three continents, for there is obviously a point at which the excellence of White's original restaurants, where he was always on premises cooking, cannot be sustained with an absentee chef-leader, as if a conductor rarely sets food on the podium.
Still, Vaucluse, on the Upper East Side premises of what had been Park Avenue Café, is very much a departure for White in that it is a straight-down-the-line French restaurant, with traditional and classic cooking, but always given a personal twist that redeems them from being predictable. Little on Vaucluse's menu can be exalted as wholly innovative, but almost every dish I tried showed the heightened attention of a kitchen not content to provide basic bistro/brasserie fare.
The renovations make Vaucluse as refined as any you'd find in NYC or Paris right now. Downstairs is a loud buzz; upstairs, which has been referred to in the press as "Siberia," is actually a far more congenial and civilized room for conversation.
The wine list, overseen by sommelier Leigh Weissman, is as admirably comprehensive as at other Altamarea restaurants but far more focused, as it should be, on French selections. Curiously, prices by the bottle are quite fair, the markup often less than 100%, but by the glass you get gouged for wines like a $20 Christian Moreau Chablis 2014 that sells for $25 in the wine shop. Cocktails run $17.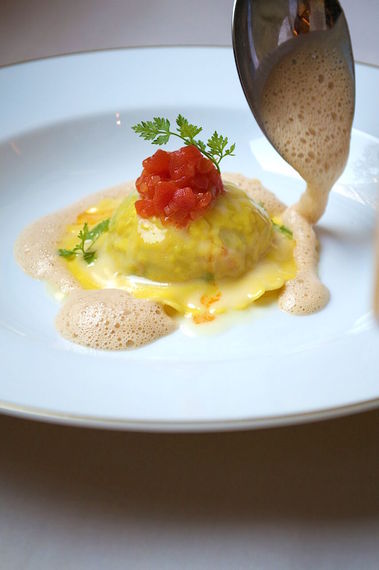 The spring menu is now in effect, so aside from a selection of oysters with red wine mignonette (six for $21) and American caviar (a whopping $115 per ounce), there is a pretty salad with mesclun, mushrooms à la grecque and shavings of tête de moine cheese and black truffles ($22)--a salad it would be difficult not to love (right). Tartare of beef with capers, cornichons and toasted baguette ($21) was good, if not earth-shaking. A silky terrine of foie gras took on the added interest of guinea hen, with shaved asparagus and a dash of sweet Sauternes, served with sourdough bread ($26).
When I saw onion consommé on the menu ($19) I hesitated, knowing that this deceptively simple reduction was once a staple of menus everywhere but one now rarely seen. The late restaurateur Joe Baum used to barrel through his kitchen and complain about the consommé without even tasting it, growling to his cooks, "I don't have to. There's always something wrong about the consommé." So I decided to see if White and his cooks could bring this classic soup back to eminence and was giddy upon finding they did. For not only was the broth deeply flavorful and of a perfect dark copper color, but the unexpected addition of bone marrow and a little tartine topped with melted Gruyère added measurably to the sweetness of the slowly reduced onions.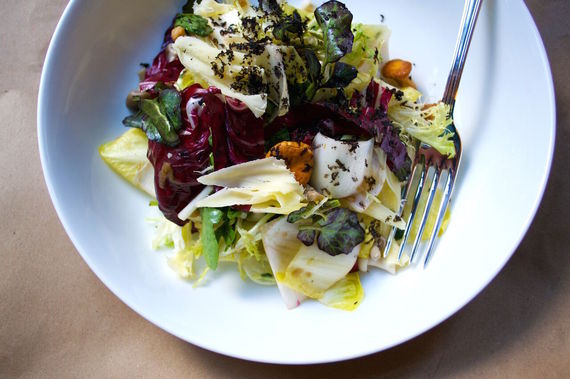 Since everyone expects White to have pasta on his menus, and because there is hardly a French restaurant anywhere that does not these days, he's added four. The lobster raviolo with fines herbes and a rich shellfish bisque was very good, very creamy and did actually taste of lobster, but $26 for one large raviolo as a starter tilts towards exorbitance.
Each day there is a specialty, such as boeuf bourguignnone on Wednesday and blanquette de veau on Thursday. Under "Viandes" you'll find a beautifully cooked filet of veal done à la Rossini, with fresh sautéed foie gras, a caramelized onion tartine and a deliciously extracted black truffle jus ($46, which is actually a fairly moderate price). Next to the consommé, I found the slow-cooked rabbit leg with barley and bacon superb, just kissed with enough Dijon mustard to bring up all the flavors ($35), and it was a surprisingly big leg for a rabbit. I did not have a chance to try the duck à l'orange (another French item you don't see much any more) because it is only served for two ($42 per person).
There is a cheese selection of six French varieties ($17 for three, $23 for five) and an excellent list of dessert wines to go with them by the glass.
Alina Martell, formerly at White's deluxe Italian place Ai Fiori, is now going full-tilt French with very fine renderings of chocolate cake with mocha crèmeux, genoise and caramel glaze ($15), and a tangy lemon tart with Meyer lemon cream, brown sugar breton cookie, and citron glaze ($13). I'm always a sucker for Paris-Brest (named after a 1910 bicycle race), that way-too-much-of-a-good-thing made with a ring of pâte à choux pastry filled with caramelized white chocolate and a praline croquant ($13), though the crust was not as crisp as it should be and the interior cream tasted more like whipped Chantilly cream (below).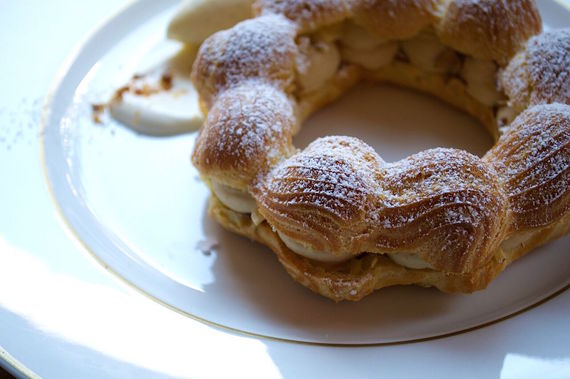 I for one am happy White has tried his hand at a French restaurant--after all, he had extensive training in France as well as in Italy--one that does not try to compete with the more nouvelle examples at Jean-Georges. Instead, for its sophistication and modernity of design, Vaucluse rises above the evergreen charms of bistros that perform by rote, and in its cuisine there is far more personal expression and attention to detail than you might have expected. Then again, why would you not from someone of White's stature? Now, if he'd only alight more at his restaurants, all would be even better.

Open for Lunch Mon.-Fri.; Dinner nightly; Brunch Sun.
VAUCLUSE
100 East 63rd Street
646-869-2300
vauclusenyc.com