It is very rare that I so radically disagree with my colleagues' reports as I did with a recent thrashing by the NY Times restaurant critic Pete Wells of Chef Michel Richard's Villard in the New York Palace Hotel. Reading it, I could not believe he and I went to the same restaurant or ate the same food. (For the record, the staff at Villard knew both of us on sight on our separate visits.)
Wells is as aware as any gourmand how highly regarded Chef Richard (below) is, winning every accolade possible in his long career. So Wells rightly wondered if Richard's working with an imposed union staff might have affected the food and service. (I know very well how those unions can wreak havoc with a chef's best intentions: their obstinacy drove a previous tenant at The Palace -- Le Cirque -- to leave as soon as its contract ran out.)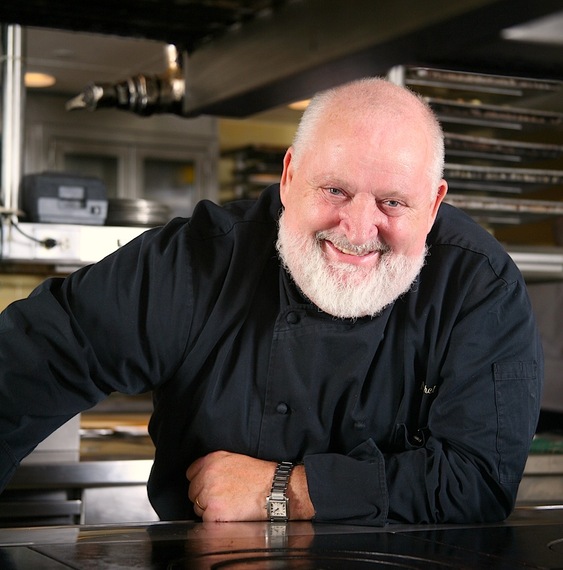 Yet on my two visits, one to the large dining room that serves breakfast, lunch and the other to the Gallery that only serves dinner, I had meals in every way reminiscent of those I've enjoyed at other Richard-run restaurants over the last four decades. Nothing I tasted at Villard indicated that Richard and a dining room staff of veterans were coasting on laurels or intimidated by the union workers there. (There is also the Pomme Palais market, open all day serving breakfast, lunch and light dinner options.)
Born in Brittany, Richard learned his craft in Paris, moved to Los Angeles, where he first ran a patîsserie, and, in 1986, opened Citrus, a bellwether California-French restaurant of its day. He later opened what many still consider to have been DC's finest restaurant, Citronelle (shuttered when the hotel itself in closed).
There have been a few missteps along the way, but Richard never compromised his cuisine or changed his witty, winking approach to prole food -- most evident at Villard in his splendid fried chicken (below), which is brined, coated in a chicken mousse, breaded and fried to a succulence I've never before encountered, served with Yukon Gold mashed potatoes and glazed baby Brussels sprouts.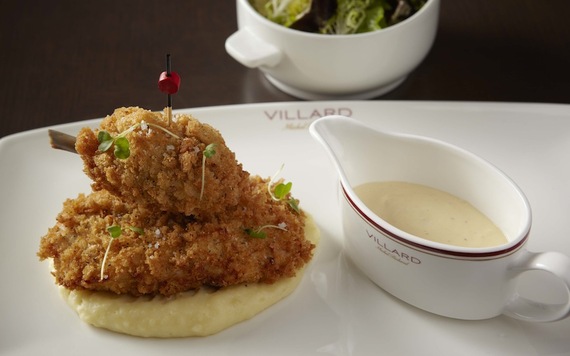 His short rib sandwiches are made from beef marinated 72 hours; and his tuna burger with a soy dressing on brioche bun with potato tuile, confit tomato, and ginger mayonnaise shows what happens when a master chef applies his precise sense of balanced flavors.
In the more casual side of Villard (below) -- though it is a riot of Gilded Age filigree and a spectacular glass wine cache -- I enjoyed an extensive lunch that included dishes only a carefully trained kitchen could render with such delicacy, not least perfect puff pastry enclosing shiitake mushrooms with butter and parmesan; or a simple frisée salad with lardons of bacon, croutons, and creamy poached egg in which every element was crafted with the same degree of care. Another classic bistro lunch dish -- so often a leaden bore -- ham and cheese quiche, was here a cogent argument to bring it back to favor.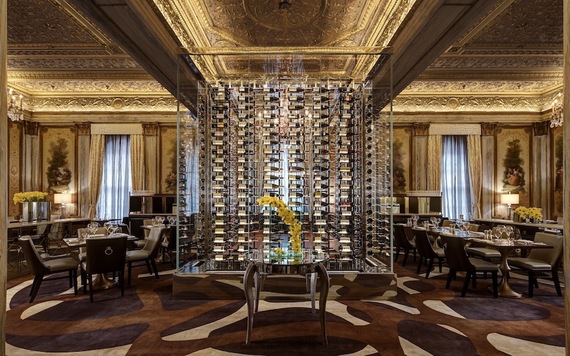 In the Gallery (below), whose interior is landmarked and cannot be altered in any way, oversized photos of French and American actresses lean against the walls, and a glowing light comes from under the tables. My wife and I had the four-course dinner ($140; there is an eight-course dinner at $185 and vegetarian dinner at $140) with many options. We feasted on rich foie gras that was brûléed with a sweet crackling sheen. Striped bass came with a sunchoke puree, parsnip chips, lobster butternut squash emulsion, while cuttlefish-colored fettuccine was showered with white truffles ($20 supplement). Beautiful plump, rosy squab was made more luscious with a Port wine reduction and an unexpected cherry-cocoa sauce. Muscovy duck breast was accompanied by its own confited leg, pumpkin, crispy spaghetti squash, and a spiced fig sauce that was as perfect a winter's dish as might be imagined.
Desserts proved every bit as impressive, not least a crème brûlée napoleon, a raspberry vacherin, and a dense chocolate bar (below) with crispy chocolate base and chocolate mousse -- the kind of dish that made Michel Richard famous when he first came to the U.S.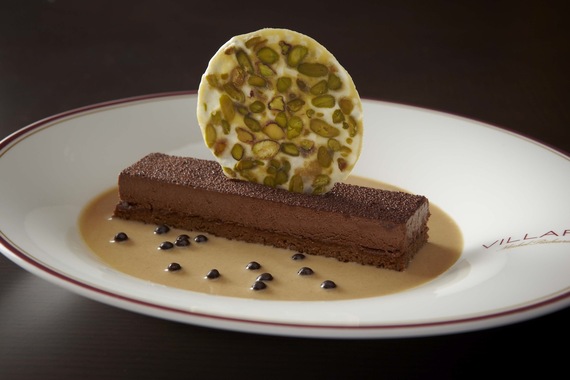 From all I tasted, Richard is at the top of his form, and though I worried about his commitment to being at Villard -- he lives in Washington, D.C. -- he insists he is in New York five days a week, overseeing those details that need constant improvement, especially in a union shop.
It's possible the cooking did not reach the heights I experienced when Pete Wells dined at Villard, but I can guarantee that when all is going well, Villard ranks with the finest of New York's fine dining rooms right now.
VILLARD
The New York Palace Hotel
455 Madison Ave (near 50th Street)
212-891-8100
Related
Popular in the Community