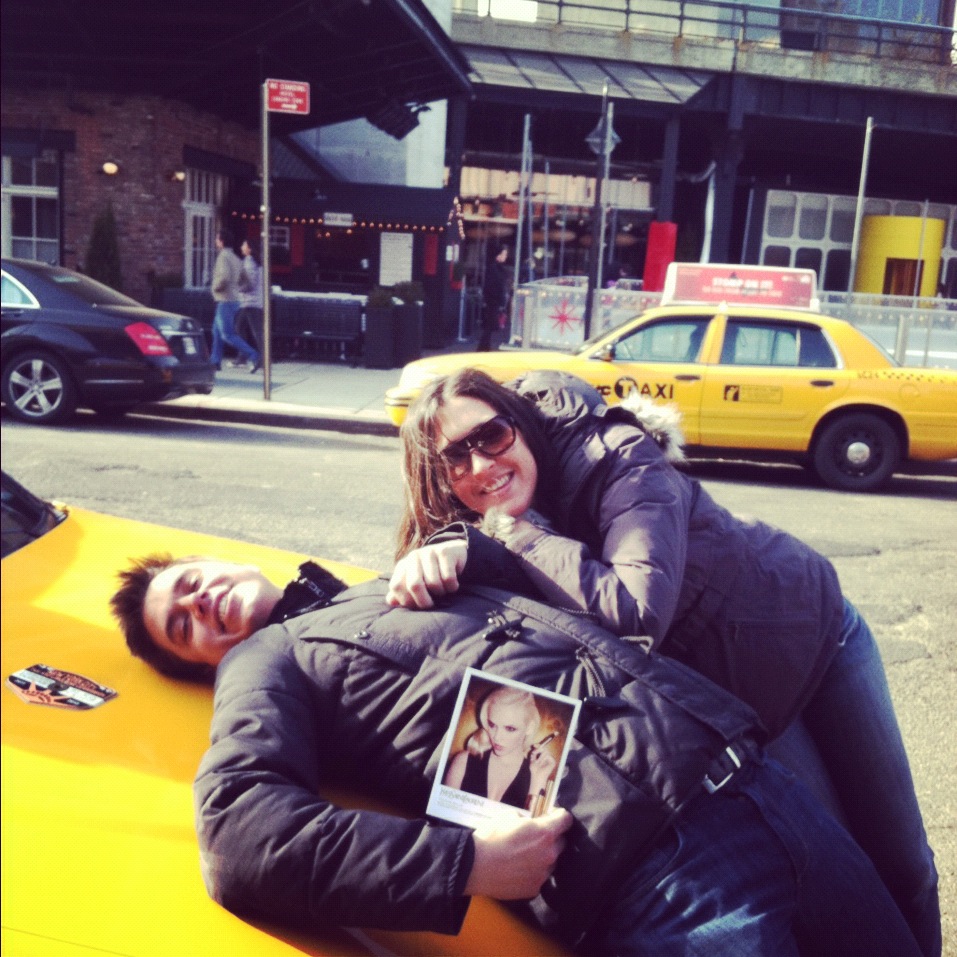 Hi haters. That's right, we know fashion week has some serious haters. Sarah was one of them on Friday night. After an excess of poorly prepared vodka sodas and confrontational encounters with power tripping door folks, Sarah had THE Fashion Week meltdown. Luckily, she bounced back so that she and Clark could continue their NYFW treasure hunt for all wonderful, shiny things of substance (or utility). We bet you are scoffing right now and thinking we didn't find anything meaningful/useful in a land of weird outfits worn by underage girls. WRONG. We found AT LEAST five...
The State of Style Summit presented by Ford, Stylecaster and 92yTribeca
Attending this series of panels, held as a kickoff event for NYFW, felt like a mental massage before the big race. We loved pondering topics like the anatomy of fashion while listening to the moderator use lots of swear words. We also spent some serious QT with Anthony Prozzi, senior interior designer at Ford, learning about the design DNA of the new Ford Fusion. Yes, we realize this is an article about fashion week but forget clothes, your car (assuming you don't live in NYC) is one of the most expensive accessories you can buy. Plus, you wear it practically every day. After talking to him, we were hooked on the car and the fact that Ford is turning itself into an American lifestyle brand focused on sustainability, smart technology and uncompromising design. We wish the rest of our closet was doing that, too.
Move over stuffy weird plated dinners with irrelevant celebrities, there is a new kid in philanthropy town. Gen Art is making a strong push to incorporate social causes into its events, thanks in large part to their CEO Marc Lotenberg. For NYFW, they partnered with Crest to create a showcase for new designers hosted by the luminous Emmanuelle Chriqui and benefiting Raise Hope for Congo. We loved that Gen Art didn't employ the traditional move of tacking the cause onto the show as an afterthought. At this event, Raise Hope for Congo was front and center. They also had what was, in Sarah's opinion, the best thing that happened on any catwalk all week. First out of the gate were five super models wearing t-shirts that will be sold to benefit the charity and beautiful smiles. They were the first women we saw who looked normal and happy, probably because they were promoting a better life for people, not an asymmetrical hemline.
The other cause/FW pairing we loved was Future Fortified, which hosted a dinner to bring greater exposure to their very important mission of promoting better nutrition for women and children. The room was packed with fascinating people, and we got some delicious food thanks to Top Chef Texas contestant, Ty-Lör Boring. At the dinner, it wasn't just the vitamin/nutrient packets that everyone got a lesson on. Sarah also noticed several of the women around her learning something she'd already picked up at Sundance: if it's a tasting menu, take it easy on the wine. Two bits of monkfish cannot protect you from the relentless onslaught of alcohol. After dinner, we had a few minutes to talk with the head of the Future Fortified campaign, Adrianna Logalbo, who shared with us why we should care about this issue. "Good nutrition is the game changer... it puts children on the right path to be able to grow and learn and thrive".
Most of the other men's fashions we saw were a strange attempt to make the male race sexually attractive to aliens -- not the case here. There wasn't a repurposed seat cover in sight. Instead, we saw a parade of great casual wear. New motto: if you can't cover yourself in a Porsche 911, you might as well wrap yourself up in one of their expertly-tailored leather coats. We also loved the DJ, Alexandra Richards, who was a welcome relief after too many nights of music that sounded like a rave and the top 40 were trying to make a baby.
Finally, someone got it right, Glamour Magazine and L'Oreal. We don't need free dry shampoo that smells like a magical bouquet. We need things like free cab rides. There are very few times in life when people give you useful SWAG (Shit We All Get). Usually, they give you things that THEY want you to want. It's difficult to adequately express our delight at rounding the corner in front of the Standard to find very lovely Glamour Magazine women who offered us a free cab ride to anywhere in the city. All we had to do was take a picture (as seen above). Naturally,we insisted that we lie on the hood of the cab for maximum effect, much to the delight of the cab driver. Then we were whisked off to our new location while being serenaded with advertisements about some kind of lipstick thing that Clark was oddly not tempted to buy. Yeah, sure, it was shameless product promotion, but here's to a brand actually doing something nice for us while they blanket us in commercial messaging.
Related