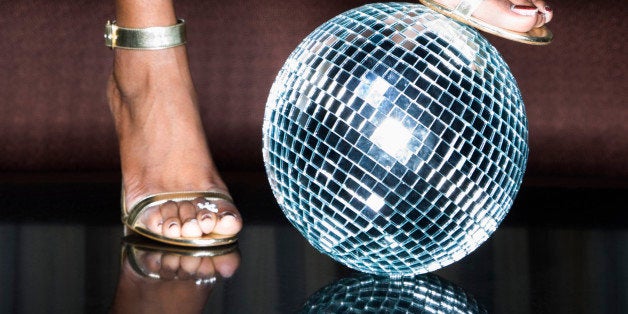 Nanette Lepore's New York Fashion Week presentation showcasing her Spring/Summer 2016 collection made guests feel like they had just stepped out of the 1970's. Being surrounded by models wearing flirty pieces inspired by pop art, flowered textile designs, and gradients, music by Tiki Disco, and artwork by the celebrated graffiti artist Stefan Eins had me questioning if her Broome Street store had teleported me back to a groovier era. However, the garment's updated silhouettes, vibrant pattern designs, and eye-catching phrases like 'Does anyone have a phone charger I can borrow forever' from collaborator Billy Tommy of Eddie Eddie catapulted me back to the 21st century.
The garments from Nanette Lepore's newest collection and other NYFW designers brought a sense of femininity to the runways, presentations, and screenings throughout fashion week. Her clothing defined this aesthetic through a flowing drape, ruffles, V cut necklines, warm color palettes, and A-line silhouettes. Nanette believes that a romantic period in fashion has spurred on this look and can be attributed to an increase in exploration leading to a rise in creativity.
The designer and her team instilled originality into their S/S 16 collection to obtain the looks they desired. One piece of Nanette's line that I cannot wait to purchase is a daisy embroidered black dress with structured bell sleeves. The thing that I love about the garment is how it is able to retain structure despite its lace appearance. This look was able to attained through pin-perforated neoprene. Despite never being fond of this material, this garment opened up my eyes to its possibilities.
Another attribute of her clothing that impressed the crowd was the brightness and designs of her textiles. Most of her textiles were composed of pink, orange, and turquoise- colors that Nanette has been know to use. In theory this color scheme can seem overwhelming, but in practice the materials were breathtaking.
It may be a little early to start making New Years resolutions, but I pledge to break from traditional shades of fabric and start wearing brighter colors. I will also start wearing more feminine silhouettes like the models of Nanette's Leopore's Spring/Summer presentation.