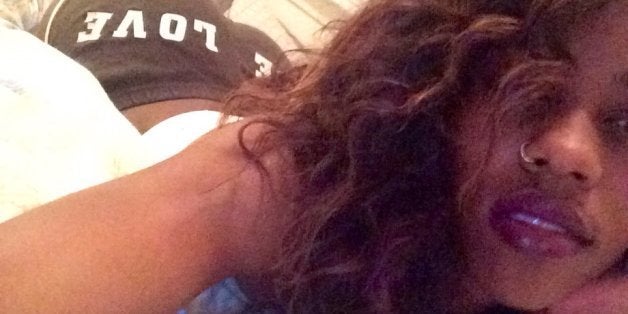 Look, people send nude texts to their romantic interests: it's like a fact of the social media age. When it goes wrong, it's mortifying -- though often quite entertaining -- and that goes double when the drama is publicly documented on Twitter.
Yesterday, she apparently sent a nude photo of herself to her father by accident.
OMG HOW DO YOU CANCEL A TEXT MESSAGE !!

— nyyy nyyy (@dearfashionn) July 8, 2014
She got a bunch of retweets, but what is sent is sent.
i shoulda sent the nude on snapchat 😒

— nyyy nyyy (@dearfashionn) July 8, 2014
LMFAO I CANNOT STOP LAUGHING! BUT WHEN I FINALLY SEE MY DAD....... ITS A WRAP.

— nyyy nyyy (@dearfashionn) July 8, 2014
Her daddy continued to call her and eventually showed up at her house. Nyjah's normally active Twitter went ominously silent after tweeting a link to this Instagram video of dear ol' dad walking up the driveway.
Nyjah resumed tweeting Wednesday morning. She says she may have gotten dumped by her man, and indicated that she took several videos of her dad ("he's mad, mad, mad") from their discussion last night. Naturally, Twitter users are requesting that she post those, too.
Gawker notes that Nyjah "picked up a few thousand new Twitter and Instagram followers" for her troubles. The website noted that the incident could have easily been staged.
Update: July 10, 8:50 a.m. -- The Smoking Gun, also sniffing for a hoax, suggested that "someone needs to dust [the story] for Jimmy Kimmel's fingerprints."
The website did some digging around Nyjah's background, came up with her full name and reported that she had recently graduated from college, and was not a current college student as indicated by her dad's fuming texts:
[Nyjah] Cousar graduated in May from Clemson with a bachelor's degree in economics. She was a member of the South Carolina school's track team, where she was a standout sprinter and hurdler. Cousar previously attended Ohio State University, where she also ran track.
No matter how educated you are, mistakes happen. But the fact that she shared the ordeal on Twitter seems a little careless for a college-educated star athlete.