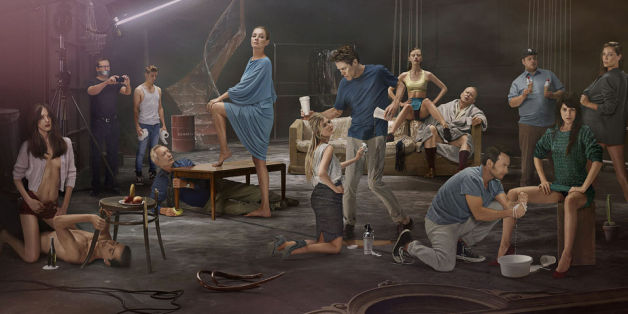 After months of suggestive posters, NSFW clips and Shia LaBeouf in the buff, the lucky elite have finally had Lars von Trier's sex drama "Nymphomaniac" thrusted upon them. Critics have begun screening the film, and their reactions are not hurting for passion.
Those who've seen the movie watched a four-hour "abridged and censored" version, which is less than the five-hour behemoth that audiences in von Trier's native Denmark will get when it bows on Christmas Day. Title cards announced "Vol. One" and "Vol. Two", which is how U.S. audiences will see the film. The first part arrives in theaters on March 21, and the second opens April 18, with each hitting on-demand services days prior.
The story of Joe (Charlotte Gainsbourg), a sex addict who's taken in by an older man (Stellan Skarsgard) after being beaten and abandoned in an alley, "Nymphomaniac" uses eight chapters to chronicle the title character's complicated sexual backstory. Given von Trier's propensities for the visceral, as well as the movie's lengthy running time, it's natural that most critics are sizing up the graphic nature.
Todd McCarthy of The Hollywood Reporter notes that while there is plenty of nudity (including a "a rapid montage of penis close-ups"), the film's explicit nature is tamer than expected. Bear in mind, McCarthy's comments are reflective of the movie being touted as one of the most sexually graphic ever made (porn stars doubled for the actors in certain sex scenes). There are still interracial threesomes, S&M and an "extreme" scene involving Joe's vagina and a set of spoons.
Frank or not, McCarthy mostly enjoyed the film. It didn't surpass von Trier's "Melancholia," in his eyes, but "it still has moments of striking physicality."
The Guardian's Xan Brooks seemed more effusive in his praise, awarding the movie four out of five stars. "'Nymphomaniac' annoys me, repels me, and I think I might love it," Brooks wrote. He noted that, for a movie about sex, it's decidedly "unsexy."
IndieWire's Boyd Van Hoeij remarked on the movie similarly writing, "Somewhat shockingly given the subject matter, the most stimulating material in 'Nymphomaniac' isn't the explicit sex but how sexuality is discussed and understood." Van Hoeij assigned the movie a B-plus grade, praising von Trier's "effective restraint" but noting that his controversial Nazi remarks at the 2011 Cannes Film Festival have left this project feeling like the director is "simply trying to stir the pot."
Peter Debruge, chief international film critic at Variety, also is of the mind that "the only arousal von Trier intends is of the intellectual variety." But, sexual content aside, Debruge and his counterparts praise the movie's supporting performances, including those of Shia LaBeouf as the creepy guy who takes Joe's virginity, Jamie Bell as an S&M purveyor, Stacy Martin as a teenage Joe and Uma Thurman as one of Joe's lover's wives. Debruge calls Thurman "ferocious" -- the same word McCarthy used to describe her performance.
But it's remarks made by The Telegraph's Tim Robey, who assigned the movie four out of five stars, that most make us want to check out the complexities of "Nymphomaniac."
"The point is that you could watch these films for four hours, then spend 14 arguing about them -- about whether sex, for vor Trier, is an eternal human mystery, or a cosmic joke at our expense," Robey writes.
What do you think? Does "Nymphomaniac" pique your interests? Watch the NSFW trailer below, and use the comments section to chime in.

REAL LIFE. REAL NEWS. REAL VOICES.
Help us tell more of the stories that matter from voices that too often remain unheard.
BEFORE YOU GO
PHOTO GALLERY
Celebrity News & Photos