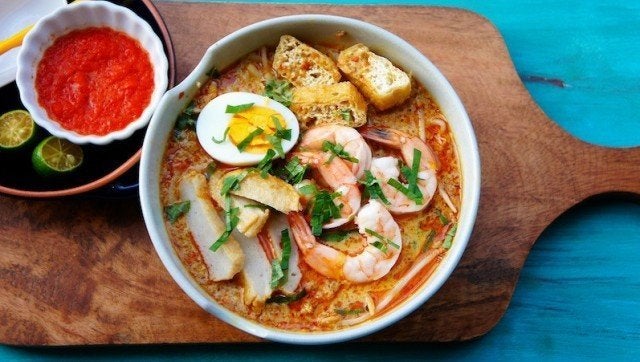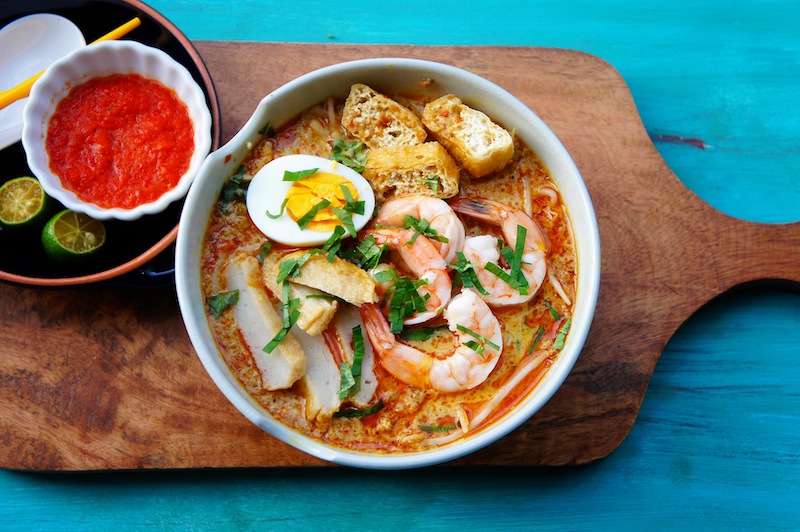 A warm bowl of this delicious Nyonya Laksa is just another perfect fix for the current cooler weather. This Laksa uses fresh thick rice noodles, which can be easily found at most Asian grocers. The mild curry coconut soup is made of spice paste, pounded dried shrimp, coconut milk, chicken broth and pandan leaves. When ready to serve, just ladle the curry soup onto the noodles and sprinkle with a generous amount of bean sprouts, tofu puffs, prawns, fish cakes, hard-boiled eggs, Daun Kesum (or Vietnamese mint), chili sauce and some Kalamansi lime juice. The list of ingredients might seem like a lot; but, rest assured it's pretty easy to prepare, and it will be worth your effort!
2 lbs Fresh Thick Rice Noodles (Lai Fun/Laksa Noodles), scalded and drained
2 Packs (2 x 90 g) Tofu Puffs, halved
300 g Bean Sprouts, scalded
300 g Prawns, cooked and shelled
200 g Fish Cakes, sliced
1 Bunch Daun Kesum/Vietnamese Mints, finely sliced
8 Hard-boiled Eggs, halved
1 Cucumber, shredded, optional
Some Kalamansi Limes
Soup Base
6 to 8 Cups Chicken Broth
2 Cups Coconut Milk
4 Pandanus/Pandan Leaves, knotted
1/3 Cup Peanut or Vegetable Oil
Sea Salt to taste
Spice Paste
30 g Dried Chilies, cut into ½ inch in length and soaked in hot water, drained
4 Stalks Lemongrass, chopped
4 Fresh Red Chilies, seeded and coarsely chopped
10 g (1/2 inch) Fresh Turmeric, coarsely chopped
100 g Galangal, coarsely chopped
8 (about 200 g) Shallots, peeled and coarsely chopped
3 Cloves Garlic, peeled and chopped
2 tsp Roasted Shrimp Paste (Belachan)
5 Candlenuts
1 Tbsp Ground Coriander
30 g Dried Shrimp, soaked, drained, and pounded
Chili Sauce
8 Red Chilies, seeded and coarsely chopped
¼ tsp Sea Salt, to taste
½ tsp Sugar, to taste
White Vinegar or Kalamansi juice, to taste
For the soup base: Grind the spice paste ingredients in a blender or food processor.In a large stockpot over low medium heat, add the oil and cook the spice paste until fragrant, stirring continuously. If the mixture is too dry, add more oil. Stir-fry continuously until the spices are fragrant. Then add in the pounded dried shrimp, follow by the pandan leaves and continue to stir the paste for another 3 to 5 minutes.
Pour in the coconut milk and chicken broth into the spice paste mixture. Bring the mixture to a boil, lower the heat and simmer for about 30 minutes. Then add the tofu puffs and let it cook for another 2 - 3 minutes. Season the soup with sea salt.
Chili sauce: Blend together the chilies, sea salt and sugar. Adjust the seasoning with vinegar or Lime juice.
When ready to serve, just ladle the curry soup onto the noodles and sprinkle with generous amount of bean sprouts, tofu puffs, fish cakes, prawns, hard-boiled eggs, Daun Kesum (or Vietnamese mint), chili sauce, shredded cucumber, if using and some Kalamansi lime juice