The roughly two-minute video appears to show Vassell walking through Brooklyn's Crown Heights neighborhood on Wednesday, sporadically pointing a silver object at people as he passes them.
In the 911 transcripts, callers told dispatchers that a black man in a brown jacket was pointing what looked like a gun at people on the street.
Portions of the three transcripts are included below:
911 Caller: There is a guy walking around. He looks like he is crazy but he's pointing something at people that looks like a gun and he's like popping it like he's pulling the trigger. He's not pulling a trigger but he's making a motion as if he is and there is something sticking out of his jacket.

Dispatcher: Ok, is anybody injured?

911 Caller: Nobody is injured

Dispatcher: Ok, give me one second. Ok help is on the way, I just have a few more questions, ok?

911 Caller: Aha

Dispatcher: You said it looks like a gun?

911 Caller: Yes
911 Caller: Hi I'm walking on Utica Avenue in the direction to yeah walking away from Eastern Parkway towards Empire Boulevard. There's a guy in a brown jacket walking around pointing I don't know what is he's pointing at people's faces. I don't know what if it is if it's a gun. It's silver.

Dispatcher: You said Utica Avenue and Eastern Parkway?

911 Caller: I'm walking in the direction towards Empire Boulevard

Dispatcher: So Empire Boulevard?

911 Caller: Right I'm walking on Utica in direction towards Empire Boulevard. I'm between Carroll and (Unintelligible Dispatcher/Caller audio overlapping)

911 Caller: I'm sorry.

(Unintelligible Dispatcher/Caller overlapping)

911 Caller: He's an African American guy. He has on a brown jacket.

Dispatcher: Brown jacket?

911 Caller: Right

He's pointing a thing in people's faces he's wearing blue jeans and black and white sneakers a black hat
Dispatcher: Hold on ma'am, what location is this? A private house? A business

911 Caller: My is (unintelligible)

Dispatcher: Laundromat and what's going on there?

911 Caller: Nothing wrong, I see the friend that one guy and black guy see holding a gun (unintelligible)

Dispatcher: He has a gun ma'am? He has a gun?

911 Caller: Yes
Officers arrived at the scene around 4:30 p.m. and saw a man matching the description callers gave. In a news briefing later Wednesday evening, NYPD Chief Terence A. Monahan said the man "took a two-handed shooting stance and pointed an object at the approaching officers."
Four officers, three in plainclothes and one in uniform, fired 10 rounds, striking the man, who was later identified as Vassell. The officers then called an ambulance, Monahan said, and Vassell was taken to Kings County Hospital, where he was pronounced dead.
Officers later determined that the object Vassell had pointed at them was "a pipe with some sort of knob on the end of it."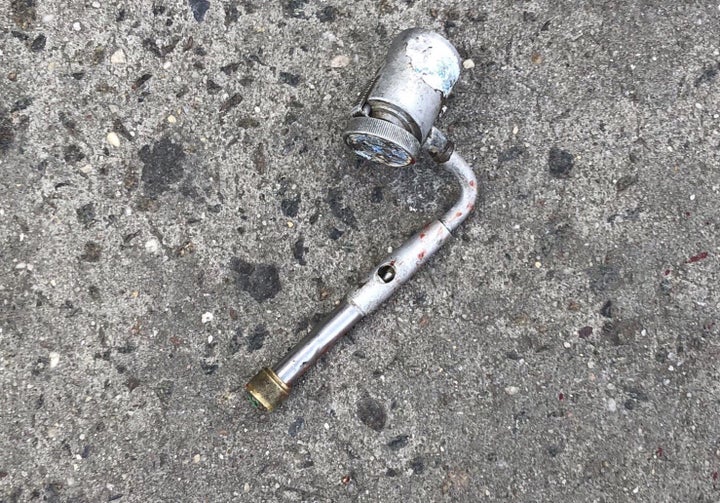 The victim's father, Eric Vassell, told NY1 on Wednesday that his son had bipolar disorder and had been "sick for a long time." Neighbors and local police officers also said they knew Vassell to be mentally ill and to drink heavily. Vassell had been taken to the hospital several times in recent years for mental health treatment, according to The New York Times.
Asked whether the officers accounted for Vassell's potential mental illness when they encountered him, Monahan responded that "this was not an [Emotionally Disturbed Person] call."
Hundreds of people gathered in Brooklyn to protest Vassell's death on Thursday. Standing on the corner where her son was killed, Vassell's mother, Lorna, wondered why police didn't shoot him in the leg instead.
"He did not deserve [for] a piece of iron in his hand for a cop to kill him," she said. "It's unjustified, and I want justice. They murdered my son, and I want justice for him."