NEW YORK -- Two years ago, a black man named Darren Collins claimed that a New York City cop humiliated him in front of his friends in broad daylight, pulling down his pants and underwear on the street and tapping his testicles in an unlawful search for drugs.
Collins was "violated, embarrassed, hurt," he said to WABC recently. So he told his story to civilian investigators and later filed a lawsuit against the city, hoping that the officer would pay a price.
In the end, the only people who paid were taxpayers. The city shelled out $30,000 to Collins and another plaintiff in a settlement, but the cop who allegedly harassed Collins rejected the claims against him and was never disciplined or even admonished. He kept his badge and gun and stayed on the streets.
The cop's name was Officer Daniel Pantaleo. On July 17, Pantaleo, who is white, became the focus of a racially charged controversy after another altercation with a black man. This time, Pantaleo wrapped his arm around Staten Island resident Eric Garner, seizing him in a banned chokehold. Garner died soon after.
A bystander caught the entire thing on video, and Pantaleo was stripped of his badge and gun. As authorities investigate the incident, some people are wondering why a cop with Pantaleo's history is only now facing disciplinary measures.
In an interview with The Huffington Post, Collins' lawyer, Jason Leventhal, argued that a breakdown in the New York City Police Department's system of accountability indirectly led to Garner's death. Pantaleo's alleged "prior misconduct, his prior violation of laws and rules, should have triggered an internal mechanism within the NYPD to prevent a bad police officer from continuing to police our community," Leventhal said.
As anyone who has been abused by the cops can tell you, the question of what should have happened to Pantaleo speaks to a larger problem: When police behave badly in New York, there's not much that ordinary citizens can do to hold them accountable.
'BRUTALITY IS PART OF THE JOB'
Last year, Bill de Blasio surged ahead of his rivals in New York's mayoral election in part by vowing to improve the troubled relations between cops and people of color in New York. Whether de Blasio can follow through on this promise remains to be seen, but Garner's death has drawn attention to the shortcomings of the various institutions that are supposed to prevent abuses from happening.
Defense attorneys and civil liberties advocates say part of the problem stems from the feebleness of the Civilian Complaint Review Board, a city agency charged with investigating allegations of police misconduct. Each year, the agency's investigators review thousands of complaints from people who say that the police shoved or choked them, hit them with radios or waved guns in their faces.
But few of these allegations result in cops being punished. As one former investigator told HuffPost, the decision to uphold a claim generally comes down to a matter of "he said, she said."
Even in the 14 percent of cases where the board "substantiates" complaints -- finding that they are supported by a preponderance of the evidence -- punishment is hardly guaranteed. After the board shares its findings with the police department, the NYPD can choose to pursue an administrative trial, or it can do nothing at all. Because the process is internal to the police department, the maximum punishment is a firing. And police chiefs rarely go to that length to sanction officers.
"People who do police work understand that it's very messy," said Eugene O'Donnell, a former NYPD officer and prosecutor who now teaches at John Jay College of Criminal Justice. "Brutality is part of the police job."
The police department did not respond to questions from HuffPost about policies and training practices concerning the use of force.
A child holds up a sign outside of the Bethel Baptist Church before the funeral for Eric Garner on July 23, 2014, in New York City. (Photo by Spencer Platt/Getty Images)
The police department has barred chokeholds since 1993. When an officer strangled 29-year-old Anthony Baez during a scuffle in 1994, it seemed to underline the need for such a policy.
Today, it's hard to say how many officers know about the chokehold rule. In the last five years, the board has received more than 1,000 complaints claiming officers violated the ban -- and has substantiated only nine of them. None have culminated in a punishment more serious than a loss of vacation days for the officers involved.
In just the last month, two other cases besides Garner's have shown that at least some on the force still use the banned maneuver in the course of responding to minor offenses. On July 14, an officer placed a man in East Harlem in a chokehold during a struggle to arrest him for entering the subway system without paying. And then on Saturday -- well after Garner's case had made headlines -- cops apparently used the move on a pregnant East New York woman who had allegedly broken the law against grilling on a public sidewalk. A CCRB spokesperson said the board has undertaken a comprehensive study of chokehold complaints in the wake of Garner's death.
"Understanding the factors that may explain the rate of unsubstantiated allegations has the potential to improve the quality of our investigations," the spokesperson said in an emailed statement.
Christopher Dunn, a lawyer at the New York Civil Liberties Union, sees the number of chokehold complaints as a sign that the police department has failed to provide officers with enough information about the policy. He faults the board for not calling out the department's inadequate training practices before.
"My guess is now they will do something," Dunn said. "But it shouldn't take an incident like this."
In the Collins case, Pantaleo and the six other officers who were present when the alleged abuse took place, including Pantaleo's supervisor, denied all wrongdoing. A full-time investigator for the CCRB thought the complaint against Pantaleo's supervisor had merit, but a three-person panel of appointed board members took the officers at their word and dismissed the accusation.
After learning that his complaint had gone nowhere, Collins pursued the other principal avenue of justice available to victims of alleged police brutality in New York: He hired an attorney and filed a lawsuit.
Like many plaintiffs in such cases, Collins ultimately accepted a $15,000 settlement from the city, sparing himself the expense and hassle of a trial. But even if he had gone to court and won, it's unlikely that any officers would have faced consequences.
"I have never seen the city discipline a police officer because of a civil lawsuit," said Leventhal, his lawyer.
Ron Kuby, a prominent civil rights attorney, said that the city and police department treat the cops' words as gospel in all but the most extraordinary of cases.
"The NYPD does not care how frequently a police officer is sued or how many civilian complaints have been lodged against a police officer, or how many of those complaints are justified or substantiated," he said.
New York City Mayor Bill de Blasio speaks at the 2014 graduation ceremony for the New York Police Department on June 30, 2014, at Madison Square Garden. (Photo by Andrew Burton/Getty Images)
The police department's own Internal Affairs Bureau can also look at misconduct, but in reality, it only investigates the most serious charges of corruption and violence. Relatively minor allegations, and even complaints like the one Collins made, are rarely or never sent to the bureau.
The bureau's budget was beefed up in the early 1990s. By 2010, the bureau had grown powerful enough to wiretap officers accused of taking part in a ticket-fixing scandal, raising the ire of police unions. But at the same time, that investigation was plagued by leaks from bureau members to their fellow officers.
When all of the internal mechanisms of accountability fail, federal prosecutors and the district attorneys in each of the five boroughs are supposed to serve as a last line of defense. They don't always rise to the occasion.
In New York and everywhere else, prosecutors must closely collaborate with the police to build cases against criminals. If and when they bring charges against the cops, they risk poisoning a relationship with an indispensable partner.
This dynamic may explain why Queens District Attorney Richard Brown declined to prosecute a cop who was accused of hitting a state judge in 2012.
John Jay's O'Donnell, as a former cop and prosecutor, knows something about this "time-honored problem."
"It's awfully hard for a DA or anyone else to say, 'I'm going to substitute my judgment, sitting in an air-conditioned office on the 11th floor of wherever I am, for the judgment of the cop on the street,'" he said.
In 2009, de Blasio, then a candidate for public advocate, routinely criticized the CCRB's weaknesses, noting that the police department essentially ignored almost half of the complaints referred by the agency. As mayor, he has made an effort to strengthen the agency. On the day of Garner's death, before the video of the incident went viral, de Blasio announced that he had picked the civil rights lawyer Richard Emery to lead the board into what many hope will be an era of reform.
"I don't know anyone in the process right now that feels the kind of confidence they should in the CCRB, which means we have to do things very, very differently," de Blasio said that day at City Hall.
Civil liberties supporters have praised de Blasio's decision to entrust this mission to Emery, a self-described "child of the '60s" who has managed to maintain a friendly relationship with Police Commissioner Bill Bratton and other department leaders, even while taking them to court over charges of misconduct.
At the press conference announcing his appointment, Emery predicted that the challenges of the job were "not going to be small" -- and that was before Garner's death thrust them into the spotlight.
Looking fairly respectable for a child of the 60s in a tan suit and orange tie, Emery said he would try to streamline the CCRB complaint process, and push harder to recommend policy changes to the NYPD. The city told HuffPost that Emery would not immediately be available for an interview.
Richard Emery, the new chairperson of the Civilian Complaint Review Board, speaks at a news conference at City Hall announcing his appointment on July 17, 2014. (Photo by Christopher Gregory/Getty Images)
Emery isn't the only newcomer on the scene. This May, Philip Eure became the first-ever inspector general for the NYPD, a position created in the wake of a high-profile court case over the force's use of stop-and-frisk. The trial, which began in March 2013, galvanized public support for a city council bill that established the post.
Eure came from the Washington, D.C., equivalent of the CCRB, so he's familiar with the drawbacks of civilian watchdog groups. But he will have a far more expansive set of responsibilities and powers in the new role, according to Sam Walker, an emeritus professor of criminal justice at the University of Nebraska at Omaha who served as a witness for the plaintiffs in the stop-and-frisk trial.
Eure's office will have the leeway to look into how the department trains cops in the use of force, Walker said.
"What are they actually doing in those training classes?" he asked.
"It's going to take a while," he said, "but I think there's a lot of promise there."
'IT'S A HUGE UNDERTAKING'
In the days after Eric Garner's death, some advocates applauded Bratton for promising both a "full and thorough" investigation into the incident and a department-wide retraining on the use of force. At a press conference on Monday, Bratton tried to assure New Yorkers that he would replicate the successes that made him a popular figure in Los Angeles, where he served as police commissioner from 2002 to 2009 and was widely credited with improving community relations. Standing alongside de Blasio, he spoke of a new push within the NYPD to identify officers who seem likely to end up "in harm's way in terms of their behavior."
Some observers have questioned whether such efforts will be enough. New York City's journey through a similar cycle of scandal and reform many years ago has led some of today's reformers to view the efforts with skepticism. The CCRB was created in its current incarnation as a response to the Tompkins Square Park riot of 1988, when police actions were widely criticized as excessive.
Norman Siegel, the former NYCLU lawyer who helped lead the effort to create the agency, bluntly said "we didn't succeed" in the long run. The CCRB was defeated by institutional pressures, he said, and "the dream … in some ways turned out to be a nightmare."
Police expert Walker said that the entire culture of the department will have to change for any substantive reforms to take place. Cops need to know "they will be held accountable when there are failures," he said. "It's a huge job. It's a huge undertaking, because this department really is out of control. But I think it can be done."
If Bratton attempts to take on this task, he will hear plenty of criticism. Any effort to punish more officers for abuses is likely to alienate politically powerful police unions, and could generate a "soft on crime" image that de Blasio sought to avoid by appointing the tough-talking Bratton in the first place.
In the meantime, the best hope for justice for the next victim of police abuse may literally be at New Yorkers' fingertips. Whether Pantaleo will face tough consequences in the wake of Garner's death is still anyone's guess, but the haunting cell phone video of the encounter could provide crucial evidence in a case against him.
At a prayer vigil for Garner last week, a woman named Dee Walton expressed gratitude for the young man who caught her friend's death on camera.
"Thank God for that little brother who took the video," she said, "because if not, it would have been our word against the cop's."
With additional reporting by Christopher Mathias.
Before You Go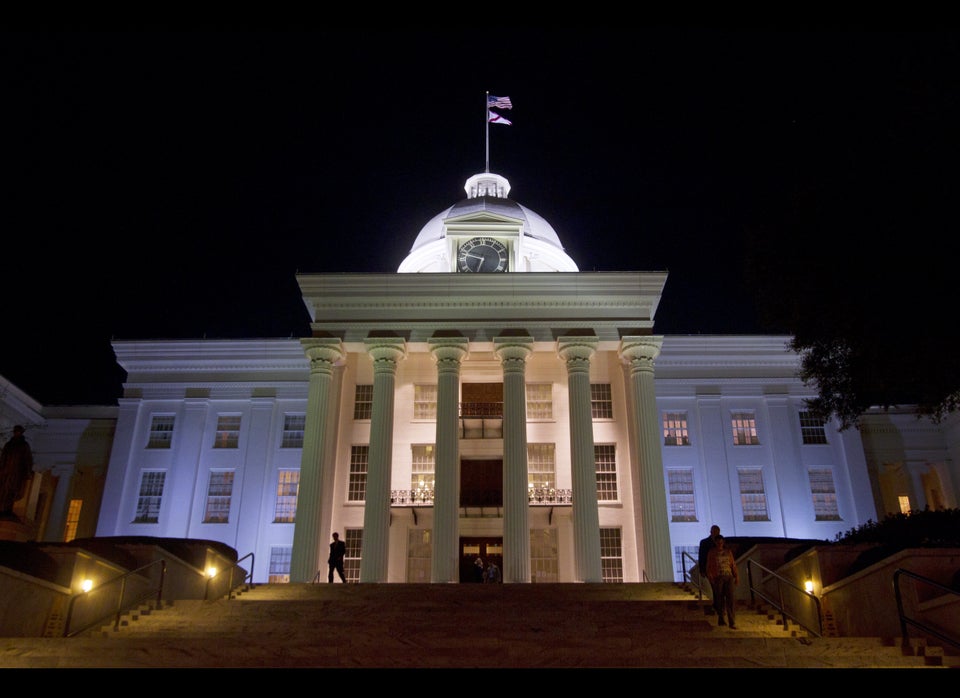 U.S. State Capitol Buildings
Popular in the Community