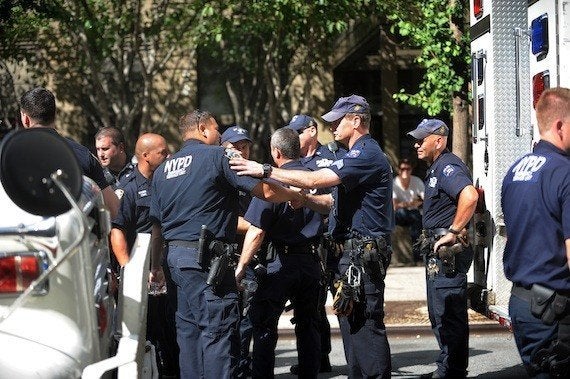 A dispute led an elderly man to allegedly brandish a gun at a window-washer working outside his Flatiron District apartment this afternoon, a police source told The Huffington Post.
The window-washer called 911 after climbing down the scaffolding and a small army of police officers arrived on the scene moments later.
The cops then asked the assailant to come outside the apartment but he refused.
A standoff ensued for an hour and a half, during which time the NYPD shut down E. 22nd Street between Park Avenue and Broadway, and warned residents in nearby buildings to stay inside and keep away from windows. Snipers were posted on rooftops.
Emergency units eventually broke down the man's door and arrested him without incident.
Police have not yet released the man's name.
An employee at neighboring Polaris Nail and Spa was scared and told reporters that the elderly tenant "looked crazy" and was "shaking" when she saw him being led out of the building in handcuffs.
The man was taken by police to Bellevue Hospital after the incident for an evaluation. There were no reported injuries.
Popular in the Community