A surveillance video shows two New York City police officers punching and beating a Brooklyn man earlier this month, even though the man had put his hands up and appeared to be surrendering.
The footage shows NYPD officer Lenny Lutchman approach 24-year-old Thomas Jennings inside a grocery store in the Bedford-Stuyvesant neighborhood of Brooklyn on July 7, the New York Daily News reports. Lutchman is holding a baton in his right hand and gently pushing Jennings with his left hand.
Jennings almost immediately puts his hands up, in seeming surrender. Although the two appear to exchange words, the video has no audio.
That's when NYPD officer Pearce Martinez rushes into the frame and punches Jennings in the head three times. As Martinez puts Jennings into handcuffs, Lutchman can be seen hitting him with a baton before forcing Jennings' head into the store's countertop.
The criminal complaint against Jennings alleges he "resisted arrest" and "flailed" his arms inside the grocery store.
Jennings suffered lacerations above his eye. A photo provided by his attorney, Amy Rameau, shows Jennings' blood-stained undershirt from after the incident.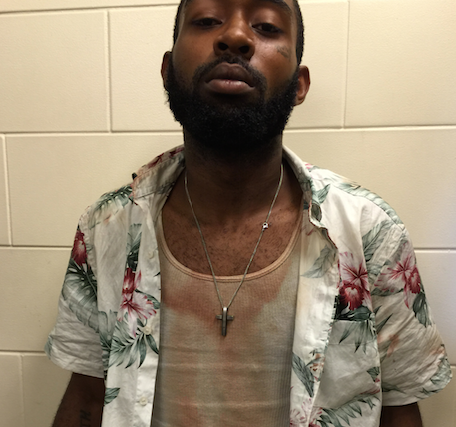 "What they did to my client was criminal, and I hope [Brooklyn District Attorney] Ken Thompson will prosecute them for their criminal acts," Rameau told The Huffington Post.
The "incident is being investigated in its entirety," a spokeswoman for the Brooklyn DA's office said. An NYPD spokesperson also confirmed that the Internal Affairs Bureau was reviewing the video and had launched an investigation into the incident.
Lutchman and Martinez followed Jennings to the grocery store on July 7 after responding to a nearby burglary call. Jennings and an unidentified man had refused to pay for two slices of pizza at New York Fried Chicken, according to the criminal complaint. The other man allegedly threatened a restaurant worker with a switchblade and said that the pair wouldn't pay for the pizza. That's when he and Jennings grabbed two boxes of pizza and fled, the complaint said.
However, Jennings told the Daily News that he had tried to buy two slices of pizza but was one dollar short. When he went outside to borrow a dollar from somebody, the unidentified man allegedly drew a knife on the restaurant worker.
Jennings was detained for nearly a week on charges of robbery, menacing, petty larceny, and resisting arrest. He was released on July 13, after the Brooklyn DA's office didn't convene a grand jury.
Rameau said she's confident the case against her client will be dismissed. She added that Jennings will pursue litigation against the officers.
This will be the second lawsuit Jennings has filed against the NYPD. Another lawsuit, still pending in federal court, accuses officers in the 81st precinct -- the same precinct where Lutchman and Martinez work -- of breaking Jennings' eye socket while responding to a dispute between Jennings and his ex-girlfriend.
CORRECTION: This article initially stated that Jennings received a $12,500 settlement from a previous lawsuit filed against the NYPD. He did not; this would be his second suit against the NYPD, not his third. Another plaintiff received the settlement after suing officer Lutchman for excessive force.
Popular in the Community