NEW YORK -- The New York City Police Department's involvement in the surveillance of Black Lives Matter activists, as revealed this week by The Intercept, is once again raising questions about whether the NYPD is unlawfully monitoring political activity.
Nearly 280 documents on how authorities watched protests, primarily inside Grand Central Terminal between November 2014 and January 2015, were turned over by the Metropolitan Transportation Authority and Metro-North in response to a Freedom of Information Law request from the activists. According to The Intercept, the documents show that MTA counterterrorism agents, along with "undercover" officers, monitored 21 peaceful Black Lives Matter demonstrations at the Manhattan transportation hub, photographing and keeping files on individual activists who were doing nothing more than utilizing their First Amendment right to free speech and assembly.
What's more, the documents reveal that the two agencies worked in conjunction with NYPD intelligence officers to monitor the protesters.
"The report about NYPD and MTA police officers conducting surveillance on protesters opposed to police brutality demonstrates that the NYPD remains engaged in the same troubling surveillance it has conducted for decades on political activists," Monifa Bandele, of the group Communities United for Police Reform, said in a statement Thursday.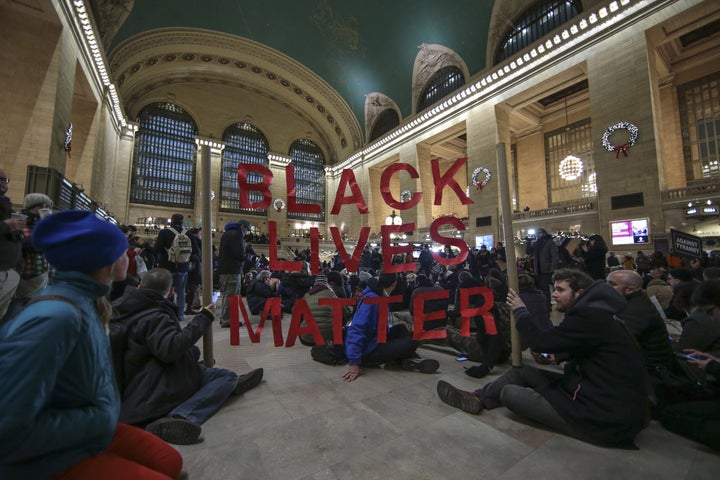 In 1971, civil rights lawyer Barbara Handschu, members of the Black Panthers and anti-war activists, among others, filed a lawsuit alleging that the NYPD had illegally infiltrated, surveilled and disrupted First Amendment-protected activity, mostly surrounding Vietnam War protests.
As a result of the lawsuit, the NYPD agreed in 1985 to what's now called the Handschu agreement: Police can spy on constitutionally protected activity only when there is credible information of criminal activity and only after its surveillance plan is approved by an overseer called the Handschu authority. (This agreement does not apply to the MTA or Metro-North.)
While the documents obtained by The Intercept this week show only glimpses of NYPD involvement in the surveillance of Black Lives Matter protesters, they suggest the department could be breaching the Handschu agreement.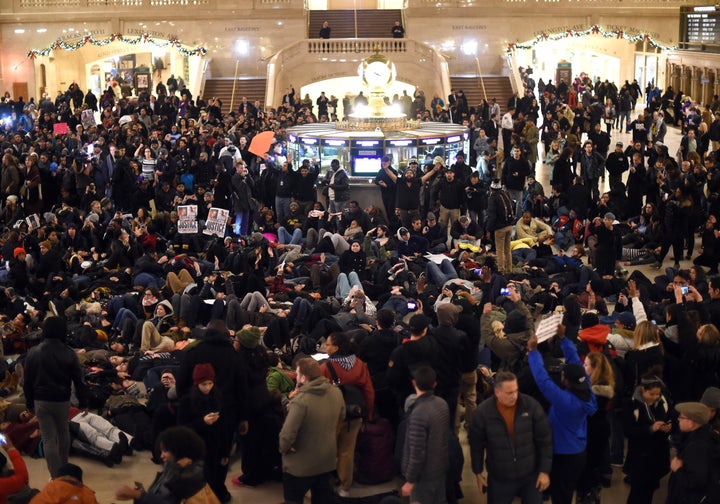 "Alex Seel (videographer/photographer) protester GTC," reads the subject line of the email, which D'Angelis sent from an NYPD email address. Activists told The Intercept they were surprised that Seel, who never revealed his name to police, was identified in the documents.
Another email, from Jan. 12, shows D'Angelis sharing photos taken by an unnamed activist who posted photos of police patrolling inside Grand Central. The photos appear to be taken from the Twitter account of Black Lives Matter activist Keegan Stephan.
And then there's an email from Jan. 1, which summarized another protest that day at Grand Central. It says that MTA officers from the Inter-agency Counterterrorism Task Force "provided photographs and field reports in conjunction with NYPD Intel team members."
"This is certainly something that makes us want to do some further inquiries," Martin Stolar, one of the attorneys that has worked on the Handschu lawsuit since its inception over 40 years ago, told The Huffington Post.
"One of the things that's of concern is the collection of photo or video evidence of people not involved in criminal conduct," he said, pointing to the actions of the MTA and MetroNorth. "I don't know whether that's occurred [with the NYPD]."
If the police department has been collecting evidence about the protests, that could be a violation of the Handschu agreement.
Stolar noted that in 2003, in response to the terror attacks of 9/11, a judge gave the city more latitude under the Handschu agreement. A rule requiring the NYPD to have "specific information" regarding a future crime in order to begin surveilling or infiltrating a group was loosened. Instead, cops only needed to show facts that could "reasonably indicate" a future crime to start an investigation.
Stolar added that it was "bothersome" that documents about the Grand Central protests show the involvement of couterterrorism officers "because if you are the police department treating peaceful First Amendment activity as terrorism, then we have a serious issue."
Stolar also speculated that the department could be using events at previous Black Lives Matter demonstrations to justify spying on others. For example, during one of demonstrations after the death of Eric Garner, the unarmed black man who was put in a police chokehold last summer, two cops were assaulted on the Brooklyn Bridge.
"And that gives them the ability to surveil every demonstration involving Garner," Stolar. "That's the excuse they could use."
Stolar cautioned, however, that without more evidence, it's impossible to tell whether the NYPD has violated the Handschu agreement, and until then, neither he nor his co-counsel can take legal action.
According to The Intercept, activists also filed a Freedom of Information Law request with the NYPD over the Grand Central protests, but the department has yet to fulfill the request. (If it ever does.)
"The NYPD confers with our Legal Bureau when planning for the policing of protests and demonstrations," Deputy Commissioner Stephen Davis told HuffPost in a statement Thursday. "We comply with the various established guidelines governing police activities involving these public events."
Davis also disputed The Intercept's characterization of officers as "undercover" and said they were merely in plainclothes. Use of such officers, he said, was appropriate due to instances of criminal activity at previous demonstrations.
But Bandele, of Communities United for Police Reform, sees the NYPD's actions as part of a long practice of treating peaceful demonstrators like terrorists.
"This dubious surveillance by the NYPD continues under [New York City Mayor Bill de Blasio's] administration despite its claims regarding reform, as the Intercept story further substantiates a previous April New York Times report regarding the questioning of protesters," Bandele said. "Given the fact that [New York Police] Commissioner [William] Bratton previously stated that a new NYPD unit would dually handle protests and terrorism threats, New Yorkers should be very concerned about whose First Amendment rights are considered for taxpayer-funded NYPD surveillance."
That New York Times report documented intense post-arrest interrogation of at least 11 protesters in custody on petty charges related to the demonstrations. As a result of the report, NYPD Deputy Commissioner Lawrence Byrne wrote that the department had directed that post-arrest questioning of protesters "may not be conducted absent explicit advanced authorization by the Legal Bureau on a case by case basis."
Similarly, in 2003, a judge overseeing the Handschu agreement reprimanded the NYPD after it was revealed that detectives had been using a document called the Demonstration Debriefing Form when interrogating anti-Iraq War protesters, The New York Times reported. The form tracked where the protesters went to school, what organizations they belonged to and what demonstrations they had previously participated in. Detectives also reportedly asked protesters about their political beliefs, including their views on Israel and Palestine.
And in 2013, Stolar and his co-counsel filed papers in court accusing the NYPD of violating the Handschu rules when it used undercover officers to routinely surveil Muslims in restaurants, bookstores and mosques, as exposed by a Pulitzer Prize-winning Associated Press investigation. A settlement in that case is expected soon.
Meanwhile, as Black Lives Matter protests continue in New York City and across the country, protesters can expect that more than one government agency is watching them. Another recent report from The Intercept revealed that the U.S. Department of Homeland Security has been monitoring Black Lives Matter protesters since demonstrations erupted in Ferguson, Missouri, one year ago.
Popular in the Community