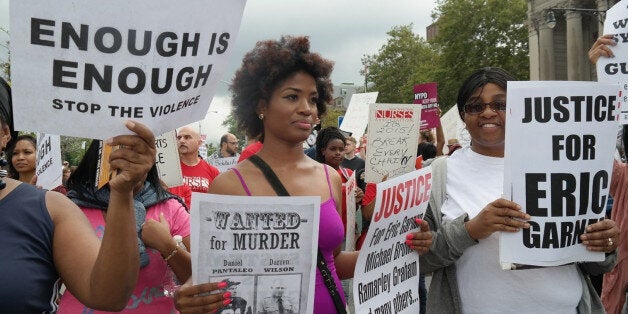 NEW YORK -- Three months after Eric Garner died at the hands of New York police while shouting, "I can't breathe," a city agency has found that chokehold complaints against the New York Police Department are on the rise.
Although the police department has banned chokeholds for more than two decades, New York City's Civilian Complaint Review Board has received more chokehold complaints in the last 12 months than in any year since 2001, according to the report released Tuesday.
The CCRB is an independent agency charged with investigating allegations of police misconduct and then turning over substantiated claims for internal department punishment. But the agency's new report also takes some of its own investigators to task, saying they failed to report or properly classify more than 150 clear-cut cases of chokehold usage.
Even in the rare instances in which CCRB investigators could prove misconduct, the report says, the chokehold ban was "emasculated" by NYPD judges in the department's internal trial proceedings. None of the 10 officers who the investigators concluded had committed misconduct was penalized with anything more than a loss of vacation days.
Although the original ban restricts officers from applying any pressure to a suspect's neck, the report finds that judges in the department's internal trials -- and some CCRB investigators -- have weakened that rule, redefining a chokehold as a maneuver that restricts breathing.
That prohibition seems increasingly lost on officers. Despite the ban, the CCRB has received 1,128 complaints about chokeholds in the last five and a half years. In 2001, only four of every 100 complaints about the use of force involved a chokehold. From January to June of this year, eight of every 100 force complaints raised allegations about the maneuver.
The small number of cops who resort to chokeholds are far more likely to misuse force than their peers, the report suggests. Of the officers accused of using chokeholds, 78.5 percent had two or more complaints about the use of force filed against them. Among officers accused of misconduct but not chokeholds, only 49.3 percent have been the subject of two or more complaints about the use of force.
Garner, a father of six, died in July on Staten Island after police grabbed him in a chokehold while attempting to arrest him for the sale of untaxed cigarettes. Bill Bratton, the New York police commissioner, ordered a review of all use-of-force guidelines, including the chokehold ban, and a department-wide retraining in the use of force.
CCRB Chair Richard Emery applauded the NYPD's efforts. Still, "unilateral action is not enough," he said.
"If there is one lesson to be learned from this study, one lesson that may even save lives, it is the need for a coordinated plan of action between the Civilian Complaint Review Board and the NYPD," said Emery.
The report recommends that the two agencies form a joint group tasked with reducing the number of chokehold complaints. It also urges the police to expand the original chokehold rule, to train officers in safer methods for restraining suspects, and to work with the oversight board on an early warning system that could help identify precincts, commands and officers most at risk for chokehold incidents.
Emery, a civil rights attorney and a friend of Bratton's, was appointed in July with instructions from New York Mayor Bill de Blasio to sharpen the board's role in police discipline. The report represents a rare foray for the board into policy recommendations, as opposed to investigating individual misconduct complaints.
"Policy reports are an essential but long neglected part of the work of the CCRB, and we welcome this examination of past chokehold practices," Christopher Dunn, associate legal director of the New York Civil Liberties Union, said in a statement.
The NYPD did not respond to a request for comment on the report. Whether Bratton will welcome Emery's bid for an expanded role in overseeing officer discipline is unclear. The commissioner said last week that he will "aggressively" seek to root out "the brutal, the corrupt, the racist, the incompetent" from the department. But under Bratton, the NYPD has declined to prosecute 25 percent of the cases the CCRB referred to it. He has also significantly increased the number of cases in which the police department blocked the review board from prosecuting officers with its own team of lawyers in internal trials.
Emery's mission to assert a greater role for the CCRB in officer discipline will likely be further complicated by a lawsuit filed Monday by the board's former executive director just hours after she was fired. Among numerous other allegations, Tracy Catapano-Fox asserts that Emery rushed through the chokehold study based on unreliable data.
Rank-and-file police officers, meanwhile, may not welcome a greater role for a civilian agency they widely view as at best a nuisance. Unions like the Patrolmen's Benevolent Association have taken a harshly critical stance on Emery's attempts to reinvigorate the board.
"Any report based on unsworn, unsubstantiated and poorly investigated complaints that were filed by criminals is totally meaningless," PBA President Pat Lynch said in a statement. Union spokesman Al O'Leary added that Lynch meant "most" CCRB reports are filed by criminals. He did not supply evidence to support that claim.
Calling all HuffPost superfans!
Sign up for membership to become a founding member and help shape HuffPost's next chapter
BEFORE YOU GO
PHOTO GALLERY
People Killed By The War On Drugs