NEW YORK -- New York City Police Commissioner William Bratton is a "bald-faced liar," the mother of Ramarley Graham charged Wednesday, claiming the commissioner lied about when the department could discipline the officers responsible for her unarmed son's death four years ago.
But Malcolm says Bharara also told her that neither his office, nor anyone else at the Department of Justice, ever told the NYPD to postpone its Internal Affairs investigation into the fatal police shooting of Graham, nor to hold off on disciplining the officers involved.
That directly contradicts statements given by Bratton to New York City Council's Black, Latino, and Asian Caucus in January. City council members Andy King, Robert Cornegy and Vanessa Gibson, among others, said the commissioner told them the DOJ had made such a request.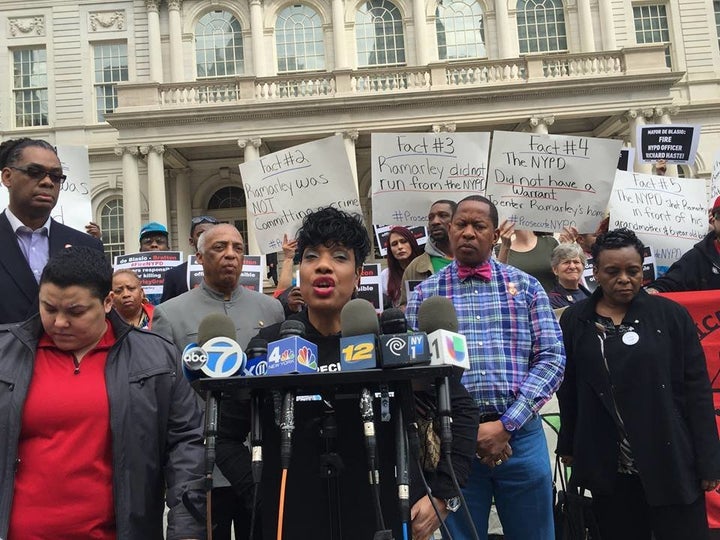 Malcolm and Graham's father, Frank Graham, met with Bharara on Tuesday. Also present at the meeting were Yul-San Liem and Loyda Colon, members of the advocacy group Justice Committee, and Joo-Hyun Kang, director of Communities United for Police Reform.
All have confirmed that Bharara said in the meeting that his office never told Bratton or the NYPD to hold off on its Internal Affairs investigation.
"We now know that was a big lie that Bratton told," Malcolm said Thursday at a press conference outside City Hall in lower Manhattan.
"I was in the meeting with the DOJ," Colon said. "They had no idea what we were talking about, saying they never said that to Bratton. There's a lot of press out here today and we hope that you contact Bratton and ask him, ask him why he lied, why he lied to elected officials, why he lied to Ramarley Graham's family, why he lied to New Yorkers."
Peter Donald, the NYPD director of communications, told The Huffington Post that if Bratton said the DOJ made the request, then the DOJ made the request.
Donald said that when the DOJ investigates an incident involving NYPD officers, it's "standard policy" to delay its own Internal Affairs investigation, as to not interfere.
"As long as anyone here [at the NYPD] can remember, this is the way it was done," Donald said.
That was "20 years ago," he said of the Livoti case.
And asked if there's a written policy stipulating the postponement of an Internal Affairs probe until the conclusion of a DOJ investigation, Donald said he'd have to check.
Donald added that the department will now "move expeditiously" in its investigation into Graham's death.
Twenty-four New York City Council members Thursday sent Bratton a letter asking him to fire the officers involved in Graham's death. At least one of those City Council members, Inez Barron, said that if Bratton's alleged lie can be "documented," then he "needs to be fired."
A spokesman for Bharara, the U.S. attorney, declined to comment on the matter, and the Civil Rights Division of the Department of Justice declined to talk to HuffPost.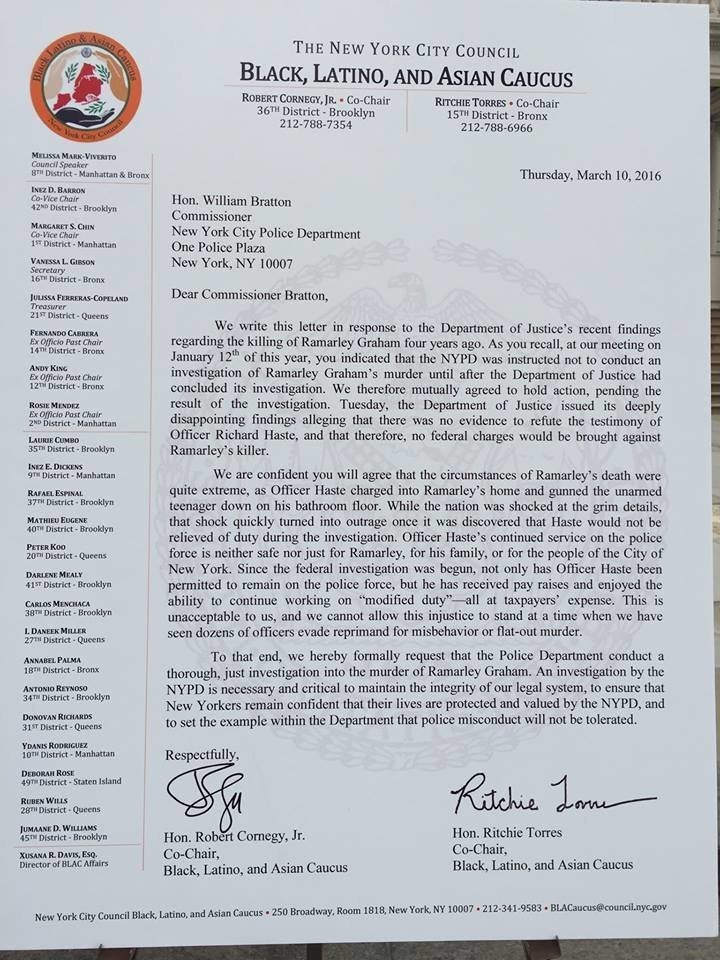 Dr. Maki Haberfeld, a professor at the John Jay College of Criminal Justice in New York, previously told HuffPost she was "surprised" to hear that the NYPD hasn't already wrapped up an Internal Affairs investigation into Graham's death.
"Four years is not a normal amount of time," she said.
While the Justice Department does sometimes ask a police department to hold off on an investigation, Haberfeld added, such requests are "uncommon."
In the meantime, the officer who shot Graham in 2012, Richard Haste, has continued working at the NYPD on "modified duty," earning $25,000 in raises over the last four years, a fact first reported by HuffPost.
"After four years, there has been no justice or accountability -- NYPD officers murdered our son in his home," Graham's parents said in a joint statement Thursday. "He was doing nothing wrong, he should have been safe at home. NYPD busted in without a warrant and then abused and intimidated members of our family while releasing misleading and inaccurate information about the killing."
"The criminal justice system on the local and federal levels have failed to demonstrate a commitment to valuing and protecting Black lives," the parents continued. "Mayor de Blasio and Commissioner Bratton are part of this injustice and devaluing of Ramarley's life as long as they allow these officers to continue receiving paychecks as NYPD employees."
On Feb. 2, 2012, the NYPD says a narcotics unit spotted Graham "adjust his waistband" outside a Bronx convenience store and took that to mean the 18-year-old had a gun.
The NYPD claims that Graham ran when officers approached him. But surveillance footage seems to contradict that claim. Graham can be seen in the video calmly walking up to his mother's apartment building and going inside.
Moments later, Haste and one other officer run up to the building, guns drawn, and attempt to kick down the door. After about five minutes, the officers managed to get inside the building and knock down the door to Graham's apartment.
They did not have a warrant.
Haste confronted Graham in the bathroom, where the NYPD says the teen was trying to flush a bag of marijuana. He allegedly reached for his waistband during the confrontation, which prompted Haste to pull the trigger. A single bullet hit Graham in the chest, killing him.
No gun was found on Graham or anywhere in the apartment.
His grandmother, Patricia Hartley, and his 6-year-old brother, Chinnor Campbell, were home at the time and witnessed the shooting.
"Why did you shoot him? Why you killed him?" Hartley asked Haste, according to the account of events she provided in the family's lawsuit against the city.
The family alleges that Haste then responded: "Get the fuck away before I have to shoot you, too." He then allegedly pushed the tiny 58-year-old woman into a nearby vase.
As her grandson's body lay on the bathroom floor, Hartley says she was taken to the police precinct and interrogated for seven hours by officers. For the majority of the interrogation, she says she was denied access to her lawyer. And when Malcolm showed up to the precinct and attempted to retrieve Hartley, she alleges one of the officers at the station tackled her.
In 2012, a grand jury voted to indict Haste, but the case was tossed out because of a prosecutorial mistake. Another grand jury later declined to indict Haste.
Although Haste testified to both grand juries about the shooting, those testimonies are sealed and have never been shown to the public. The family settled its lawsuit in January for $3.9 million, thus precluding the NYPD from publicly defending Haste's actions in court.
And so after four years, there's never been a full public accounting of how and why New York City police officers broke into a home without a warrant, then shot and killed an unarmed teenage boy.
That public accounting could still come in the form of an Internal Affairs trial, albeit one Graham's parents think should've come much sooner.
"We're tired," Malcolm said Thursday. "It's been four years and I still don't have an answer as to why my son is dead."
CORRECTION: A previous version of this story incorrectly identified the NYPD director of communications as Peter Gordon. His name is Peter Donald.
Popular in the Community