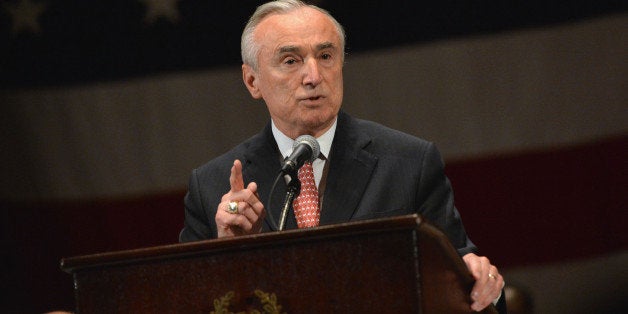 As outrage simmered in the hours before the release of the Ferguson verdict, NYPD Commissioner William Bratton made a rare public appearance to defend his Broken Windows policing philosophy. But his remarks brought controversy from those affected by aggressive policing.
"No conversation on urban crime is complete without the communities that are affected by [Bratton's] policing theory," said activist and Huffington Post contributor Josmar Trujillo, dressed in a snapback and "Fire Bratton Now" t-shirt on the sidewalk outside the event.
During Bratton's remarks, Trujillo and at least a dozen other activists stood to protest the abuse they say Bratton's policing has brought to targeted communities in New York City.
The appearance was Bratton's attempt to shore up Broken Windows policing against a rising tide of discontent. But the best he could muster was a skin-deep redefinition of the theory, even as he failed to respond to loud concerns from his constituents.
Speaking in NYU's opulent Vanderbilt Hall, Bratton celebrated the crime reductions of his previous NYPD tenure. But he glossed over the reality that nearly every American city experienced a decline over the same period - even without locking away historic numbers of residents.
And he ignored the topic of police reform, highlighted by the recent shooting death of Akai Gurley, until questioned by NYU Professor Rachel Barkow. Asked what measures could reduce wrongful deaths, he was reticent to promise swift reform, citing high costs for proposed body cameras and logistical delay in pairing rookies with experienced officers.
But most troubling was his disingenuous attempt to redefine Broken Windows, which is conventionally understood as aggressive enforcement of quality-of-life laws like "panhandling [and] disorderly behavior."
Bratton claimed that the meteoric growth in low-level arrests is actually driven by policing of serious crimes - he cited drunk driving and domestic violence as examples - rather than by arrests for sidewalk grilling and moving between train cars.
But that claim does not mesh with the facts - arrests for quality-of-life offenses have surged faster than any other crime.
Turnstile-hopping, considered by many police reform advocates to epitomize Broken Windows policing, accounts for more jail convictions than any other charge (excluding all drug possession charges combined). From Bratton's speech, the audience would not have known that between 2008 and 2013, turnstile arrests grew by 69%.
Bratton may not understand the damage wrought by his crackdown during a record-setting series of fare increases, but the affected communities do. For them, jail-time over a $2.50 fare is the result of destructive and illogical policing.
Bratton would have us believe that constant, racially inequitable pressure on minority communities is necessary in today's New York City. The reality is that it's not - and his bald-faced distraction from the realities of Broken Windows policing only highlights that.
Broken Windows policing is a tale of two cities. One, the tony audience in Vanderbilt Hall, is unaffected. The other sees its members routinely jailed over crimes worth $2.50 or less. It is time for an NYPD Commissioner who will listen to the concerns of both these cities - and for William Bratton, it is time to pack his bags and go.
Popular in the Community