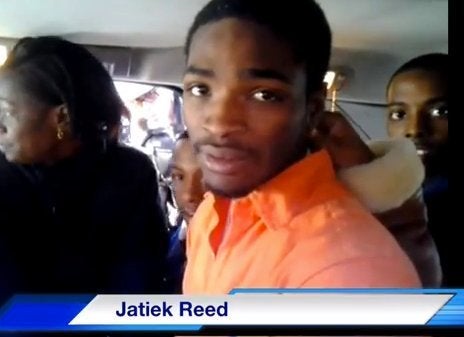 The Bronx District Attorney has dropped charges against Jateik Reed, the 19-year-old captured on video (see below) receiving an excessive beating at the hands of four NYPD officers. According to The Wall Street Journal, Bronx DA Robert Johnson, "said his office was dropping three drug possession charges, two counts of assault and a harassment charge police filed...because prosecutors would be 'unable to meet our burden of proof at trial.'"
What remains unclear, however, is whether Johnson will pursue charges against the officers in the incident, who can be seen in the video kicking and punching Reed after they've already handcuffed him. Police commissioner Ray Kelly called Reed's arrest "troubling," and officials at the time said the four officers involved were placed on modified assignment and stripped of their guns and badges.
Johnson--who, who you may remember ran unopposed in his re-election to the Bronx DA position in November despite receiving a negative evaluation from the City Bar Association--tried to cut a dicey deal with Reed. Johnson's office had refused to conduct an investigation of the officers unless Reed agreed to forfeit some basic rights. Reed's attorney, Gideon Oliver, explained to Gothamist why he advised his client against this:
The DA explained to the court that they wanted our client to sign an excessive force investigation agreement which, among other things, would require Reed to give a sworn and recorded statement on the crimes with which he is charged and the allegations of excessive force. It would also require him to testify in front of a grand jury and waive physician-patient privilege.

But given the fact that the DA is prosecuting Jateik—and, more importantly, the symbiotic relationship between the DA and police department—we do not believe the DA is capable of conducting a fair and honest investigation. And it would be irresponsible for me to advise a client to provide several sets of sworn and recorded statements while he has criminal charges pending.
Bronx DA Spokesman Melvin Hernandez told Gothamist, "We stand ready to pursue the allegation of excessive force but for one reason or another Mr. Reed and his attorneys have chosen not to speak with us, and in order to go further we require more than just the video tape."
Oliver, meanwhile, said, "It's perplexing why the D.A.'s office is dodging its ethical obligation to investigate and prosecute the officers," adding, "If it weren't police officers in uniform caught on video beating our client, I can guarantee you charges would have been filed and prosecution would have been pursued in this case months ago."
Reed's lawyers have called on Gov. Andrew M. Cuomo and the state Attorney General Eric Schneiderman to appoint a special prosecutor to investigate the episode, but they haven't heard back.
Related
Popular in the Community