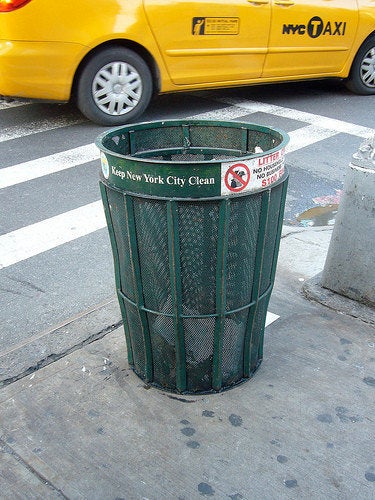 MANHATTAN — Police documents detailing deployments for its weapons of mass destruction taskforce were found tossed in a Hell's Kitchen trash can outside a precinct station house, according to a report.
Blogger Bucky Turco, of Animal New York, said he found the documents, which contain instructions for the NYPD's Chemical Ordnance, Biological, Radiological Awareness (COBRA) taskforce on Thursday night outside the Manhattan South Task Force stationhouse at 524 W. 42nd Street.
The documents, posted on Animal New York, are intended to help the NYPD prevent a terror attack in the vicinity of Times Square and other Midtown landmarks.
They include instructions for vehicle inspections and a list of suspicious behaviors to look out for in drivers, including "obvious shaking," deep sighs and tugging at clothing.
NYPD officials said the while the documents should have remained out of the public eye, their release will not compromise security, according to WNBC/Channel 4.
"The document involved the deployment of 20 highly visible uniformed officers whose assignments were obvious to anyone with eyes in their head," Deputy Commissioner Paul Browne told the New York Daily News. "Granted, we would have preferred it was disposed of more discreetly, but its discovery by a dumpster-diver posed no threat to the public or anyone else."
Read more: http://www.dnainfo.com/20110514/chelsea-hells-kitchen/nypd-counterterrorism-documents-found-trash-can#ixzz1MX7PqRbk
Popular in the Community