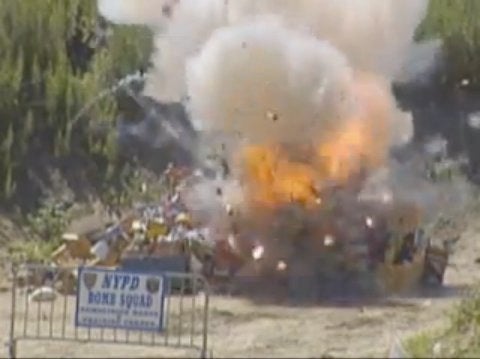 The 4th of July is a special holiday weekend for all Americans, but perhaps more so for the NYPD bomb squad. That's because each year they get to blow up all the fireworks the department has confiscated in a grand, fiery spectacle.
This year they gathered 5,000 pounds of confiscated fireworks and detonated it -- on Youtube, no less.
It is illegal to buy or sell fireworks in New York without a permit, so those who are caught can get fined or arrested. From the Staten Island Advance:
Since 2005, NYPD undercover squads have been targeting fireworks shops in Pennsylvania. Cars with New York plates are followed until they cross into New York -- often on Staten Island -- where the occupants are arrested. Their cars and cargo are impounded.
"We want everyone to enjoy the Fourth in the city, but fireworks in the hands of an amateur are extremely dangerous and illegal," said Mayor Bloomberg.
But more importantly, ka-boom:
Related
Popular in the Community