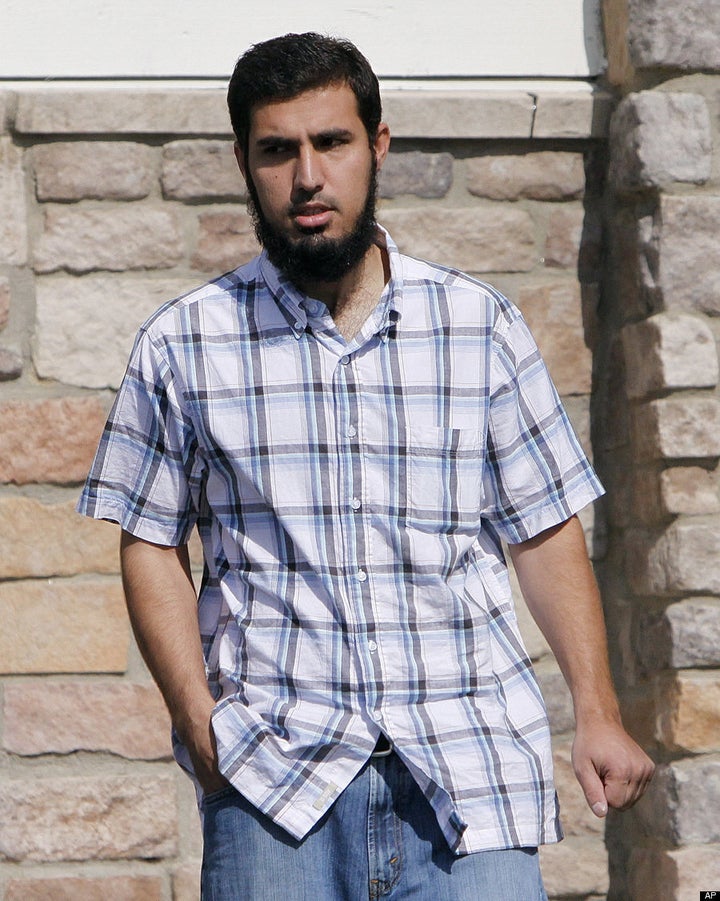 The NYPD's so-called Intelligence Division apparently didn't live up to its name, according to Justice Department documents stemming from the arrest of three terror suspects.
In fact, the documents indicate that Deputy Commissioner David Cohen and his subordinates at Intel were clueless.
Cohen, the former CIA honcho, and the rest of his Intel hotshots, appear to have placed their trust in a Queens-based Imam, having used him as an informant in previous terrorism investigations.
The Imam, Ahmad Wais Afzali of Flushing, was apparently a double agent, who double-crossed Intel detectives in a betrayal discovered through FBI wiretaps.
According to the Justice Department documents and to NYPD sources, Afzali tipped off an Afghani immigrant living in Aurora, Colorado, who showed up in New York City on September 10th and became the focus of police and FBI raids in Queens three days later.
The immigrant, 24-year-old Najibullah Zazi, had been a pushcart vendor in New York, and had recently moved to Colorado, where he worked as an airport driver in Denver. While living in Queens, he had worshipped in Afzali's Flushing mosque.
According to a Justice Department affidavit, Zazi admitted to the FBI -- who interviewed him in Denver last week -- that, while visiting his wife in Pakistan in 2008, he received instructions on weapons and explosives at an al-Qaeda training facility in that country's tribal areas.
On September 10th, the day Zazi turned up at his old Queens haunts, apparently tracked by the FBI and the Joint [FBI-NYPD] Terrorist Task Force, Intelligence Division detectives questioned Imam Afzali about him.
The Intel detectives -- perhaps without the FBI's knowledge -- showed Afzali photographs of Zazi and others believed to be part of an unspecified terrorism plot.
A Justice Department press release issued Sunday described Afzali as someone "whom the NYPD had utilized as a source in the past."
Afzali's true allegiance was discovered the next day, September 11, when the FBI intercepted a phone conversation between Zazi and his father, Mohammed.
Mohammed Zazi told his son that Afzali had informed him about the visit by NYPD detectives that had occurred the previous day. According to a Justice Department complaint filed on Sunday, Mohammed also told his son that Afzali would call him, and advised him to speak with the Imam "before anything else."
Afzali then called Najibullah Zazi, saying, according to the complaint, that he had just spoken to Zazi's father and that "he did not want [Zazi] to get nervous because 'all this stuff is going on.'"
"I want a meeting with you [and three others]," Afzali said, according to the complaint. "You probably know why I am calling you ... I was exposed to something yesterday from the authorities. ... They came to the masjad to ask for help. That is a good sign. Trust me, that is a good sign. The bad sign is for them coming to you guys and picked [sic] you up automatically."
The next day, Sept 12th, Zazi cut short his trip to New York and flew from LaGuardia Airport back to Colorado.
On Sunday, the Justice Department announced the arrests of Afzali and the Zazis, and charged them with making false statements to federal agents in their ongoing terrorism investigation.
This column has long maintained that, despite Police Commissioner Ray Kelly's posturing, the Intelligence Division under Cohen and his crony, Assistant Commissioner Larry Sanchez, is operating as a mini-CIA with no accountability and with no model to guide it.
Now it appears that these lone wolves appear to have mishandled the investigation into the city's first known major terrorism threat since 9/11.
One can only wonder how many other terrorism suspects were the subjects of NYPD conversations with Afzali -- and how many of them he alerted.
Remember that Kelly and Cohen are the same guys who since 2002 have continually criticized the FBI; promoted go-it-alone, out-of-state terrorism investigations; and launched possibly illegal spying on political groups, all without informing the Bureau.
And that the FBI they disdain appears, through its intercepted phone calls in this latest investigation, to have saved their bacon.
Will there ever be a public accounting of what was going on here between the two agencies?
Or of how the Intelligence Division was apparently duped by Afzali?
Will anyone be held to account?
Since Michael Bloomberg has shown no willingness to find out anything pertaining to the Intelligence Division [Note the city's repeated appeals of judicial decisions ordering the NYPD to turn over documents regarding the groups they spied on for the 2004 Republican National Convention], perhaps mayoral opponent William Thompson will demand some answers.
According to police sources, a deputy inspector in charge of Intel's specialty units was transferred late last week to the Trials Bureau.
"They tipped their hand by showing the main subject's photo around, and then he was tipped off by an Imam," said a police source.
In addition, police sources say that an Intel surveillance team, the Technical Operations Unit, was given the slip by other suspects in the plot.
"The Technical Operations Unit followed the other subjects too closely so they were burned and made the FBI rush to get operatives to New York to save the day," said the source. "If it wasn't for the FBI, the case would have died."
Was the deputy inspector's transfer a coincidence or related to the above events? If the latter, was he a sacrificial lamb?
Despite these apparent lapses, don't expect answers from either Kelly or FBI Director Robert Mueller.
Despite reports of a rift between the FBI and the NYPD over this investigation, Mueller and Kelly insist that relations between the Bureau and the NYPD are hunky-dory.
Asked at a news conference last week if there was friction between the two agencies, Kelly answered, "Not true."
At a Senate hearing in Washington last week, Mueller volunteered this assessment when New York Senator Charles Schumer asked about the Queens raids: "I can say without reservation that our relationships with the NYPD in this and other investigations could not be better and that New Yorkers are well benefited by the work of the NYPD and Ray Kelly in making the city safe."
Related
Popular in the Community