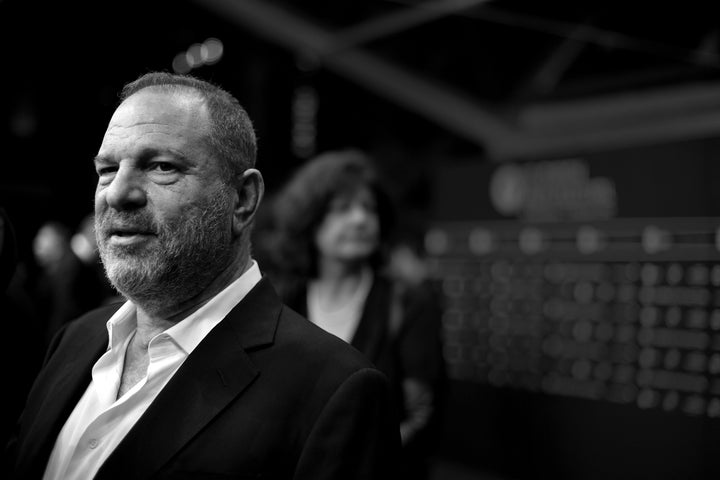 Actress Lucia Stoller, now Evans, alleged in The New Yorker's explosive expose published earlier this week that in 2004, Weinstein forced her to perform oral sex on him in his Miramax office in Manhattan. It was the summer before her senior year at Middlebury College, and she was attempting to break into the film business. Evans gave Weinstein her number and agreed to meet him at his office.
The New Yorker's account of her assault read as follows:
"At that point, after that, is when he assaulted me," Evans said. "He forced me to perform oral sex on him." As she objected, Weinstein took his penis out of his pants and pulled her head down onto it. "I said, over and over, 'I don't want to do this, stop, don't,' " she said. "I tried to get away, but maybe I didn't try hard enough. I didn't want to kick him or fight him." In the end, she said, "He's a big guy. He overpowered me." At a certain point, she said, "I just sort of gave up. That's the most horrible part of it, and that's why he's been able to do this for so long to so many women: people give up, and then they feel like it's their fault."
An NYPD spokesperson told HuffPost that a complaint was "never filed" regarding the assault, but that police are now investigating what happened.
Additionally, Assistant Commissioner J. Peter Donald said that based on information published in recent news reports, the NYPD will be "conducting a review to determine if there are any additional complaints" related to Harvey Weinstein.
"No filed complaints have been identified as of this time and as always, the NYPD encourages anyone who may have information pertaining to this matter to call the CrimeStoppers Hotline at 1-800-577-TIPS," he said in an email.
According to NBC News correspondent Anne Thompson, NYPD detectives say they are looking to "see if any crimes were committed in the city."
The New Yorker piece also revealed a horrifying audio recording recovered from a 2015 NYPD sting operation. In the clip, Weinstein can be heard admitting to groping model Ambra Battilana Gutierrez's breast and attempting to coerce her into coming to his hotel room.
Despite the recording, Manhattan District Attorney Cy Vance Jr. never pressed charges against Weinstein and insisted that police had foiled the case.
"If we had a case that we felt we could prosecute and my experts felt we could prosecute against Harvey Weinstein, we would've," Vance told CBS.
Authorities in London are also now investigating accusations against Weinstein. The Metropolitan Police Service is conducting an investigation after Merseyside Police passed along a sexual abuse allegation, a Scotland Yard spokesperson told The Guardian.
"The allegation will be assessed by officers from the child abuse and sexual offenses command," the spokesperson said, though the Guardian noted there's "no indication" the accusation deals with child abuse.
A spokesman for police in Merseyside confirmed to HuffPost UK that they received a report of "an alleged sexual assault" that occurred in the London area in the 1980s, and that they referred the report to the Metropolitan Police.
Calling all HuffPost superfans!
Sign up for membership to become a founding member and help shape HuffPost's next chapter
BEFORE YOU GO
PHOTO GALLERY
Celebrities React To Harvey Weinstein