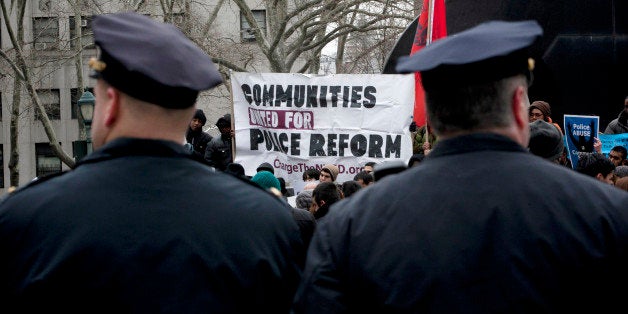 Police reform advocates expressed cautious optimism this week over a new set of guidelines for when New York City police officers can stop and frisk people on the street, a reform aimed at reining in the department's controversial use of the tactic.
"We're pleased," said Darius Charney, a senior staff attorney at the Center for Constitutional Rights. "We think it's the first step in a long process of meaningful reform of stop and frisk in New York City. The first step of many."
Officers need a "minimal level of objective justification" for making each and every stop, says a memo sent to all police precincts in the city on Monday, a copy of which was obtained and published Wednesday by DNAinfo.
No longer can a police officer stop someone based on a "hunch," the memo says.
Stopping a person solely because of a "furtive movement," their "mere presence in a high crime area," or because he or she is "standing alone," are all "insufficient bases for a stop or a frisk," it says.
In order to make a stop, a police officer "must have individualized, reasonable suspicion that the person stopped has committed, is committing or is about to commit a felony or penal law misdemeanor."
The new guidelines are the result of a class-action lawsuit filed by the Center for Constitutional Rights against the NYPD over its use of stop and frisk. Judge Shira Scheindlin presided over the case, and in 2013, she ruled that the department's use of the tactic was unconstitutional, saying it amounted to a "policy of indirect racial profiling."
The ruling came after a decade in which the number of police stops in the city ballooned. In 2011, almost 700,000 New Yorkers were stopped by police, a 600 percent increase from 2002. Almost 90 percent of the people stopped that year were completely innocent of a criminal offense, and 87 percent of those stopped were black or Latino.
Andrea Ritchie, senior policy analyst at police reform advocacy group Streetwise and Safe, said Monday's memo "simply reiterates the federal constitutional standard" for a stop and frisk -- a standard she said the NYPD ignored for years.
Of particular interest to Ritchie was the memo's clarification of when an officer can cite "furtive movement" as justification for a stop.
A furtive movement is when someone appears to an officer as looking suspicious, or trying to evade the officer's presence. In 2011, officers marked furtive movement as the justification for nearly 352,000 stops, over 50 percent of the total number of stops that year. According to Ritchie, officers often employed an extremely loose interpretation of "furtive."
"Anything could be a furtive movement," Ritchie said. "Moving your head to the left, moving your head to the right."
Monday's memo also says officers can no longer stop people who vaguely match the description of a crime suspect.
"A person may not be stopped merely because he or she matches a general description of a crime suspect, such as an 18 to 25-year-old black male," it says. "If a physical description is the only factor relied on by the stopping officer, it must be more specific than that to form a sufficient basis for a stop."
Similarly, the memo reiterates that officers can't racially profile.
"Race may only be considered where the stop is based on a specific and reliable suspect description that includes not just race, but other identifying characteristics," the memo states.
Pat Lynch, president of the city's largest police union, the Patrolmen's Benevolent Association, said this week that the new stop-and-frisk guidelines are too complex and make an officer's job even more dangerous than it already is.
"Police officers are going to have to travel with an attorney just to interpret these new stop and frisk regulations," he said in a statement. "Once again, the department and courts are putting responsibility for the problem that they created with illegal activity quotas on the shoulders of our members. The end result is making a difficult job more difficult and dangerous for members."
Ritchie, of Streetwise and Safe, said the union's anger over the memo is misguided.
"Their quarrel is with the constitution and Terry v. Ohio," she said, referring to the 1968 Supreme Court case that set the constitutional standards for a police stop.
Meanwhile, the number of police stops continues to drop in New York City. Mayor Bill de Blasio came into office at the beginning of last year promising to rein in the department's use of the tactic. His predecessor, former Mayor Michael Bloomberg, had defended widespread police stops as a means of getting guns off the street and preventing crime.
In 2014, de Blasio's first year in office, police officers made just over 46,000 stops, a 75 percent decline from the number of stops in 2013 and a still more precipitous decline from the nearly 700,000 police stops in 2011.
But for Charney, of the Center for Constitutional Rights, there's no right number of stops, and there's still a lot of work to do.
"We are still hearing from clients and allies in heavily policed communities about stops they are experiencing that are still illegal, baseless, and targeting people because of their race," he said.
He emphasized that Monday's memo was the first step in a long reform process. As part of the court-ordered remediation, Charney and the Center for Constitutional Rights will continue to work with the NYPD to reform its training materials and to develop disciplinary procedures for officers who make illegal stops.
What's important, Charney said, is that the stops are "constitutional, and not based on race," and that people are "treated fairly and with dignity during their encounters" with New York City police.
Popular in the Community