 Among critics of the New York City Police Department's policing practices, it is a distressing contradiction. Many of the Democrats vying to replace Mayor Michael Bloomberg in this year's election say they want to reform the department's stop-and-frisk program. Few have spoken out against the NYPD's surveillance of Muslim communities.
To Baher Azmy, legal director at the Center for Constitutional Rights, the two programs represent "two sides to the same coin" of "racial and religious profiling." When the NYPD stops a young black or Hispanic male in the city's outer reaches, he and other civil libertarians argue, the force is operating under the same logic as when it sends out "mosque crawlers" to the city's Muslim communities. But for many of the leading Democratic candidates, the two issues are far from synonymous -- a divergence, critics like Azmy say, born of political expediency.
The difference in rhetoric on the two issues is loud and clear. City Council Speaker Christine Quinn, former city comptroller Bill Thompson and Public Advocate Bill De Blasio have all called for reforms to the stop-and-frisk program. City Comptroller John Liu has called for its outright elimination.
On the surveillance program, however, few have spoken out critically. The program should continue, Quinn has said, "Unless we know that laws were broken or someone's civil liberties were violated." Thompson issued a statement that took no position last year. De Blasio has said he believes the NYPD is acting within legal limits but should improve its relationship with Muslim communities. Only Liu has staked out a stronger stance. He told HuffPost that "surveillance of people just because they're Muslim ... is something that I abhor and oppose."
One reason for the silence on surveillance: it represents one of the most dangerous shoals for Democrats hoping to become New York City's next mayor. They would like to make it through a liberal primary season without alienating the general election voters who have often shown -- for more than 20 years, at this point -- that despite their overwhelmingly Democratic presidential preferences, they are perfectly capable of voting in tough-on-crime Republicans as mayor.
"I do know that there are real dangers and threats faced by this city and the NYPD's program has certainly played an important role in keeping people safe," Lhota said.
Kelly's personal popularity could make it difficult to end or reform either program. Quinn has reportedly cut a deal with him to stay on if she is elected. Lhota said Kelly is "good at what he does" but declined to speculate who he would tap to lead the department if elected. "I'm superstitious," he said. "I don't like to talk about offering anyone a job until it's mine to offer."
Perhaps fearing attacks from Kelly or candidates like Lhota in the general election, the Democrats have generally sought to leave themselves wiggle room on surveillance. That may please voters, but it strikes civil libertarians as hypocritical. Azmy criticized De Blasio, generally perceived as one of the more progressive candidates, for rallying against stop and frisk but expressing cautious support for surveillance.
"The only thing that harmonizes (the two positions) is political expedience," said Azmy. "Stop and frisk has reached a level of broad, mass unpopularity, so political expedience from his perspective would suggest to distance himself from that. At the same time, there's probably regrettably more tolerance for surveillance of Muslim communities."
"The surveillance is seen as only affecting a small number of people, whereas stop and frisk is seen as legitimately affecting hundreds of thousands of people, so there's more perceived political advantage in addressing stop and frisk," said Eugene O'Donnell, a professor at the John Jay College of Criminal Justice. (O'Donnell is informally advising former Councilman Sal Albanese, a mayoral candidate considered a long-shot for the job.)
For De Blasio, the two positions are not a contradiction at all.
"Bill believes the NYPD should be entitled to strong deference in defending the city from terrorist attack, but believes in the old maxim: trust but verify," Wiley Norvell, a spokesman for De Blasio's office, said in a statement. "That's why he supports legislation to create an independent Inspector General to provide a check on the application of all NYPD policies and procedures, including this one."
Liu said he was open to the idea, as long as the IG was "somebody that the public can go to on some real abusive practices like stop and frisk."
But ultimately, he said, reforming the surveillance program "really needs to be a change in practice coming from the very top. Perhaps not even from the police commissioner but the mayor himself."
Ultimately, O'Donnell said, calls for NYPD reform on either of the issues will likely taper off as the primary ends and the general election begins.
"Some of the mayoral candidates on stop and frisk have said things that they may regret going forward," he said. "We're going to see that people are much more conservative on law and order in New York City."
Janell Ross contributed reporting.
Before You Go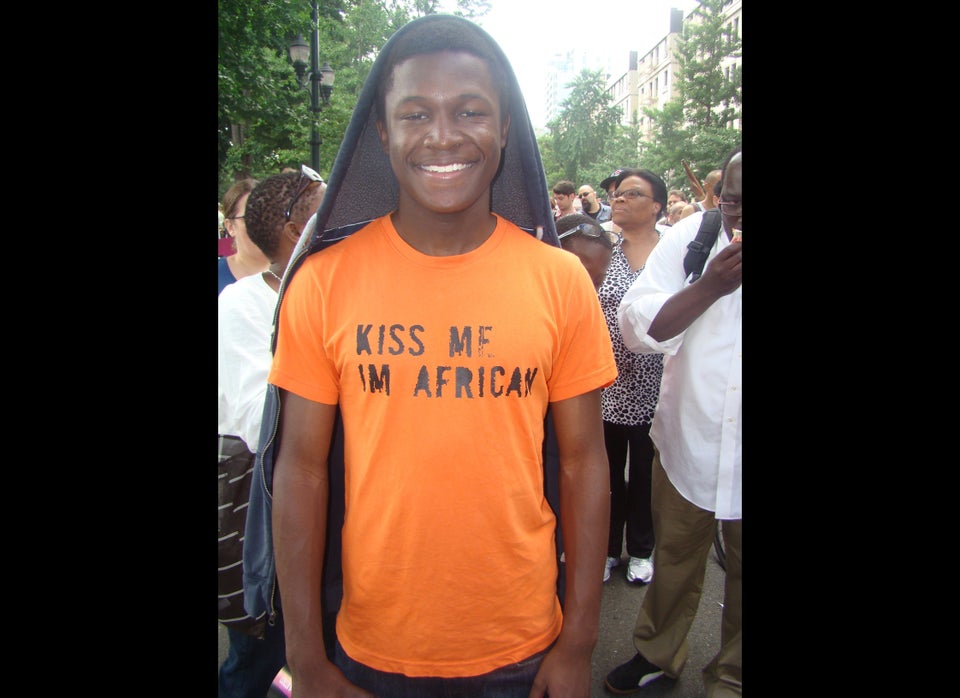 Stop And Frisk Protest
Popular in the Community