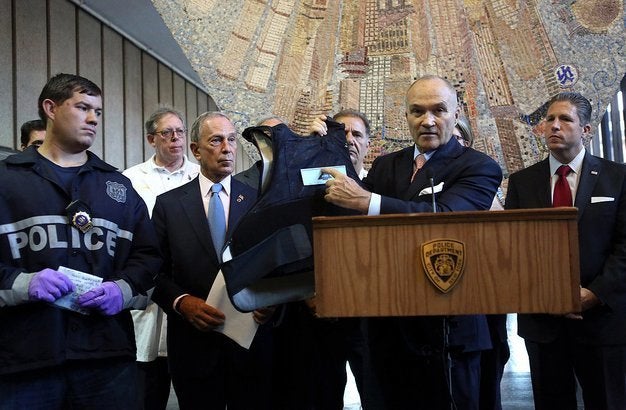 By Serena Solomon, Alan Neuhauser
LOWER EAST SIDE — Police are searching for a gunman who shot and injured an NYPD officer patrolling a Lower East Side housing complex early Thursday — with the officer's protective vest stopping the bullet from likely killing him, authorities said.
The suspect, who is still on the loose, fired at the officer from mere feet away during a pursuit in the building's stairwell. The shooting occurred about 3:40 a.m. between the 18th and 19th floors of the Seward Park Extension building at 64 Essex St., near Grand Street, police said.
Officer Brian Groves, 30, was conducting a "vertical patrol" of the NYC Housing Authority building with his partner when he saw the suspect holding a silver handgun after they entered into a stairwell on the 22nd floor, Police Commissioner Raymond Kelly said.
Groves followed the suspect down the stairs when the gunman turned and fired a single shot from about 8 feet away, striking the officer in the middle of his chest near his heart, Kelly explained.
Groves returned fire, squeezing off four shots, and continued to follow the suspect before collapsing on the 15th floor, the commissioner said. It was unclear if the suspect was struck by the gunfire.
"He would have almost certainly been killed if it wasn't for his bullet-resistant vest," Kelly said at a press conference Thursday morning at Bellevue Hospital, where the officer was in stable condition.
Groves, a husband and father of two young girls, had been conducting the standard patrol due to reports of drug sales and disorderly activity inside the building, the commissioner added.
The suspect is described as a man in his 20, standing 5-foot-9 with his hair braided in corn rows.
Hours after the shooting, a portion of Essex Street remained closed to traffic as cops and NYPD helicopters combed the neighborhood for the gunman.
Residents of the building described hearing the chaotic shooting early Thursday.
"I heard two or three shots," said Shawn Stucker, 23, who lives on the building's 15th floor.
Tenants added that the building has a history of criminal activity, making them feel unsafe.
"My mom got mugged seven months ago," said resident David Idels, 53, who noted that she was knocked unconscious and had her wallet stolen. "She was alone and a person punched her in the face."
Idels and Stucker both pointed to what they said was a lack of surveillance cameras in the building.
"We don't have cameras," Stucker said. "We need cameras."
Read more: http://www.dnainfo.com/new-york/20120705/lower-east-side/police-officer-shot-at-lower-east-side-housing-complex#ixzz1zkzjMSMb
REAL LIFE. REAL NEWS. REAL VOICES.
Help us tell more of the stories that matter from voices that too often remain unheard.