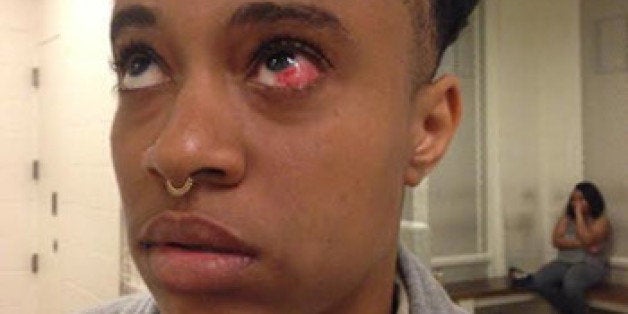 An NYPD officer is under investigation for a possible hate crime after a Brooklyn woman accused him of assaulting her and calling her homophobic slurs, a spokeswoman for the Brooklyn district attorney's office told The Huffington Post Thursday.
Stephanie Dorceant, 29, was arrested in the early morning hours of July 11 in the Flatbush section of Brooklyn after allegedly assaulting NYPD Officer Salvator Aquino. She's facing felony charges of assault as well as charges for menacing, resisting arrest and harassment.
But according to Dorceant, it was Aquino who attacked her. Through her attorneys, she supplied the following statement Thursday:
On July 11th I was in Brooklyn, where I live and work, heading from a concert with my girlfriend when, out of nowhere a large man bumped me from behind. I asked him if he was ok. He then barked at me, and I will quote: "mind your own business you fucking dyke."

Hen then attacked me, punched me in the face a number of times, choked me and called me several more anti-gay slurs. When he had his hands around my neck I truly thought I was going to die. I could not breathe. The only way I could get him to stop attacking me and my girlfriend was to bite him.

When other police officers showed up I thought we were saved. That was not the case. It turned out that this man was an off-duty police officer. Instead of helping me and my girlfriend and arresting our attacker, more officers piled on top of me, slamming me onto the pavement and putting their knees on my neck, shoulders, and back. They then put us both into handcuffs and threw us into a holding cell in the precinct. After being processed at the precinct I was taken to the hospital, and then to central bookings.

At my arraignment, they said that I had assaulted the cop and that I had used racial slurs. Even though I have no record, and their story was a complete lie, bail was set and I ended up at Riker's Island.

My attacker has still not been charged or arrested.

Even though I am well aware of the many stories about police brutality, especially against blacks, Hispanics, and the LGBT community, I never really thought that this could happen to me. I want to share my story and say that police brutality is a real thing. Hate crimes are a real thing. Both of these things happened to me. Enough is enough.
The criminal complaint against Dorceant -- which is embedded below -- alleges that Aquino saw Dorceant and her girlfriend, Nandi Allman, "arguing" as he was walking to his personal car that had "a police parking plaque displayed on the dashboard and in area marked for police vehicles only." When Dorceant and Aquino bumped into each other, the complaint alleges, Dorceant attacked Aquino and "punched him in the face." When he tried to arrest Dorceant she resisted and "proceeded to bite [Aquino] repeatedly about the arms, chest, finger, and torso, breaking [Aquino's] skin."
At a press conference Thursday, Dorceant said the criminal complaint was nothing but lies as she held Allman's hand and occasionally choked back tears. The couple weren't arguing on Saturday, she said, but were "talking and laughing" coming back from a performance at the AfroPunk Battle of the Bands in Brooklyn.
When Allman saw Aquino throw her girlfriend's head to the ground she thought Dorceant was "going to die," Allman said.
Both women are small and would have posed no threat to the officer, said Dorceant's lawyer, Benjamin Zeman.
What's more, during the altercation with Aquino, "not at one point did he mention he was a cop," Dorceant said. "I didn't see a badge, gun, anything," she said.
(Dorceant's lawyers said the Brooklyn district attorney's office has since confirmed that Aquino was off duty at the time of the incident.)
Aquino identified himself as a police officer just before a group of uniformed officers arrived on the scene, Dorceant said. He then handcuffed her and her girlfriend. Dorceant was taken to the 63rd precinct and then to the hospital. Doctors told her she had muscle bruising, cuts, scrapes, head trauma and an eye injury, which Dorceant said she received from being thrown to the ground. She was then taken to Brooklyn Central Booking.
During the arraignment in court Saturday, according to Dorceant, prosecutors read aloud a statement from Aquino saying he was concerned he "might have HIV" from her bites. (She has since taken an HIV test; the results were negative, she said Thursday.)
After the arraignment, Dorceant spent an entire day in jail on Rikers Island before Allman was able to pay the $1,000 bail. She was released on Monday, having been detained for over two days.
"They never gave me my phone call that I was promised," Dorceant said. "I didn't know what time it was. I barely knew what day it was. I was stuck into a room with 50 other girls. It was honestly like living in a concentration camp. I would never wish that on my worst enemy."
The whole ordeal was "like a nightmare," she said.
The NYPD's internal affairs department said it has launched an investigation into the incident to determine if any disciplinary action is warranted.
The Patrolmen's Benevolent Association -- the union that represents New York City's police officers -- didn't immediately respond to a request for comment.
On Thursday a judge ruled that prosecutors have until January to convene a grand jury and indict Dorceant. If they don't, the charges against her will be dismissed.
Benjamin Moore, another attorney for Dorceant, said he is "confident" the charges against her will be dropped before then.
Dorceant and Allman believe Aquino should "absolutely" be charged with a hate crime. They plan to bring civil charges somewhere down the line, they said.
Separately, the civil rights bureau of the Brooklyn district attorney's office is investigating the incident as a possible hate crime and interviewed Dorceant on Saturday, a spokeswoman said.
In the meantime, a friend of the couple's has started a crowdfunding page to pay for Dorceant's legal fees. As of Thursday evening, the campaign has raised more than $1,700 towards the $8,000 goal.
Popular in the Community