The woman, Sandra Amezquita, 44, reportedly tried to intervene in the arrest of her 17-year-old son. In the video, officers from the 72nd precinct appear to be throwing her to the pavement before slapping handcuffs on her.
"Don't resist! Throw your hands up!" an onlooker warns as Amezquita is grabbed by the arm by an unidentified officer, but the words come too late.
A friend tries to get in between officers and Amezquita, but she is thrown to the ground, too. Cops issued Amezquita a summons for disorderly conduct. Her husband was arrested for allegedly assaulting a police officer.
The video of the incident, which happened in Brooklyn over the weekend, was posted to Facebook by El Grito De Sunset Park, a community action and social justice group that has been in operation since 2002.
"What we see is a woman who's trying to protect her son, who is being stopped and frisked by police, and she became a victim. Slammed onto the floor," said Dennis Flores, founder of the site. "Her belly is now with black and blue bruises. She's bleeding and she's having complications."
A march "in support of Sunset Park residents who have had their rights violated by NYPD's 72nd Precinct" has been planned for Sept. 27, according to the site.
The NYPD told the station that Internal Affairs is investigating both the incident involving Amezquita and the one involving the street vendor.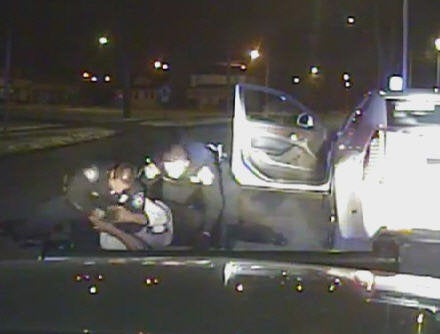 Police Brutality Incidents
Popular in the Community