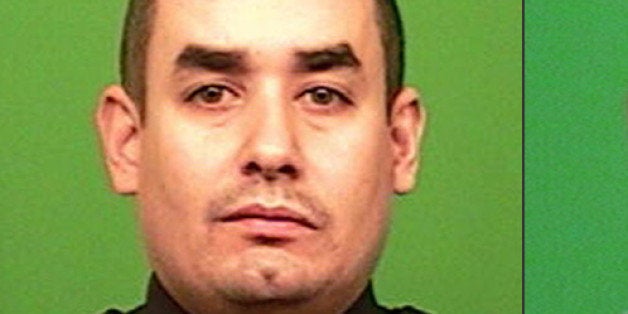 NYPD Officer Rafael Ramos was a protector.
As mourners gathered at Christ Tabernacle Church in Queens on Friday for the officer's wake, Ramos is being remembered as a deeply spiritual person -- the kind of cop who was willing to serve the city's physical and spiritual needs for protection.
December 20 was destined to be a crossroads in Ramos' life. He was looking forward to graduating from a lay chaplain certification program that day which would allow him to minister to New York's most vulnerable residents.
Instead, Ramos and his partner Officer Wenjian Liu were murdered by a lone gunman as they sat in their patrol car.
Rev. Marcos A. Miranda is president of the New York State Chaplain Task Force, which runs the 10-week certification program that Ramos had just completed. Miranda told HuffPost that the cop was a quiet individual with a contagious smile and kind eyes. He was a good listener, which Miranda said was one the most important skills in the profession.
"He loved God and he loved humanity," Miranda told HuffPost. "He thought being an NYPD officer was like doing ministry to God by protecting and serving your community."
Chaplains in the program are trained to deal with people in crisis. As part of his training, Ramos had to learn how to help battered women in domestic violence situations, how to care for seniors who were victims of elder abuse, and how to bring hope to people who were contemplating suicide.
It's a tough job. But Miranda said Ramos had what it takes.
"You don't become a chaplain unless you want to be of service to humankind," Miranda said. "[Ramos] really felt a calling to share in others' suffering . . .He had the potential to be a great chaplain."
Ramos was already an active member of his church. He attended Christ Tabernacle with his family for 14 years, according to congregation's executive pastor Rev. Adam Durso.
Along with participating in the church's marriage and life group ministries, Ramos was also an usher during church services.
"When his team was scheduled to serve, we never worried about whether Ralph would be there with his team to help," Durso said in a statement. "He was a humble man and was willing to help at any capacity; helping people to their seats, moms with their baby carriages or the elderly in and out of our elevator."
On Christmas day, NYPD officers, members of the public, and dozens of clergy made their way to the Brooklyn intersection where Ramos and Liu were killed. About 50 Hispanic clergy members prayed at the vigil, according to Rev. Dr. Gabriel Salguero, President of the National Latino Evangelical Coalition. They called for time of peace and reflection.
"The fact that Officer Ramos wanted to be a chaplain shows that he was really committed to being a servant and healer," Salguero told HuffPost.
Ramos' funeral is scheduled to be held at Christ Tabernacle Church on Saturday. Vice President Joe Biden has said that he will attend, according to The Associated Press.

Before You Go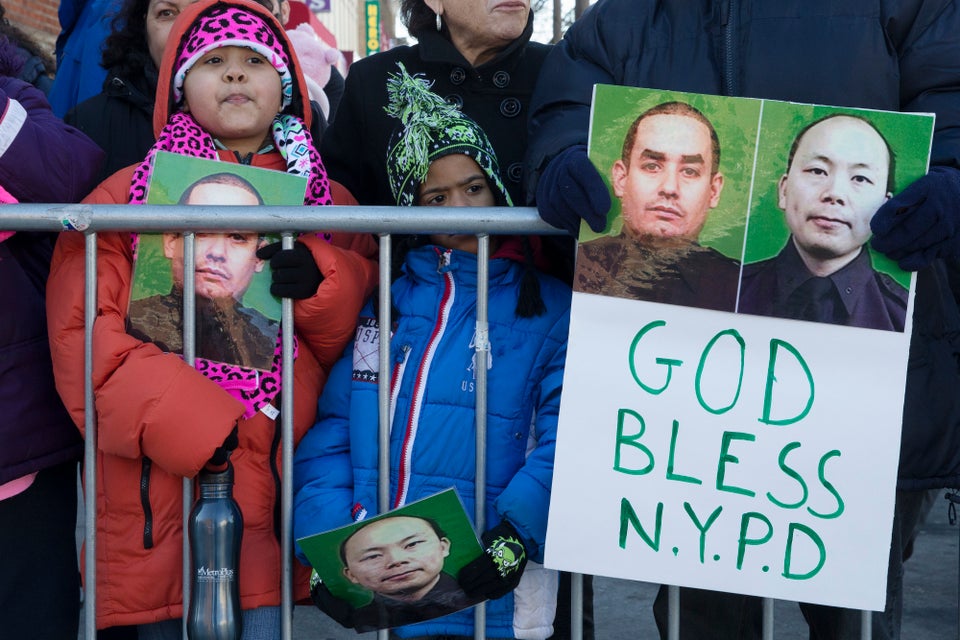 Ramos Wake
Popular in the Community