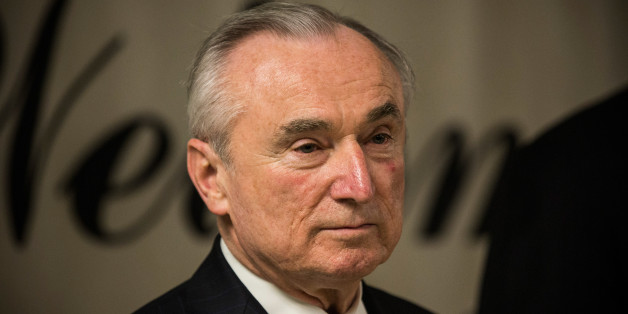 NEW YORK -- The New York City Police Department has been stamping documents "secret." But the department claims it has no information about what the mark means, or about the number of "secret" documents in its possession.
In a response sent in late May to HuffPost's public records request, the police department said it could find no guidelines for its mysterious "NYPD Secret" marking, which appears on many of the records connected to its Muslim surveillance program.
The Huffington Post also asked the NYPD to say how many of its records are actually classified "NYPD Secret," and whether the mark prevents documents from being released under the state Freedom of Information Law. The response to all the queries was the same: The department was "unable to locate records responsive to your request based on the information provided."
The NYPD's Freedom of Information Law Unit gave a nearly identical response to a similar request for classification guidelines made by the transparency website Muckrock.
HuffPost is appealing the search's completeness. But if the NYPD's answer stands, it appears the police department may not have any rules for its special "secret" marking -- which would confirm departmental critics' worst fears about the classification system.
Federal law enforcement agencies like the FBI rely on a wide range of legal authorities to classify and protect sensitive documents. The bureau consults a presidential executive order, the Code of Federal Regulations, the FBI National Security Information Security Classification Guide, the FBI Automatic Declassification Guide, a federal law about mishandled classified documents, and the Espionage Act of 1917.
By contrast, the NYPD appears to rely on nothing of the sort. Or at least it can't find its guidelines.
The department's press office did not respond to repeated requests for comment, so it is unclear whether the practice of marking documents as "secret" has continued under new Commissioner William Bratton since the departure of former head Raymond Kelly.
Bratton has promised a new era of transparency at the NYPD, stating in February that "there should be no secrets in the NYPD."
Experts interviewed by HuffPost in September said the classification system was another sign that the department's Intelligence Division operated like a mini-CIA under its former head David Cohen, a veteran of that federal agency.
REAL LIFE. REAL NEWS. REAL VOICES.
Help us tell more of the stories that matter from voices that too often remain unheard.
BEFORE YOU GO
PHOTO GALLERY
27 Reasons Why U.S. Shouldn't Lead War On Drugs