 A report [see below] from the New York Civil Liberties Union reveals in startling new details just how disproportionately the NYPD stops and frisks minorities.
The NYCLU, after combing through the NYPD's stop and frisk database (to which they gained access after a 2007 lawsuit), reports that "in 70 out of 76 precincts, blacks and Latinos accounted for more than 50 percent of stops, and in 33 precincts they accounted for more than 90 percent of stops."
(In the 6th Precinct, which includes parts of Soho and the Village, blacks and Latinos make up only 8 percent of the population, but accounted for 77 percent of those stopped in 2011.)
The NYPD and local politicians have repeatedly defended the racial disparity in stops by saying minorities are disproportionately involved in violent crime. In 2011, however, in only 10.5 percent of stops did cops record "violent criminal activity" as justification for the stop.
Under Mayor Michael Bloomberg, stop and frisks have increased 600 percent since 2003. And as previously reported, 87 percent of those stopped in 2011 were black or Latino.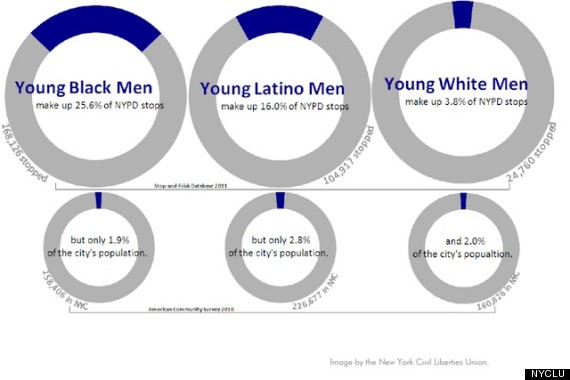 "The NYPD's own data undermine many of the Bloomberg administration's justifications for the stop-and-frisk program," NYCLU Executive Director Donna Lieberman said in a statement. "Contrary to the mayor and police commissioner's assertions, the massive spike in the number of stops has done little to remove firearms from the streets. Instead, it has violated the constitutional rights of millions of people and corroded the ability of communities of color to trust and respect the police."
Out of 160,851 stops in 2003, cops confiscated 604 guns, or about one gun for every 266 stops. In 2011, with an additional 524,873 stops, cops only uncovered 780 guns.
(Interestingly, although blacks and Latinos were much more likely to be stopped, whites were more likely to be found with a weapon.)
Officials at the NYPD see success in the statistics, saying that less confiscated guns means criminals are more likely to leave their weapons at home, afraid of getting caught carrying one by police. "We think it is a prescriptive result we may be seeing," said NYPD spokesman Paul Browne, according to The New York Times.
Lieberman isn't buying it. "We don't buy that notion and it's unacceptable," she said, according to The New York Daily News. "The bottom line is the police department is required to judge people based on what they're doing. If what they're doing is perfectly legal and not suspicious of criminal activity then why on earth is the Police Department subjecting them to be thrown up against the wall."
9 out of 10 people stopped and frisked in 2011 were neither ticketed or arrested for a crime.
Meanwhile, politicians are lining up to criticize the program, saying it needs reform.
Public Advocate (and likely Mayoral candidate) Bill de Blasio called for an internal audit of the program Wednesday, to ensure all stops are warranted and based on a reasonable level of suspicion. "We cannot wait until the Mayor leaves office to change this broken policy," he said in a statement. "Stop and frisk is a valid police tool, but it is being misused thousands of times each day. Every unwarranted stop widens the gap between police and the communities they protect—making us all less safe. The Mayor needs to exercise leadership and direct the NYPD to reduce unwarranted stops. If he doesn't, we will show him the way."
Christine Quinn, Scott Stringer and John C. Liu--all potential mayoral candidates-- also expressed the need to reform stop and frisk, with Liu suggesting the program should be outright abolished, according to The New York Times.
Deputy Mayor Howard Wolfson called Liu's idea "a race to the Left and a return to high crime." And to de Blasio Wolfson issued a statement, according to The Times, saying, "We will not continue to be the safest big city in America if Mr. de Blasio has his way."
Related
Popular in the Community