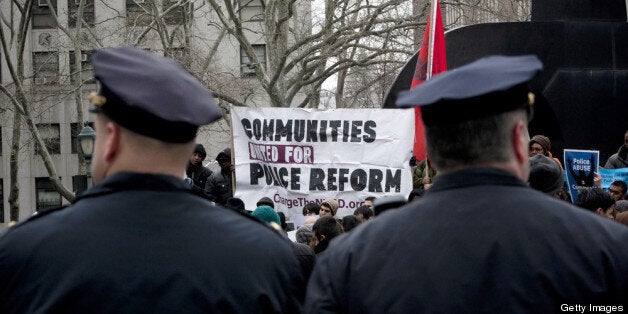 NEW YORK -- The trial of the New York City Police Department's controversial stop-and-frisk practice ended on Monday as lawyers defending the city were peppered with sharp questions from the federal judge hearing the case.
But whether U.S. District Judge Shira Scheindlin will declare stop-and-frisk unconstitutional -- and whether she will impose changes on NYPD procedures -- were questions that lingered over the closing arguments in her Manhattan courtroom. Civil rights attorneys led by the non-profit Center for Constitutional Rights are suing the city on behalf of black and Latino residents.
The lawsuit, filed in January 2008, draws to a close in the waning months of Mayor Michael Bloomberg's three terms in office. It centers on one of his defining legacies: the massive expansion of reported stop-and-frisk searches, which last year resulted in 533,042 stops, 87 percent of them on blacks and Latinos.
While the Democratic candidates vying to replace Bloomberg mostly agree the police tactic needs to be modified, Bloomberg has repeatedly credited stop-and-frisk with the city's record-low crime rates. But inside court, Scheindlin has barred the city from boasting about the program's effectiveness, which is disputed. Instead, she is considering only whether the police stops violate the Constitution.
The testimony of 12 witnesses who described 19 different stops, argued plaintiffs' lawyer Gretchen Hoff Varner, proved that the NYPD is "tossing the requirements of the Fourth and Fourteenth Amendments out the window, and making people of color afraid to leave their homes."
Police officers in court repeatedly claimed that the stopped witnesses fit a description of crime suspects. But Hoff Varner said "in stop after stop, the description comes down to one thing: male black."
The city claimed witnesses' testimony showed only that police usually do have a good reason for a stop, from a suspicious glance to a readjusted waistband. And a statistical analysis of police stops purporting to show racial bias, city lawyers agued, failed to take into account the race of crime suspects.
The plaintiffs proved "no indication of racial motivation whatsoever," said city lawyer Heidi Grossman.
Both sides detailed the accounts of many of the 19 stops that form the basis for the trial. One particularly pointed exchange was over the NYPD's encounter with Devin Almonor, who was stopped at age 13 while cops were responding to reports of street fight involving youths in Harlem.
Police said they stopped Almonor because of the disturbances, combined with a suspicious glance over his shoulder and his jaywalking.
"While jaywalking on its own may not be indicative of a crime, in the totality of all the circumstances" it was a reasonable basis for a stop, " Grossman said.
"If jaywalking in New York City is consistent with committing a crime," Hoff Varner shot back during her closing arguments, "then we all would have gotten stopped."
"They had gone there looking for a young black male and they found one," Hoff Varner said, charging that police changed their reason for the stop afterwards. "They stopped first and invented reasons later."
Scheindlin repeatedly interrupted Grossman and another city lawyer, at one point asking why nine out of 10 stops do not result in any police action.
"That's a big error rate," Scheindlin said. If the race of crime suspects is used as part of the analysis of stop-and-frisks, the judge later added, "you may worry that they're adding race in as a reasonable suspicion factor."
Legal observers have suggested that Scheindlin seems likely to rule against the city. In a related lawsuit brought by the American Civil Liberties Union about a stop-and-frisk practice aimed at private residential buildings in the Bronx, the judge ruled in January that the city had violated New Yorkers' constitutional rights.
In this case, Scheindlin suggested that she would need to piece together one constitutional violation, such as stops without reasonable suspicion, with the plaintiff's statistical analysis of stops, to find a violation of the Fourteenth Amendment's equal protection clause guaranteeing that people will not be treated differently because of their race.
The plaintiffs have suggested a wide range of potential outcomes, from changing the NYPD's training practices to creating new forms to document stop-and-frisk encounters, to appointing a court monitor with the power to stop racially biased stops.
Scheindlin said she was "intrigued" by one potential remedy -- making some officers work with "body-worn cameras" to document every interaction. She asked the city whether a court-appointed expert might be less intrusive than a monitor.
Calling all HuffPost superfans!
Sign up for membership to become a founding member and help shape HuffPost's next chapter
BEFORE YOU GO
PHOTO GALLERY
Stop And Frisk Goes On Trial In NYC