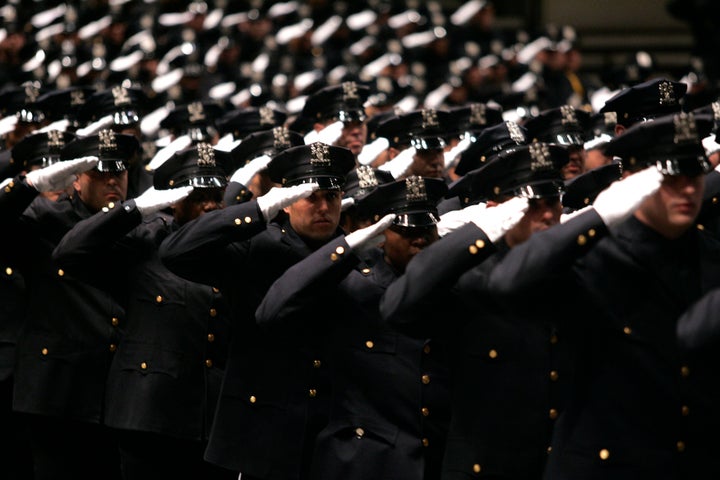 After a two year investigation that included widespread wiretapping, a Bronx grand jury is expected to indict 17 New York City police officers in an alleged ticket-fixing scandal Tuesday.
According to The New York Times, Bronx district attorney Robert T. Johnson will seek charges of grand larceny and tampering with public records against 10 officers, all officials of the Patrolmen's Benevolent Association for fixing tickets. Seven other officers are also expected to face charges, including a lieutenant suspected of leaking sensitive information about the case.
Other charges against the officers include perjury, bribery and official misconduct.
The Associated Press reports that the cops are accused of making the traffic tickets of family and friends disappear. Also among those whose tickets were allegedly fixed are city lawmakers and a New York Yankees executive.
Some of the officers involved in the scandal have reportedly already been disciplined by the department by having their pay and vacation days docked.
Most of those indicted today will be allowed to surrender themselves. Others could face arrest at their precincts.
"It's going to be the biggest scandal this department has seen in a long time," one source close to the investigation told The New York Daily News. "The cops who will be named in these indictments are the ones who went the furthest."
Last week, officer Robert McGee, a 30-plus year veteran of the force who was being investigated in the scandal, grabbed hold of the third rail of a subway track in the Bronx in an apparent suicide attempt. He survived and is in stable condition. McGee had reportedly been under a tremendous amount of stress after hearing news he would be called to stand trial against fellow officers about the ticket fixing scandal. He testified with immunity earlier this month and is not expected to face any charges.

Related
Popular in the Community