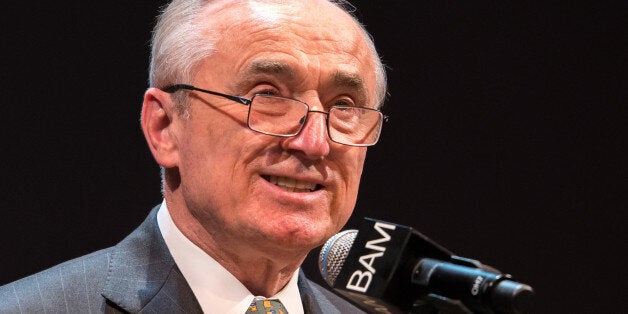 New York Police Commissioner Bill Bratton announced Friday that the city's police unions are getting a new home -- inside department headquarters.
Speaking at a breakfast hosted by the Citizens Crime Commission, Bratton said that the NYPD is building out space at 1 Police Plaza for the unions and fraternal organizations.
"The intent will be to have a much more collaborative relationship with the men and women of the NYPD. I'm already making some changes in the sense of opening up the building to our collective bargaining entities," Bratton said. "I'll be working very hard to listen to them and to respond to them."
Bratton's predecessor, Ray Kelly, had a frosty relationship with the unions, including the Patrolmen's Benevolent Association, which recently re-opened long-stalled contract negotiations with the city under new Mayor Bill de Blasio (D). Former Mayor Michael Bloomberg (I) left unresolved around 150 contract negotiations with city unions, which are collectively seeking $8 billion in retroactive wage increases.
Bratton also reiterated that he will reform Operation Impact, an NYPD program that places cops fresh out of the police academy in high-crime areas. Police complained that it hindered rookies from learning their work one-on-one with veterans, and residents complained that the fresh officers weren't adept in community relations.
"Let me emphasize: Operation Impact is not going away. It is an essential tool," Bratton said, pointing to the decline in the size of the city's police force. Rookies will still go out to high-crime areas, he said, "but they'll also spend more time being mentored once they get on the streets."
Popular in the Community