NEW YORK -- New York City Police Commissioner William Bratton has announced sweeping new reforms to how the NYPD tracks its officers' use of force.
A front-page story Thursday in The New York Times pre-empted a scathing report released this morning by NYPD Inspector General Philip Eure, which shows gaping holes in the way the nation's largest police department currently tracks officers' use of force. Eure's report also details how the department routinely fails to punish officers who use excessive force. 
"What we're developing here could become the national template for how do you not only investigate all levels of use of force, but how do you report it in a way that it is transparent," Bratton told The Times. 
"With transparency comes public understanding and with public understanding comes public support," he said.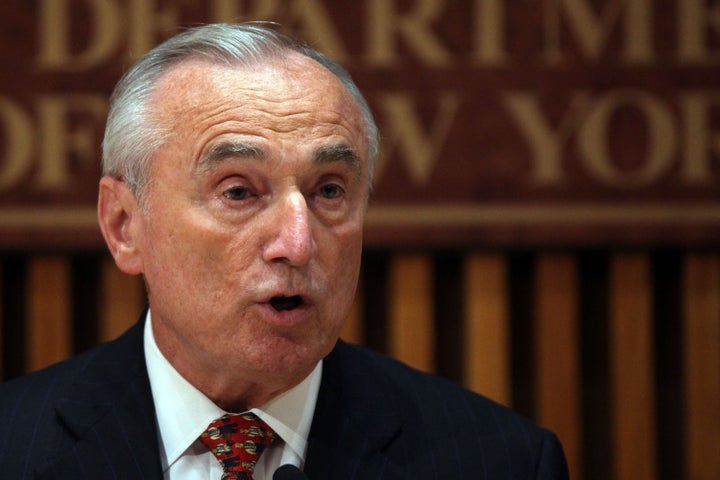 New NYPD guidelines, set to take effect early in 2016, will require officers to fill out a form called a Force Incident Report every time they use force on a civilian, even when they don't make an arrest. Cops will be required to report the level of force they use -- from physical force to the use of pepper spray or stun guns, to the use of deadly force with a gun -- as well as the race of the person involved in the encounter.
Additionally, officers will now face more severe discipline, including outright dismissal, for failing to step in and prevent the use of excessive force by a fellow officer, or for not reporting excessive force. 
Eure's report shows that only 36 percent of NYPD officers were disciplined in cases where the Civilian Complaint Review Board substantiated evidence of excessive force between 2010 and 2014.
Officers "too often did not de-escalate encounters, failed to intervene in encounters where other officers used excessive force against members of the public -- and escalated encounters themselves," according to the report. 
Furthermore, the report found that current data on use of force, and in turn, data on excessive force, is "not comprehensive." 
"A complete accounting of use of force is currently impossible because NYPD lacks a centralized and reliable way to identify and track force incidents, regardless of whether they are justified," the report states.  
Of the cases of excessive force the inspector general was able to analyze, however, black New Yorkers made up 58 percent of the victims. 
FBI Director James Comey has since instructed police agencies across the country to report data on police shootings. In the meantime, according to The Counted, an initiative by The Guardian to track police-involved deaths, 875 Americans have been killed by police so far this year -- a disproportionate number of whom were black. 
Police officials in New York have long contended that most use-of-force incidents arise when suspects either resist arrest or use force against officers. Under the new guidelines, officers will also start tracking when force is used against them. 
Patrick Lynch, president of the city's largest police union, the Patrolmen's Benevolent Association, predictably blasted the new reforms. Cops need "support, not more reports," he wrote in an emailed statement on Thursday. 
"No amount of new training or additional paperwork will make necessary force that is lawful and properly used by police officers acceptable to those who want to return to the hands-off, reactive policing strategies that sent crime soaring in the past," Lynch said.
"More paperwork coupled with a serious shortage of police officers and the continual second-guessing of their actions is a formula for disaster," he added. "It is a call for police officers to disengage themselves from the very proactive policing that brought this city from the brink of disaster in the 1990s." 
Donna Lieberman, executive director at the New York Civil Liberties Union, said in a statement that "today's announcement is a welcome recognition from the NYPD that use of force is a serious problem and that we need real data in order to have real reform."
"We, like many New Yorkers, are concerned that what happened to tennis star James Blake is just one example of the harm suffered by countless New Yorkers at the hands of the NYPD, whose stories have largely remained hidden to the public," Lieberman added. 
Priscilla Gonzalez, a spokeswoman for Communities United for Police Reform, an umbrella organization for nearly 30 social justice groups, called Bratton's announcement Thursday a "positive step," but added that the NYPD also needs to start tracking "disciplinary actions taken for use of force cases, not just those reported and substantiated by CCRB." 
"The NYPD Inspector General report is only further substantiation of the reality that the department fails to discipline officers who use force without justification, and that officers are too often the ones escalating encounters," she said in a statement. "Suspension with pay, simply moving an officer to a different part of the NYPD, or docking vacation days are not acceptable discipline for violations of the fundamental oath to protect and serve."
Gonzalez added that the inspector general's report "raises serious questions" about testimony that Bratton gave to the New York City Council last year, in which he said the department's use-of-force levels were historically low, and a "model of restraint." A City Council aide publicly questioned statistics Bratton used in his testimony, and was subsequently fired.
"If the department had already acknowledged its reporting and collection of this information was inadequate both internally and in its communication with the federal government, it shows Bratton's previous testimony to the Council at an oversight hearing as disingenuous and factually inconsistent," Gonzalez said. 
This story has been updated to include statements from Donna Lieberman and Priscilla Gonzalez.
Calling all HuffPost superfans!
Sign up for membership to become a founding member and help shape HuffPost's next chapter